Printable Easter Countdown Stickers
These printable Easter Countdown Stickers are a fun way to plan ahead for Easter. If you are planning a gettogether or your kids are wondering how many days until the Easter bunny comes, these stickers will tell you exactly when.
What day does the Easter Bunny come?
My son would always ask me what day the Easter Bunny comes. The Easter Bunny typically comes on Easter Sunday. Parents will hide little chocolate eggs or small treats and toys the night before and the kids would go on an Easter Egg Hunt to find the hidden eggs.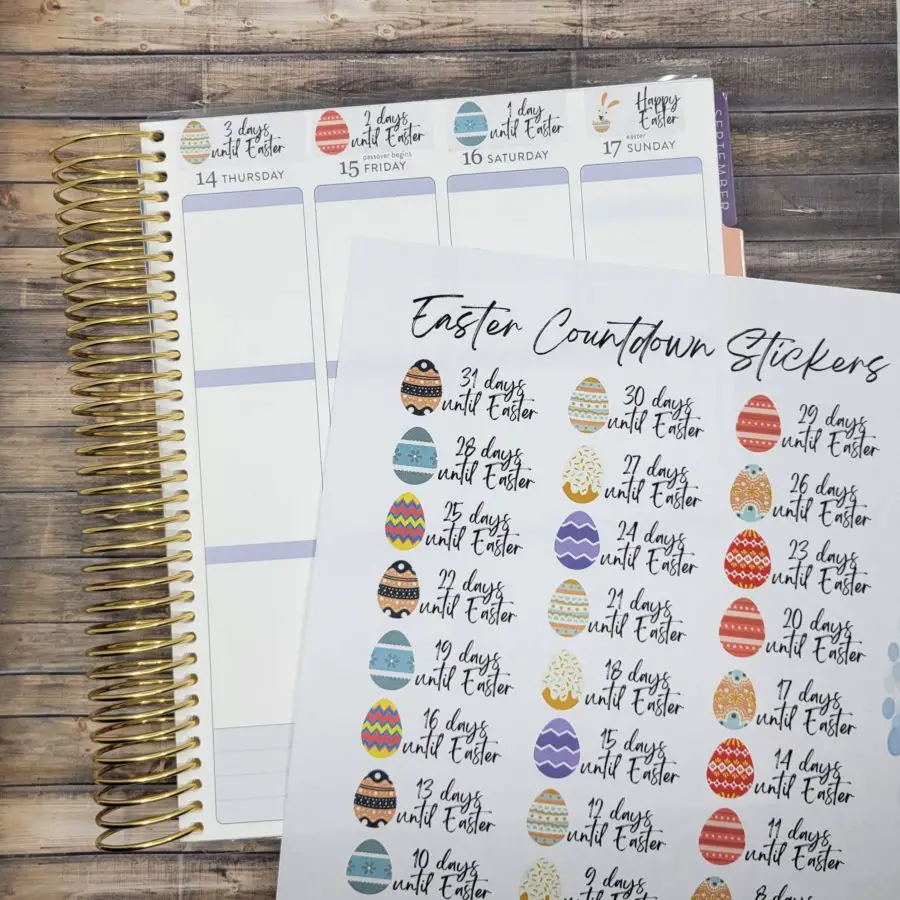 Easter Egg Hunt Ideas
Here are some different places you can have your Easter Egg Hunt at:
Backyard
If you have a smaller backyard, having the Easter Egg Hunt outside is a great idea. This is of course weather permitting. There are lots of great hiding places outside (behind trees and rocks or underneath bushes).
Indoors
An indoor Easter Egg Hunt can be a good option if the weather is not so great. The hunt can be limited to just one room or the whole house. As my son was getting older, we hid the treats and toys really well and make a list with clues. He had to read the clues and figure out where the egg might have been hidden. That was a great challenge and really exciting and fun for him
Outdoor Trails
I remember my parents sometimes taking us out on the forest trails and we would look for the hidden eggs there. I don't quite remember how they did it but being out on a nature trail definitely added to the excitement.
Public Easter Egg Hunt Event
Our town has an annual Easter Egg Hunt for the kids. They have different age groups that would start at a specific time. It usually happens in a public park and volunteers hide little chocolate eggs for the kids. It is really cute to watch the little kids looking for the eggs but can get pretty competitive in the older age groups.
Easter Countdown Printable Stickers
The Easter Countdown Stickers can be printed on regular copy paper or blank sticker paper if you have some. I used a paper trimmer to easily cut the stickers.
If you find that the stickers are a little bit too big for your calendar or planner, you can reduce the size by scaling them down in the print settings. I scaled them down to 75% to use them in my Erin Condren Planner (see picture above).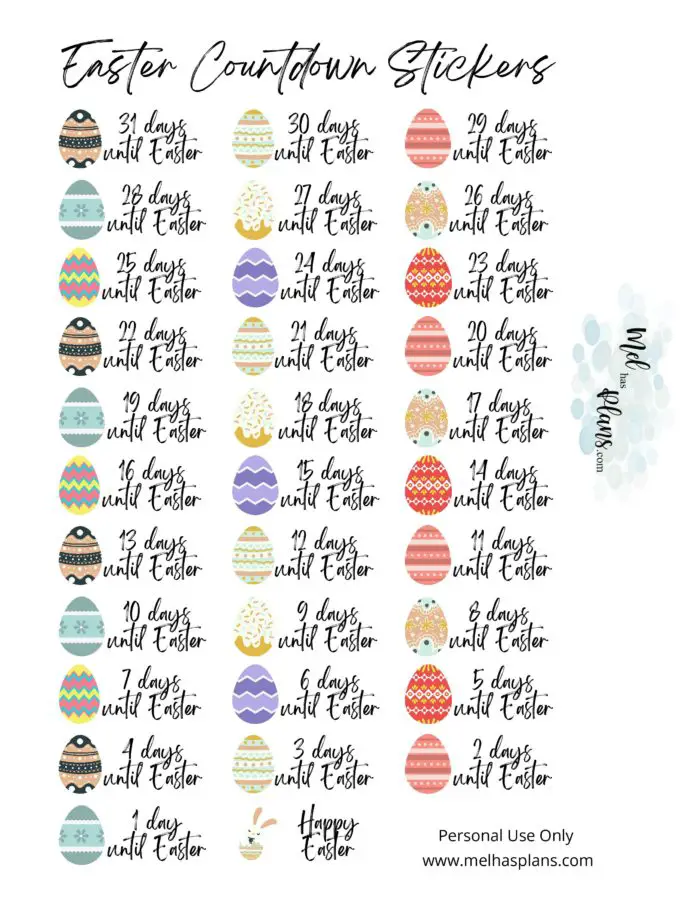 More printables
Please check out my other printables as well and subscribe to get notified of any new uploads.
Instructions
To get this printable, please click on the download link below and follow these steps:
Download printable
Open file with a PDF viewer such as Adobe Acrobat Reader
Print the file
***This post contains affiliate links. By purchasing an item through an affiliate link, I earn a small commission at no extra cost to you.***
The PDF is letter size (8.5″ x 11″). If you would like to use the printables as an insert in a smaller binder or Journal, you can scale it down in the PDF viewer before printing it.
What you need
All you need is:
Optional:
Download here
To download these Free Printable Easter Countdown Stickers please click the download button below.
Thanks for reading. I hope you like my printables. Please link me on Social media and subscribe below to get notified when new posts are being published and gain access to the printable library. Thanks so much!