Traveler's Notebook as Wallet and Budget Planner
I have been using my Traveler's Notebook as a wallet for a couple of months now. Here is an update on how well it works for me and things that I changed from my original setup. If you would like to see how I set up my notebook as an everyday carry wallet, check out my review and setup post here.
First of all, I will still continue using the Traveler's Notebook as my wallet. I like the size and feel of it and it is not too bulky compared to the large wallets that I used to have. Here is a breakdown of all parts of my wallet setup.
*** This post contains affiliate links. By purchasing an item through an affiliate link, I earn a small commission at no extra cost to you. ***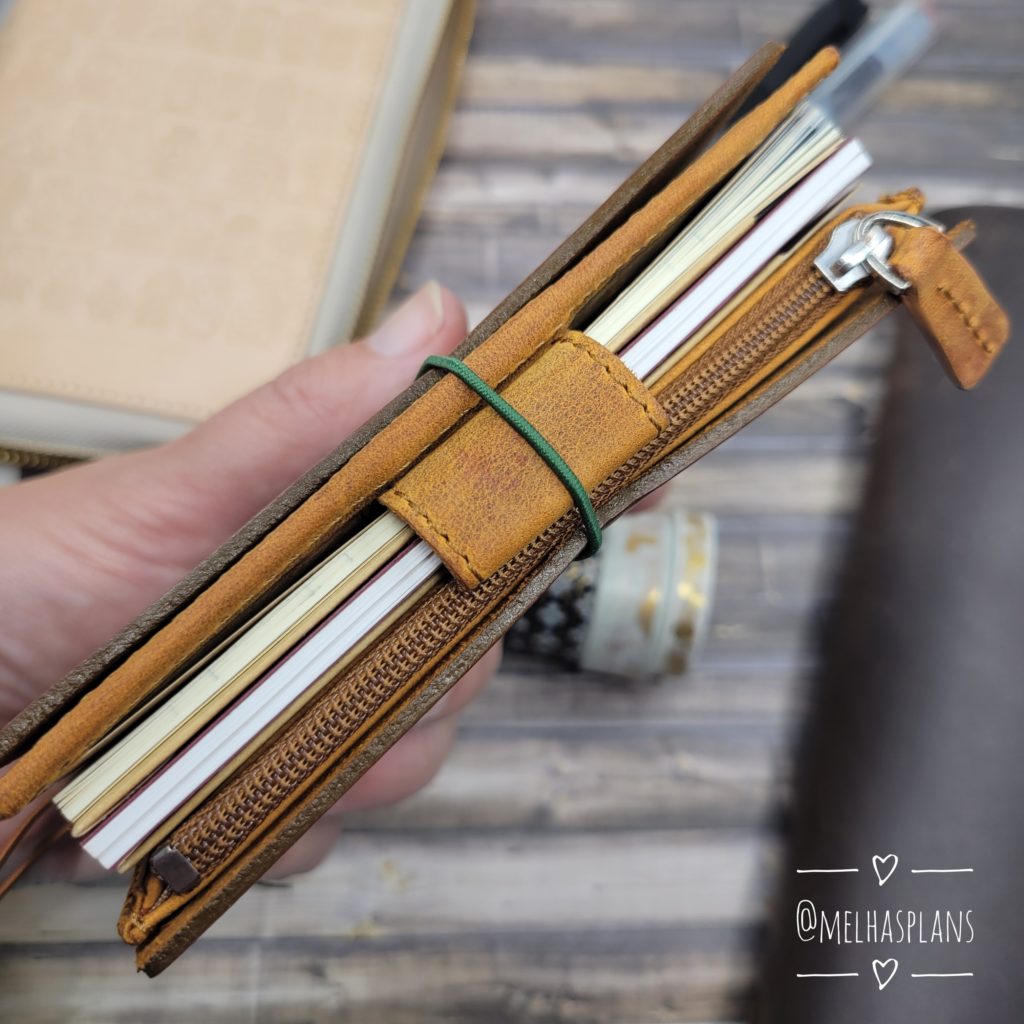 Passport size cover
The passport-sized cover is looking great. There are a few minor scuffs on it already that will give it more character over time the more I use it. I usually throw it in my purse along with my other planners, keys, sunglasses, and other things. The cover is held together with the elastic band and I used the Evil Eye Charm from Galen Leather wallet insert as a charm for my wallet.
Galen Leather wallet insert
I think if you want to use the Traveler's notebook as a wallet, the wallet insert from Galen Leather is a must. It is sized to fit the passport-sized notebook and features a few pockets for bills or receipts, 3 card slots, and a zippered pouch for coins or small items. There is also a pen loop that comes in handy for carrying a pen with you. I am storing my important cards here such as my driver's license, health, and insurance cards. If you would like to check out the wallet insert, here is a link to their website. The insert is also available for the regular-sized Traveler's Notebook.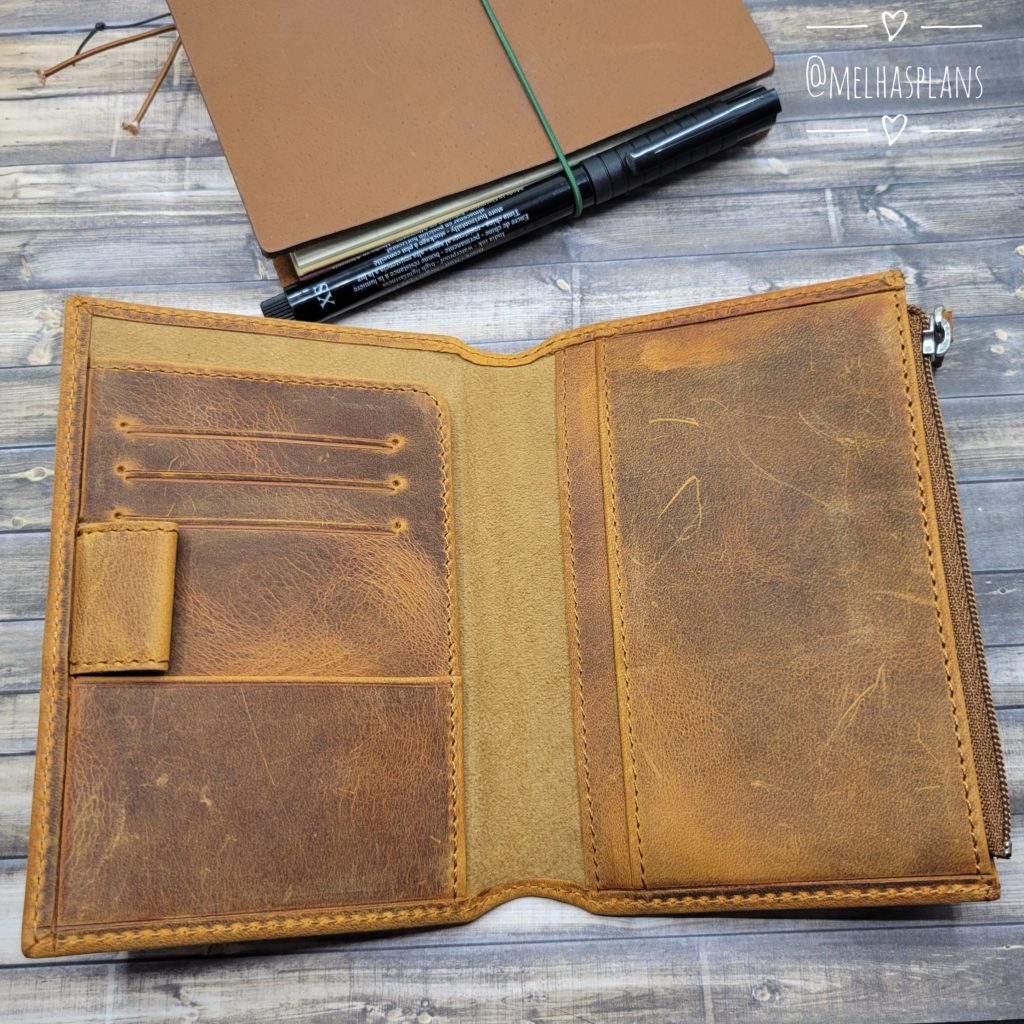 Kraft Folder
The kraft folder is nice for storing receipts or appointment reminder cards from the doctor or dentist. I have these on the one side and the other size is for storing gift cards that still have balances on them. That way, I will have them always with me and not forget them at home and never use them. They are treated as cash, so they should be in my wallet as well.
Undated Monthly Calendar
The undated monthly calendar is used as a monthly budget overview. I will write down all paydays and bill due dates. I have started writing down all the purchases that I made on each day as well. This is a fairly easy process since I carry a pen with my wallet and it only takes a few seconds to write down a purchase. I usually do it when I am back in my car.
This little monthly overview is especially helpful when I work on my main budget planner at home because I can easily transfer all transactions over to my budget planner without having to log in to online banking to see all the transactions.
Another helpful usage for the monthly calendar would be to check on upcoming bills and paydays before you make any larger purchases. That way you don't forget about a bill that's due and the possibility of not having enough money in the account to cover it.
Plastic card sleeves and Zipper pouch
The zipper case insert has pockets for cards and a zipper pouch for coins, bills, or small items on the other side. I keep my debit and credit cards in the two small pockets and two more cards in the larger pocket. I haven't used the zippered pouch yet, but I think this would be a great place to store coupons or those little reward cards where they put stickers or stamps on it for every purchase.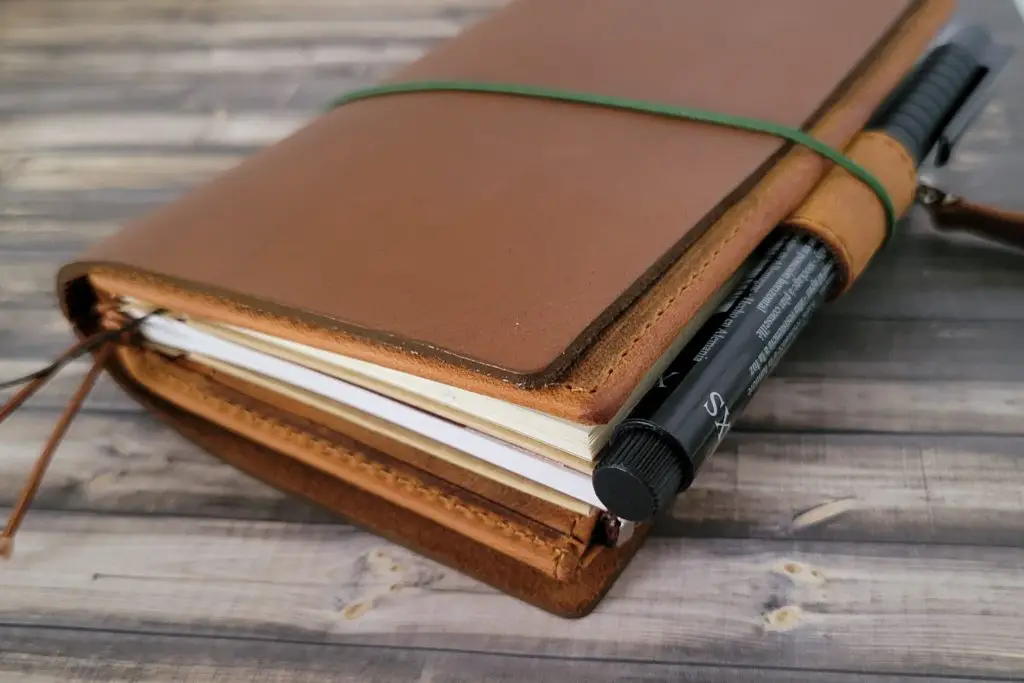 Blank Notebook
As the title says, this is just a blank notebook. My original plan was to use it as a transaction log. Anything coming in or out of my checking was to be written down here so I would always know what my account balance would be. I did it for a couple of weeks but then smaller transactions like Paypal purchases or fees were missed and everything wasn't too accurate anymore.
I think, for now, this will just be a great notebook for some quick notes or thoughts. Sometimes it is easier to write something down quickly rather than entering it in an app on your phone.
The notebook can be used for a grocery list, measurements, and material lists when going to the hardware store, store pricing information, etc…
Other thoughts
I used to have all my most frequently used reward cards in my wallet as well. Since this wallet does not have a lot of space for cards, I am keeping all my store cards in a separate storage case. It is very small and holds about 40 cards. Most of the cards I don't use anyways, but there's always a time when you are glad you have it with you. You don't want to miss out on all those points, lol. My most used cards are usually for the grocery store and gas station. Sometimes, when I know I am going to these places, I move them to my wallet but they usually don't stay in there.
So that was a quick review of my Traveler's Notebook wallet in the passport size. I might do another review after 6 months. I hope you liked the review and please let me know if you have any questions.
Please subscribe to my monthly newsletter if you would like to stay informed about new posts and get access to the printable library. Thanks so much!