Hobonichi Cousin Avec Review & Setup
Last month, I purchased the Hobonichi Cousin Avec. This was a rather spontaneous decision but I am really glad I bought it. I bought the Hobonichi Weeks planner last year and enjoy using it as my on-the-go planner. This will be my fourth week in the Hobonichi Cousin and I have been planning in it every day since I received it. Here is a quick Hobonichi Cousin Review and how I set up this planner.
The Hobonchi Cousin Avec is the same as the regular Hobonichi Cousin except that it only covers a 6-month period instead of a whole full year. The Cousin Avec can be purchased as a January – June, and July – December planner. You can buy both planners together at the beginning of the year or like me, just the one planner, if you are starting in the middle of the year.
*** This post contains affiliate links. By purchasing an item through an affiliate link, I earn a small commission at no extra cost to you. ***
The planner tends to get a little chunky if you are using washi tape and stickers, especially with the regular Cousin, so the Avec might be a better option in that case.
This will be a quick overall review of the Hobonichi Cousin Avec and how I will be using it.
Hobonichi Cousin Avec
The Hobonichi Cousin Avec is an A5-sized planner. The paper is called Tomoe River paper which is very thin and light. Perfect for fountain pen users. The planner lies down completely flat which is something I really like about this planner. My other planners have big coils which makes it hard to write close to the coil. The cover of the planner might look a little boring but there are many very pretty fabric and leather covers available for this planner.
Yearly Overview
The Yearly Overview page is a year-at-a-glance of the current year. I like using it to mark down paydays, holidays, and vacation time. To do that I either use my Zebra Mildliners or transparent dot stickers. The page beside it is an overview of the previous year and next year, which is helpful for a look back or to plan ahead.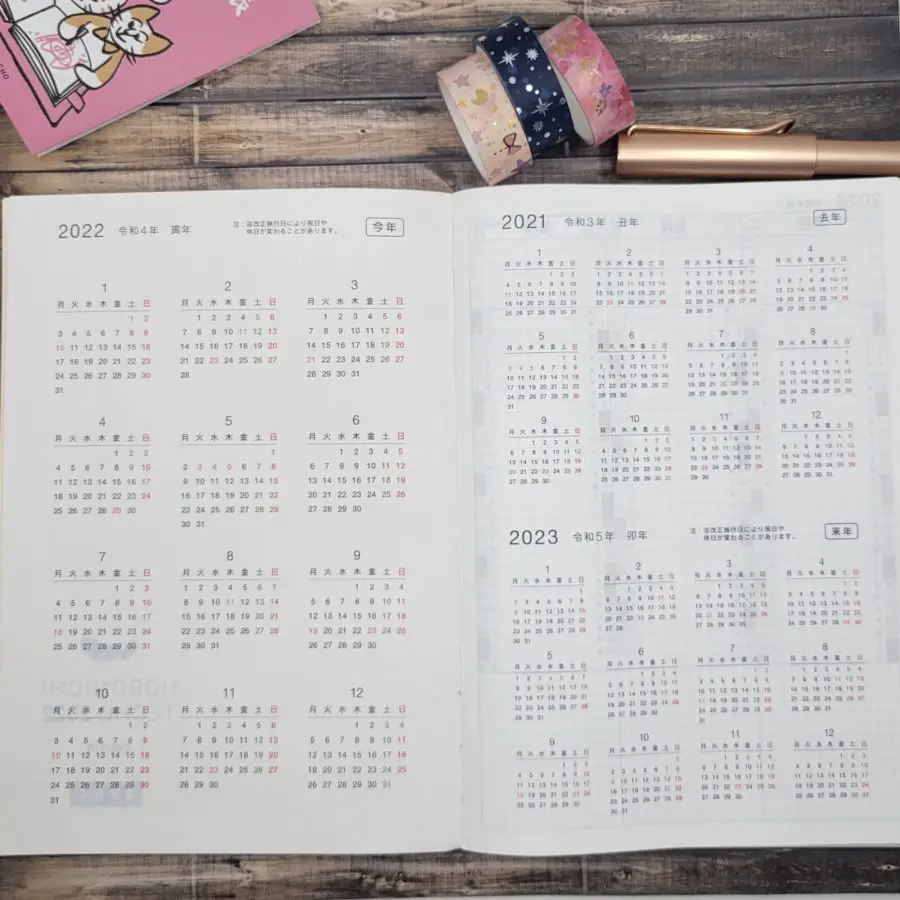 Yearly Index Page
These pages are another type of yearly overview page but with space to write down notes. I think this page can be used for a lot of different things. The way I have set it up is to track my daily habits. Each column is a different habit and I fill out the square if a marker once completed.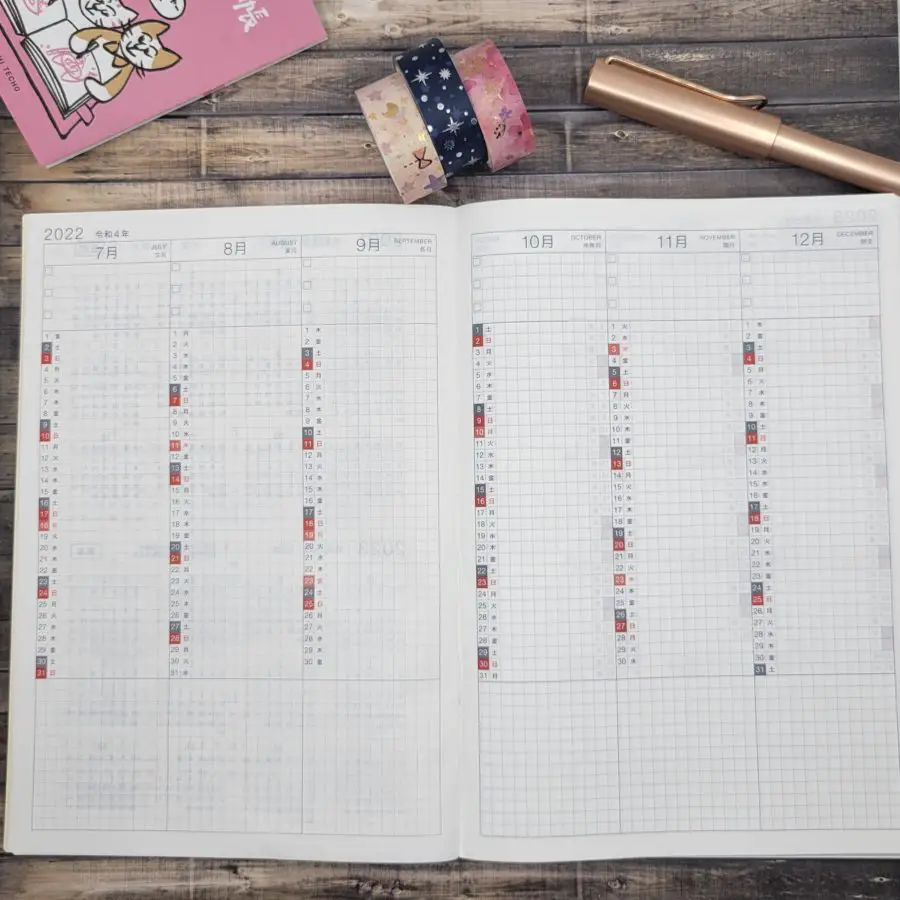 Monthly Overview
The Monthly Overview page is similar to all other monthly planner pages. I really like the graph paper design. Lots can be written down and the sidebar can be customized to your preferences and needs.
I am writing down my appointments and events in each box. Anything that needs to get done this month but not on specific dates, I write it down in the space below.
For all-day events, I use my Mildliners to highlight the whole row for that day and write down the event. If it's a time-specific event, I just put a dot in the beginning and then write down the appointment with the time. All events are color-coded, so for example green = paydays, yellow = birthdays, red = holidays, orange = dogs, purple = me etc.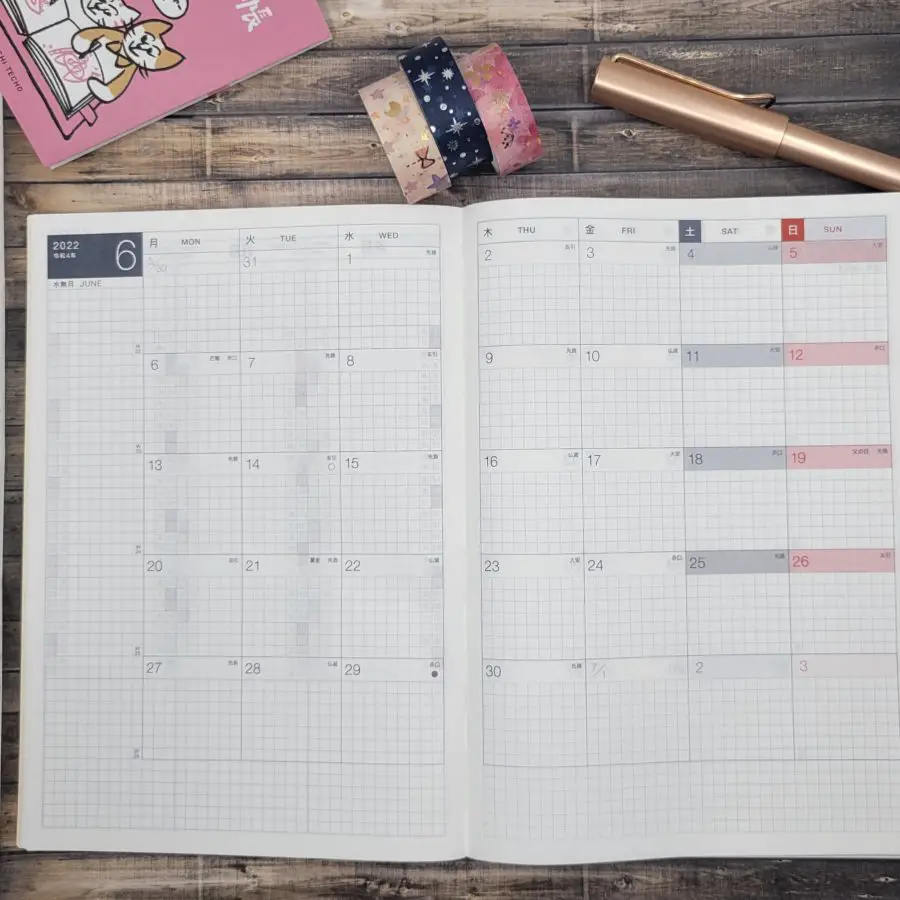 Weekly Pages
The graph paper design continues with the weekly pages. My favorite about the weekly pages is that the hourly layout starts at 5 am and ends at 4 am. Many other hourly planners only give you a limited time frame from let's say 6 am to 9 pm. I have found that, for myself, most of the space will be used up with work-related stuff if I work 9-5. Good if you have a busy work schedule with meetings and deadlines, but for me, it would just be sitting in front of the computer all day, lol.
Anyways, I really like the weekly layout pages and I am writing down a lot more things that are going on throughout the day. Still using some stickers and washi tape but not as much as before. Instead of stickers, I use my Tombow Brush pens or Zebra Mildliners to make headings, time blocks, and little doodles.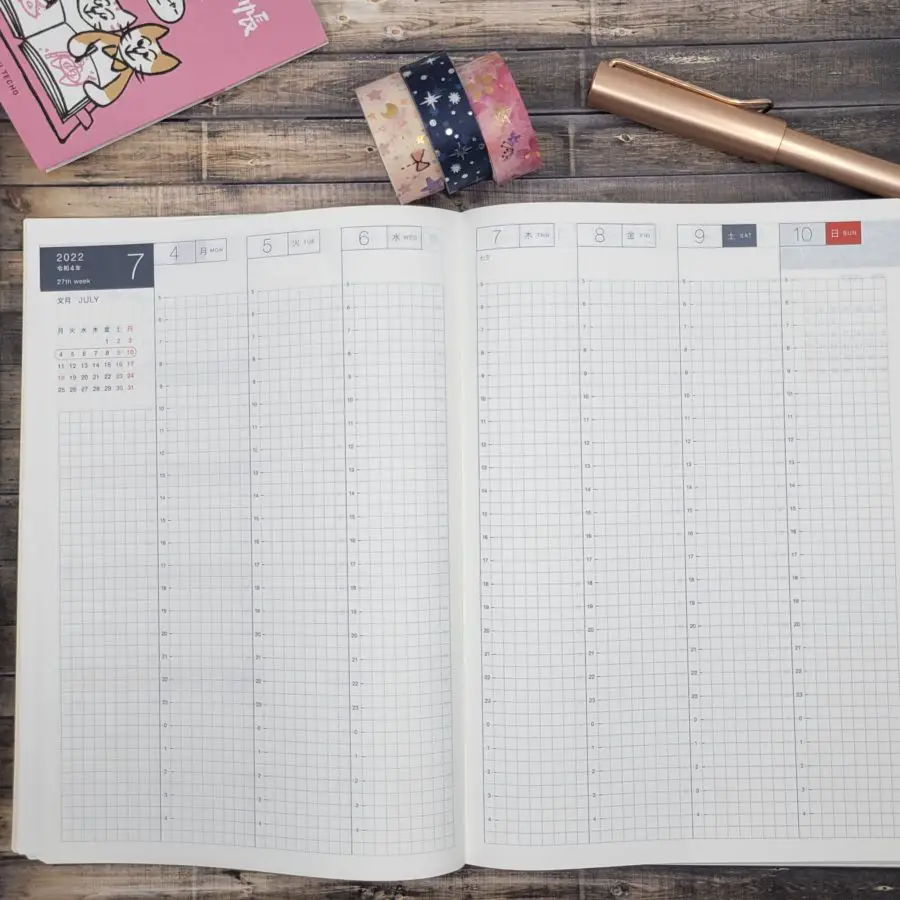 Daily Pages
The daily pages are new to me. All my previous planners did not have any daily pages. With the Hoboichi Cousin, you basically get one whole page per day. That is a lot of pages for a planner, especially if you have the regular Cousin that covers the whole year.
The way I have this daily page set up is, a "sidebar" that has the temperature and weather for the day at the top and 4 separate headings. The headings are today, tasks, meals, and health.
Today – Any events and appointments. Holidays, Birthdays, if it's Payday or Garbage Day, etc…
Tasks – Task that I want to or have to get done today.
Meals – What I have for Breakfast, Lunch, Dinner, and Snacks
Health – To keep track of my Steps, Sleep, Weight, and Water intake
The other half of the page is a daily journal of what I have done that day or what my thoughts are. Sometimes there's a lot to write and other times if there's not much to write, I fill in the blank space with doodles or hand lettering.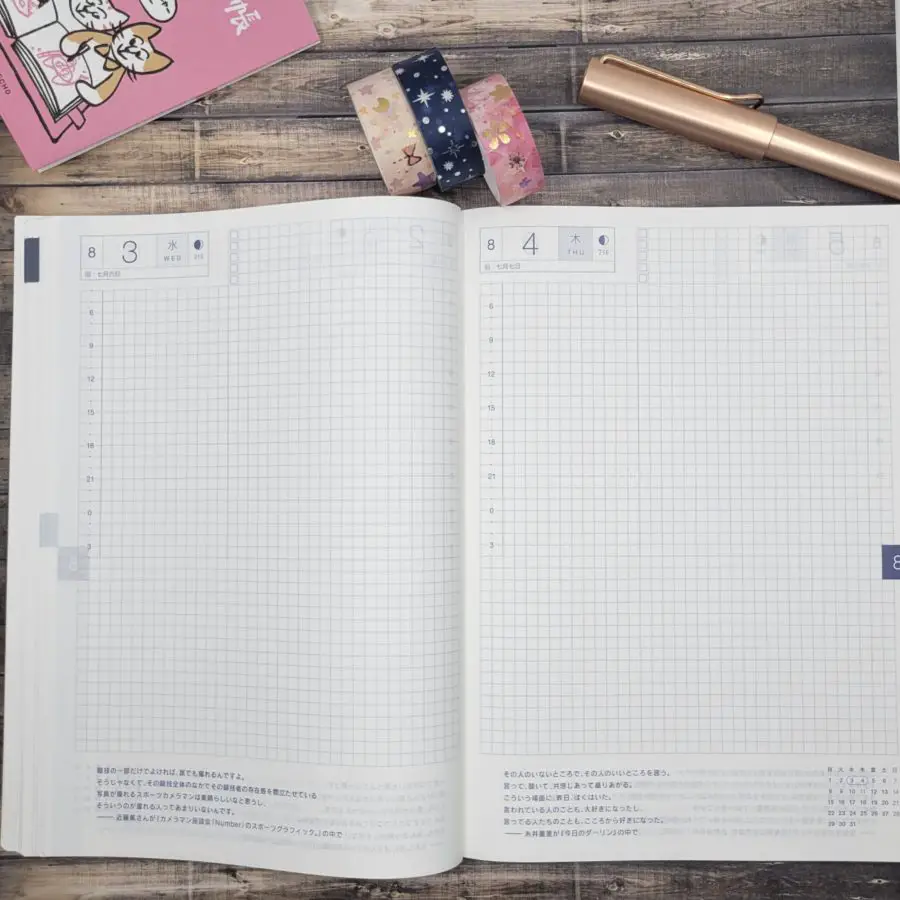 Miscellaneous Pages
There are a few different pages at the back of the planner. Some extra blank graph paper-like pages, a timetable page, and a favorites page. A page to write down a 100-item list and a gift tracker. Most of the other pages are in Japanese but are still fun to use.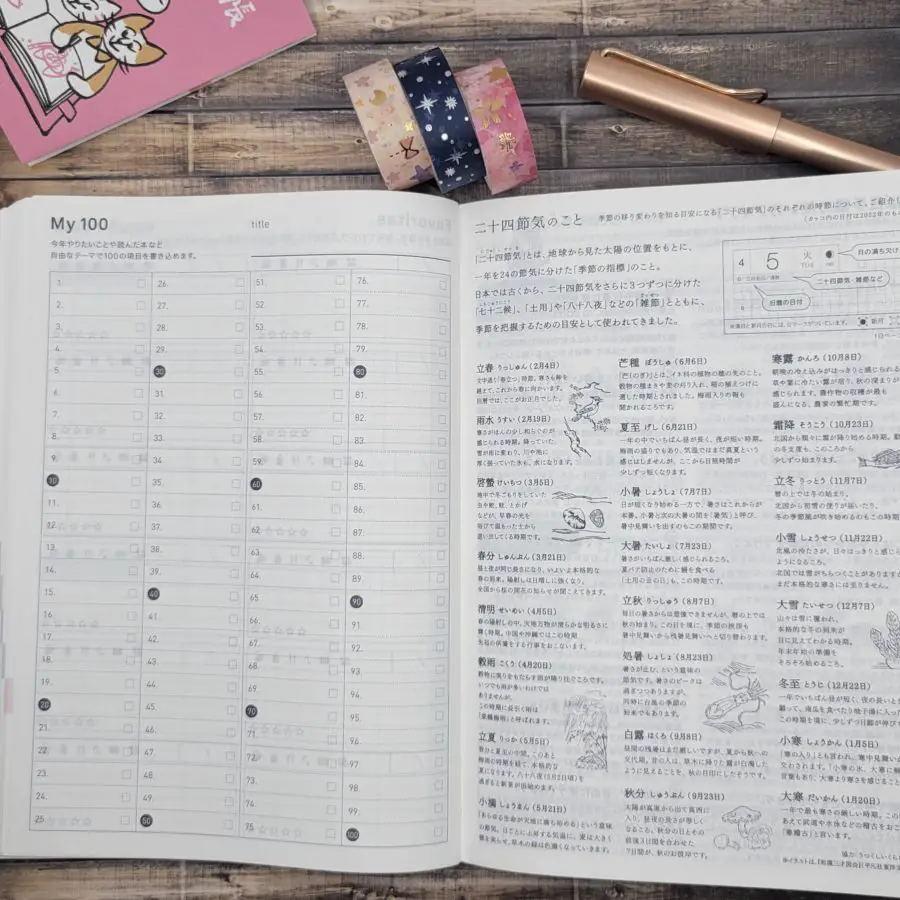 Final thoughts on the Hobonichi Cousin Avec
One month into the Hobonichi Cousin Avec and I am pretty sure I will get the full Year Hobonichi Cousin for next year when they are being released in September. I like the size of the planner and that it lies completely flat without any coils or discs. The Tomoe River paper takes a little longer for the ink to dry. So you have to be careful not to smutch the ink will writing but you can get used to it. The paper is perfect for fountain pens and I really enjoy using mine again.
The daily pages can sometimes be a bit of work especially if you're not having a good day or are very busy but I try to make time before I go to bed and it really only takes a few minutes to write down a few things about the day. I usually prepare the two pages the day before with headings and titles, so it's just a matter of filling out my trackers and a few sentences about the day.
Let me know in the comments if you are interested in seeing posts about my different page layouts.
Subscribe to my mailing list and get access to the printable library.