Digital Monthly Planner for Goodnotes
I recently purchased an iPad 4 air to replace my old iPad mini. While I was looking for tips & tricks and setup videos for my new iPad, I came across a few posts about digital planners. Being a planner person, I obviously had to try it myself. I created my own little digital planner for Goodnotes and sharing the file with you if you want to try it out for yourself. I have written instructions on how to import the digital planner in Goodnotes below.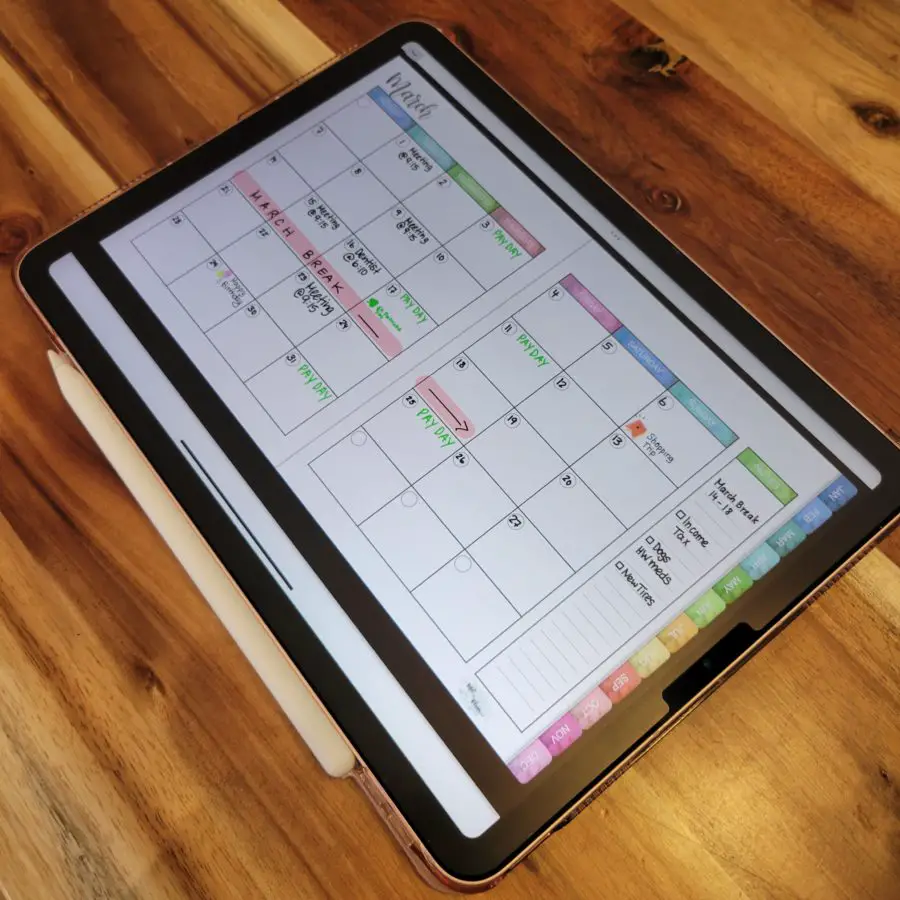 Getting started with Digital Planning
Digital Planners, as the name says, are a digital version of a planner. The planner itself is an interactive PDF file that is imported into the Goodnotes 5 app. The Goodnotes app is available for purchase on the iPhone, iPad, and iMacs. Through the app, the planner can be customized with written notes, text, and digital stickers.
*** This post contains affiliate links. By purchasing an item through an affiliate link, I earn a small commission at no extra cost to you. ***
What do you need for Digital Planning
Ipad – I recommend any iPad that works with the Apple Pencil. I am using an iPad Air 4.
Apple Pencil – available as a separate accessory from Apple. The 1gen Apple Pencil and the new Apple Pencil 2 will work.
Goodnotes App – The Goodnotes 5 app is available for purchase in the App Store. It is under $10 and well worth it.
Digital Planner file – This is your actual digital planner. Usually a PDF file with hyperlinks to switch to different parts of your planner.
Benefits of using a Digital Planner
Customizable – The planners can be customized just like a regular planner. With digital stickers and digital washi, you can design your weekly/ monthly layouts just the way you want to. You are able to change the size and position of the digital stickers.
Accessibility – The digital planner can be accessed on different devices. You can do your planning on the iPad and pull up your digital planner on your iPhone when you're on the go.
Reusable – Digital planners can be reused again if they are un-dated. Just make a copy of the original file and use it again in the next year.
Affordable – These planners are a lot less money than a regular paper planner. If you are getting an un-dated planner, it can be used as many times as you want.
Less Clutter – Digital planners are paperless. It can have 50 or 100 pages but does not add any weight or bulk to it like a regular planner. It does not take up any physical storage space other than your device.
Fix mistakes – The best thing about a digital planner is, that any mistakes you make can be easily erased. The same goes for any canceled appointments or events. Just use the erase function on the app and erase it with your pencil.
Tips & Tricks using Goodnotes
Click links – To be able to click the tabs on the side of the planner, the read-only mode needs to be switched on.
To do this click the following icon in the top right corner of the navigation bar.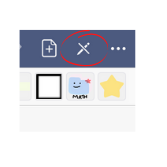 To switch back to writing mode, click this icon.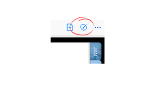 Pen size – The app lets you switch between 3 different pen sizes. To adjust the pen thickness, tap one of the icons and adjust the slider to the right size. The sizes that I am using are 0.4mm, 0.7mm, and 0.9mm.
Stickers – Goodnotes 5 comes with a few digital stickers already. I will make a separate post to show you how you can design your own stickers and use them in the app.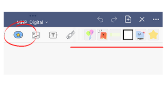 How to Import a Planner to Goodnotes
Here is how to get your digital planner imported into Goodnotes. Make sure you have the Goodnotes 5 app installed on your device.
Download the PDF file below
Save the file in your File Folder/ iCloud Drive on your device
Open your File Folder/ iCloud Drive and find the PDF File
Open the PDF file and click on the share button
Select "Open in GoodNotes"
Click "Import as New Document"
Click "Import to Documents"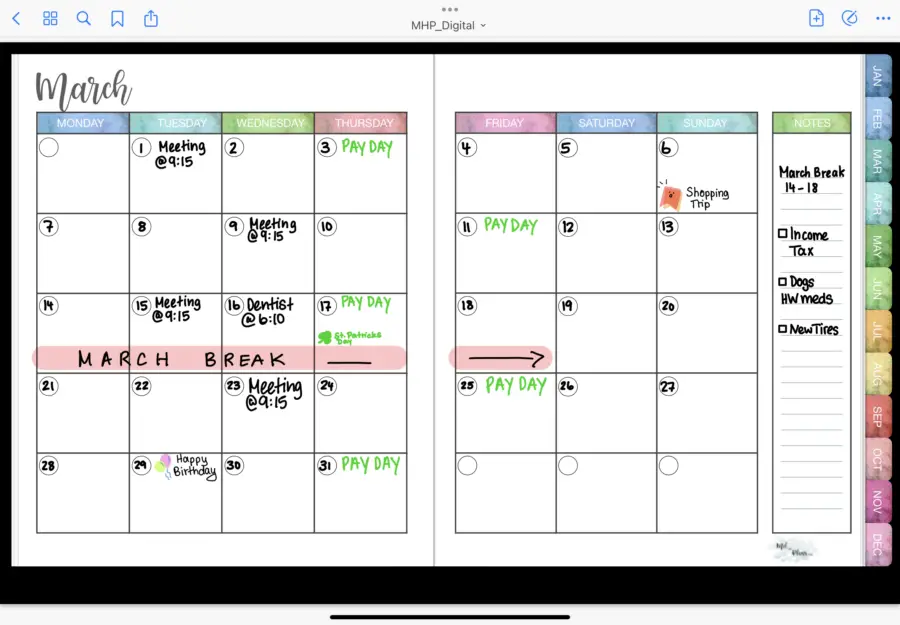 Free Digital Planner Download
To download the digital monthly planner, please click the link below.
Thanks so much for reading. I hope you like the digital planner. Please let me know in the comments below if you have any questions or send me an email.
Subscribe to my monthly newsletter to get notified when new planner posts and printables have been uploaded.