Traveler's Notebook Passport Wallet Setup & Review
I have bought the regular-sized Traveler's Notebook last month and absolutely love how you can customize it with different notebooks and inserts. While looking online for different setup ideas, I came across a few videos, where people are using the smaller-sized Traveler's Notebook as a wallet.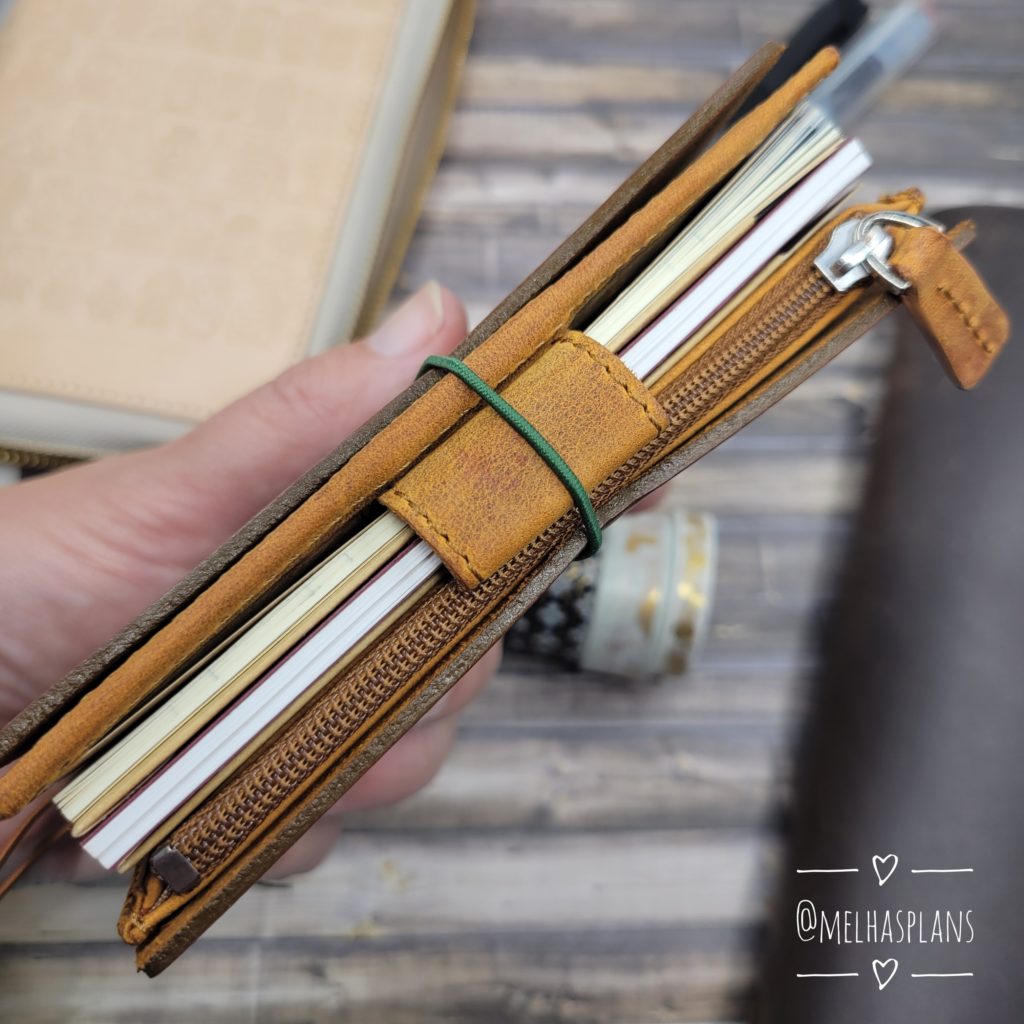 Since my current wallet is due for a replacement, I thought it would be a good time to try out the passport-sized notebook for daily use as a wallet. The wallet that I was using before was a larger wallet with all different kinds of stuff in it that wasn't needed for every day used and added unnecessary bulk to it.
So with a completely new kind of wallet, I am trying out a different setup that I can use daily. This wallet will only have the necessary items and help me with budgeting on the go.
*** This post contains affiliate links. By purchasing an item through an affiliate link, I earn a small commission at no extra cost to you. ***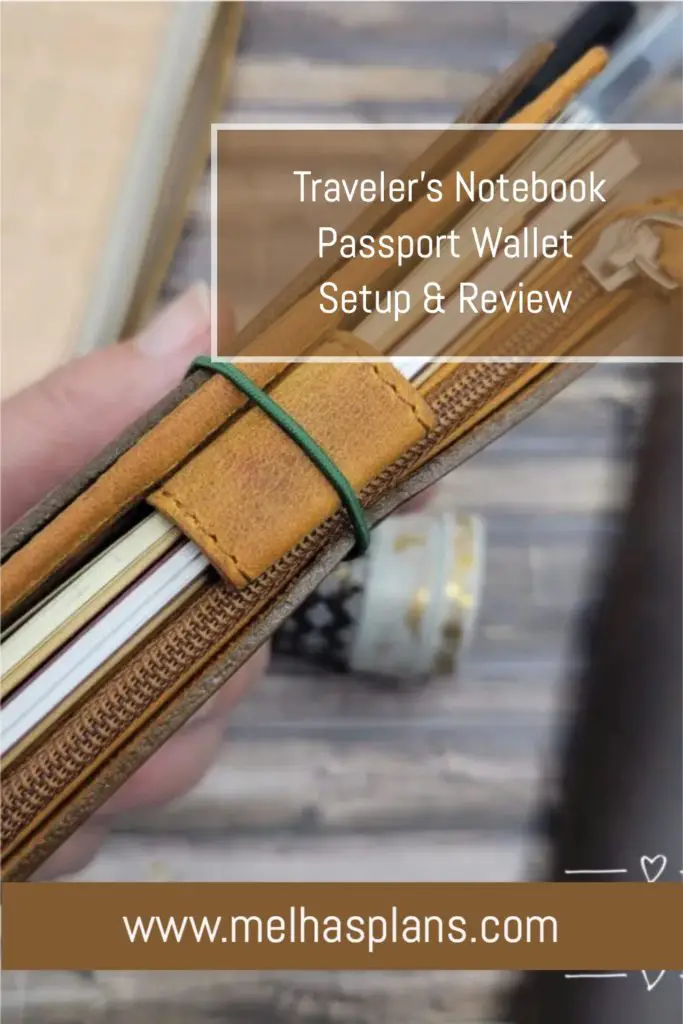 Notebook Info
The Traveler's Notebook is made by the Traveler's Company from Japan. This notebook is highly customizable with lots of different inserts available and can be used for many purposes, such as planner, travel companion, sketchbook, scrapbook, and more. Further below is a list of all available inserts.
The Traveler's Notebook currently comes in two different sizes. There is a regular size and passport size, which is a bit smaller. This review is about the passport-sized Traveler's Notebook. I am also using the regular-sized notebook. You can find my Traveler's Notebook Review and Setup here.
Regular size – about 4.9″ x 8.7″ (12.5 cm x 22 cm)
Passport size – about 3.9″ x 5.3″ (10 cm x 13.5 cm)
Traveler's Notebook Starter Kit (passport size)
The Starter Kit comes with:
Package
Cotton Bag
Leather Cover
Blank Notebook
Spare Elastic Band
Leather covers are available in the following colors: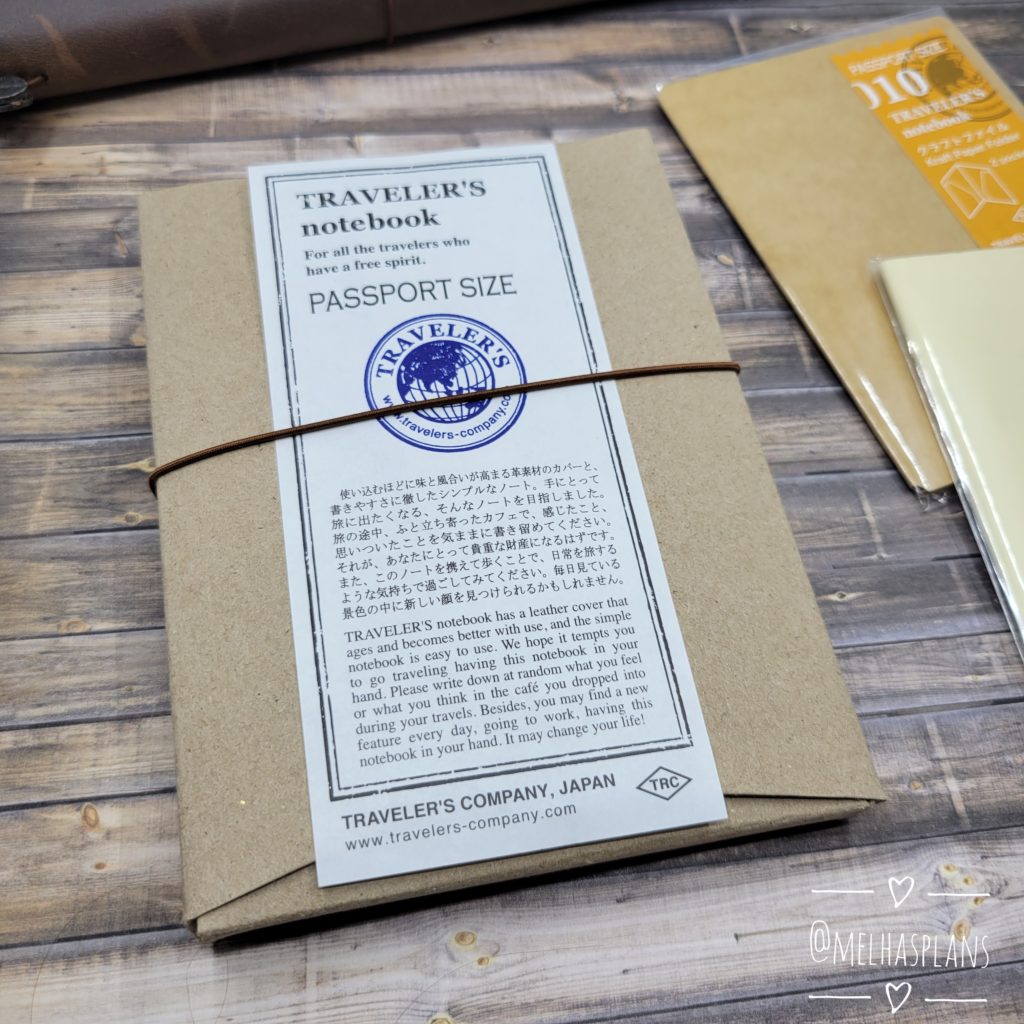 Traveler's Notebook Refills (passport size)
001 Lined Notebook
002 Grid Notebook
003 Blank Notebook
004 Zipper Case
008 Sketch Paper Notebook
012 Sticky Notes
013 MD Paper Cream
014 Dot Grid
015 Watercolor Paper
016 Refill Binder
Other Inserts for the passport sized Traveler's Notebook
Washable Paper
Sticker Release Paper
Accordion Fold Paper
Super Lightweight Paper
Message Card
Letter Pad
Cotton Zipper Case (olive)
Cotton Zipper Case (orange)
My Traveler's Notebook Passport Wallet setup
I purchased the passport-sized camel cover and a few different inserts. These are the refills that I used for my setup:
003 Blank Notebook
004 Zipper Case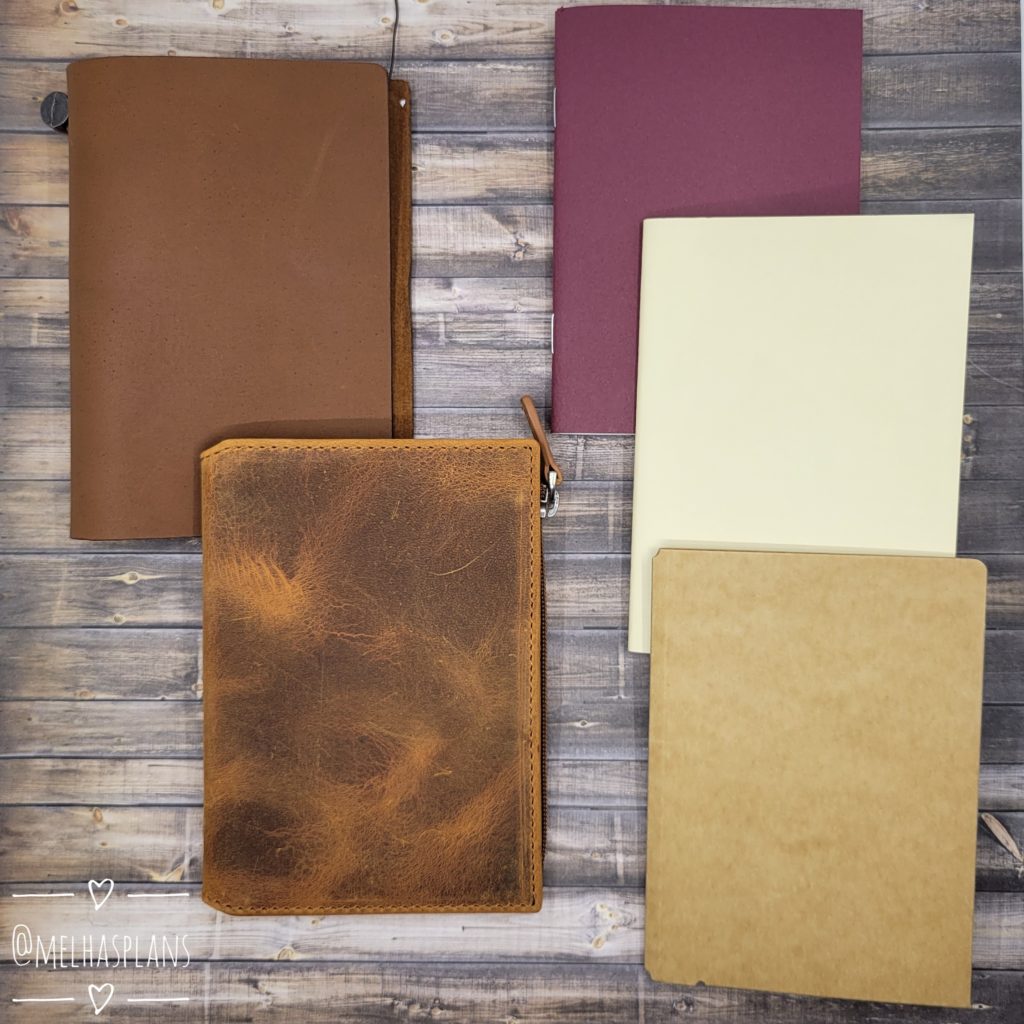 Galen Leather Wallet Insert
The wallet insert from Galen Leather is a perfect add-on for this wallet setup. The wallet insert is made for the passport-sized notebook and fits great! It features 3 card slots, various sized pockets, a pen loop, and a zippered pocket that will work great for coins or other small items.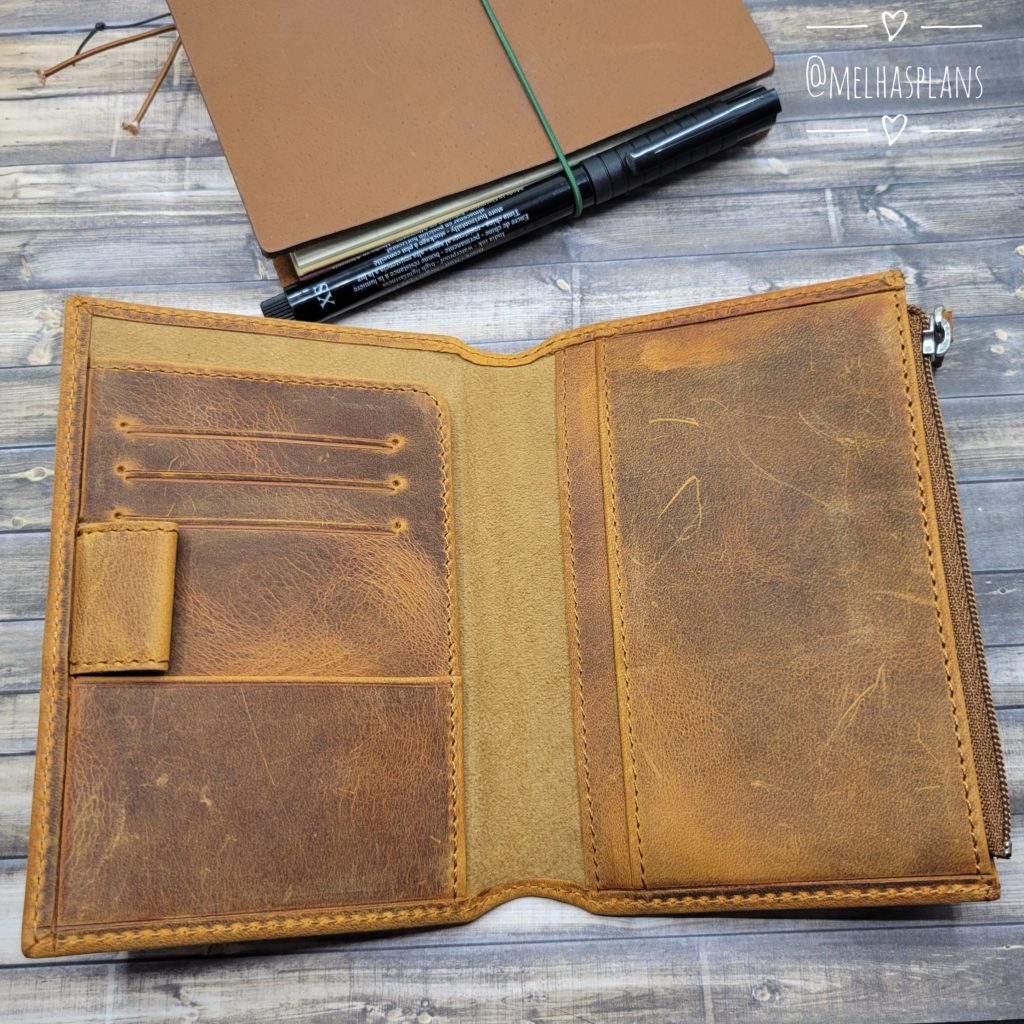 Setting up the Wallet
I tried a few different setups, rearranging the inserts in different positions. I found it works best if you put the Galen Leather Wallet insert fist (if you are using it). Next, I placed the Zipper case around the free diary insert and the kraft paper folder around the blank notebook. To combine these notebooks, find the middle of each notebook and place a rubber band around it. The notebooks and folders are now connected.
Slide the first notebook underneath the rubber band from the cover. There is going to be a little bit of an overhang from the wallet insert but it doesn't really bother me. I think it will get better once the leather softens and gets molded to the cover and inserts.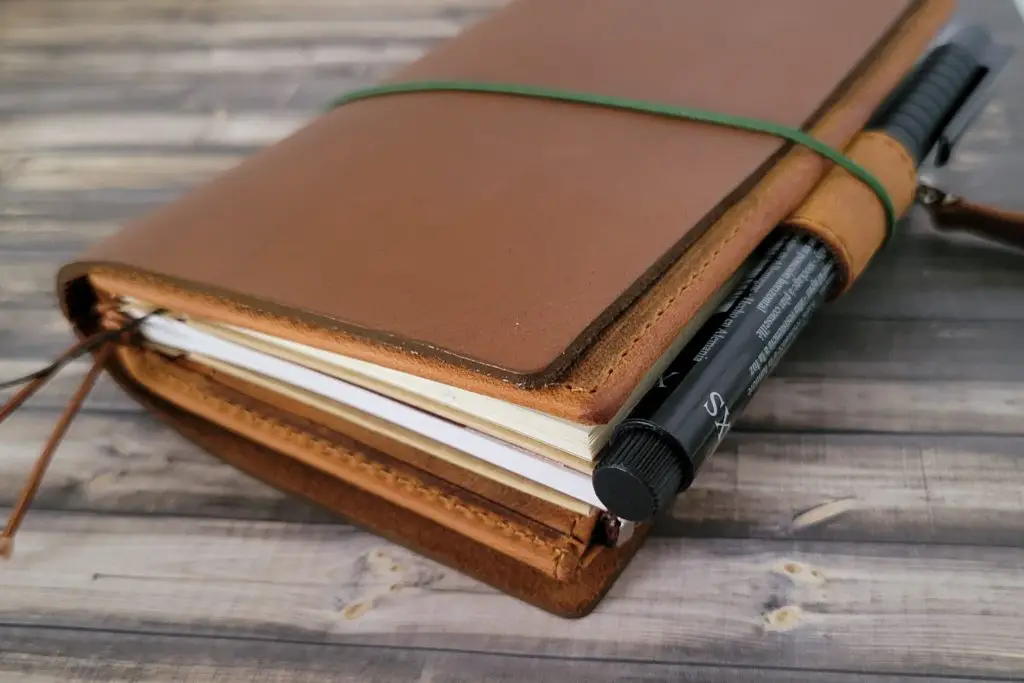 Thanks so much for reading. Please let me know in the comments if you have any questions. Please stay tuned for the next post on how I am using my Traveler's Notebook Passport Wallet setup as a budget planner.