2022 Erin Condren Planner Setup – How to
* Update * – 2023 / 2024 Erin Condren Planner Review
Here is my 2022 Erin Condren Planner Setup. I have had my Erin Condren LifePlanner for a while now. I bought it on release day back in May or June and it has been sitting untouched on my shelf all this time. Next year, I am definitely going to wait until closer to the year-end.
The Erin Condren planner is available as an 18-month planner (July to December of the following year) or as a 12-month planner (January – December). I prefer starting a new planner with the new year.
If you would like more information regarding the Erin Condren LifePlanner, you can check out my planner review here and also have a look at some decorating ideas.
I have been using Erin Condren planners since 2016. Every year I have purchased the Lifeplanner but have also tried some of her other planners. For our family finances and budgets, I am using the monthly planner from Erin Condren.
Here is a quick look at my 2021 budget planner and my 2022 budget planner.
If you are interested in purchasing the same Planner and are new to Erin Condren, you can use my affiliate link to receive $10 off your first order. I will also receive $10 off my next order.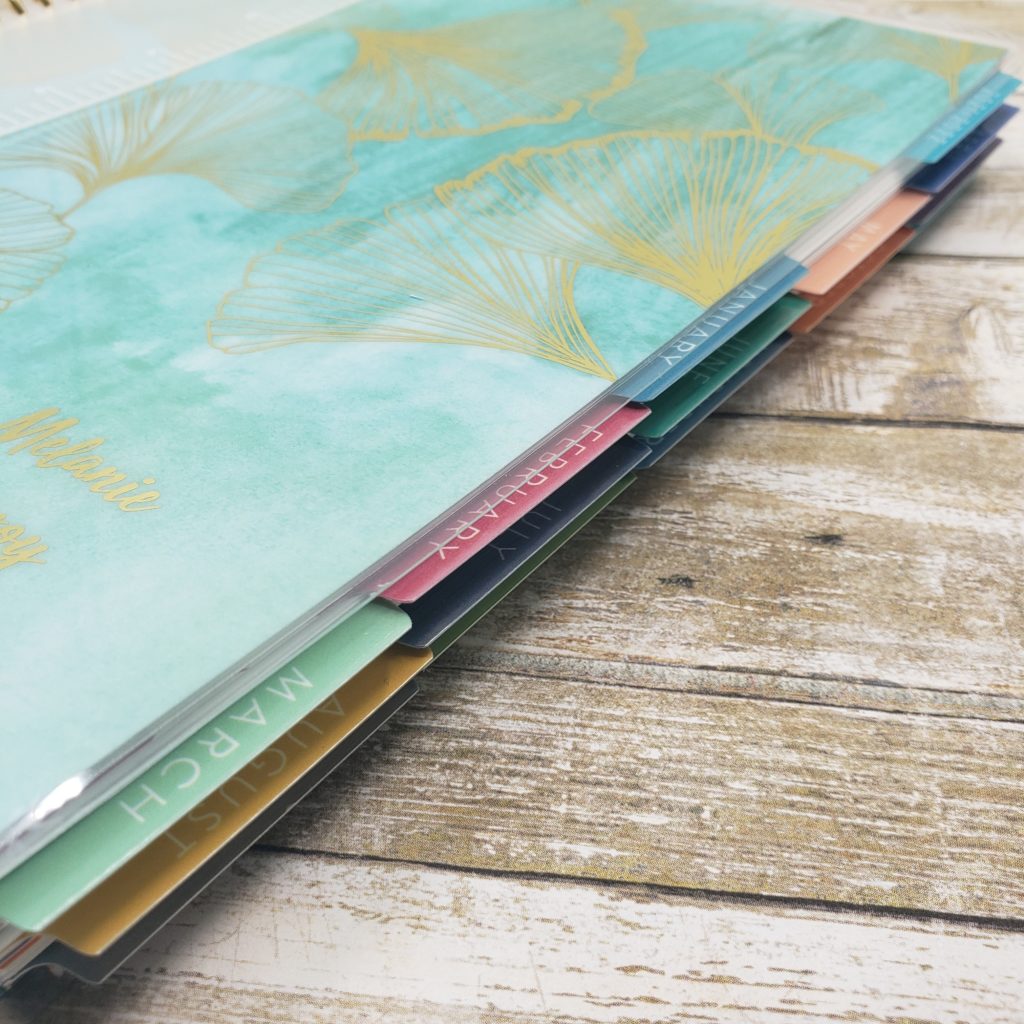 For last year's planner, I picked the hourly layout and I don't think that was a good choice. Since I am working a 9-5 job at a desk, there isn't really a lot going on other than the occasional meeting or lunchtime. As a result, most of the pages were pretty much blank.
This year I chose the vertical layout. It features 3 "boxes" that can be used for anything you want. Some people label them Morning, Afternoon & Evening, Or Home, Work, To-do. I am not 100% sure yet, how I will plan my weekly layouts but I'll probably see what works best for me in the first few weeks.
*** This post contains affiliate links. By purchasing an item through an affiliate link, I earn a small commission at no extra cost to you. ***
Vertical Life Planner
The Erin Condren Lifeplanner is a 7″ x 9″ coiled planner. There are many different cover options available that are interchangeable and personalizable. Included with the planner are a perpetual calendar, snap-in ruler, and 4 sticker sheets.
I will be going through each page and explaining how I will be using it. This is my initial setup. I will be adding a few more things once I start using it next month. Here is my 2022 Erin Condren Planner Setup.
Year-At-A-Glance Overview
Here is a look at the yearly overview. I have marked holidays and birthdays with translucent dot stickers. With a Zebra Mildliner marker, I highlighted my son's school holidays and PA Days. This would be only from January to August 2022 since next year's school calendar hasn't been released yet.
In addition, this overview will also be used to mark my husbands' vacation time and mine as well. This will be good to see how many vacation days we have taken/ scheduled and how many days are left for the year.
The translucent dot stickers are from Erin Condren but similar ones can be purchased in stores or online as well.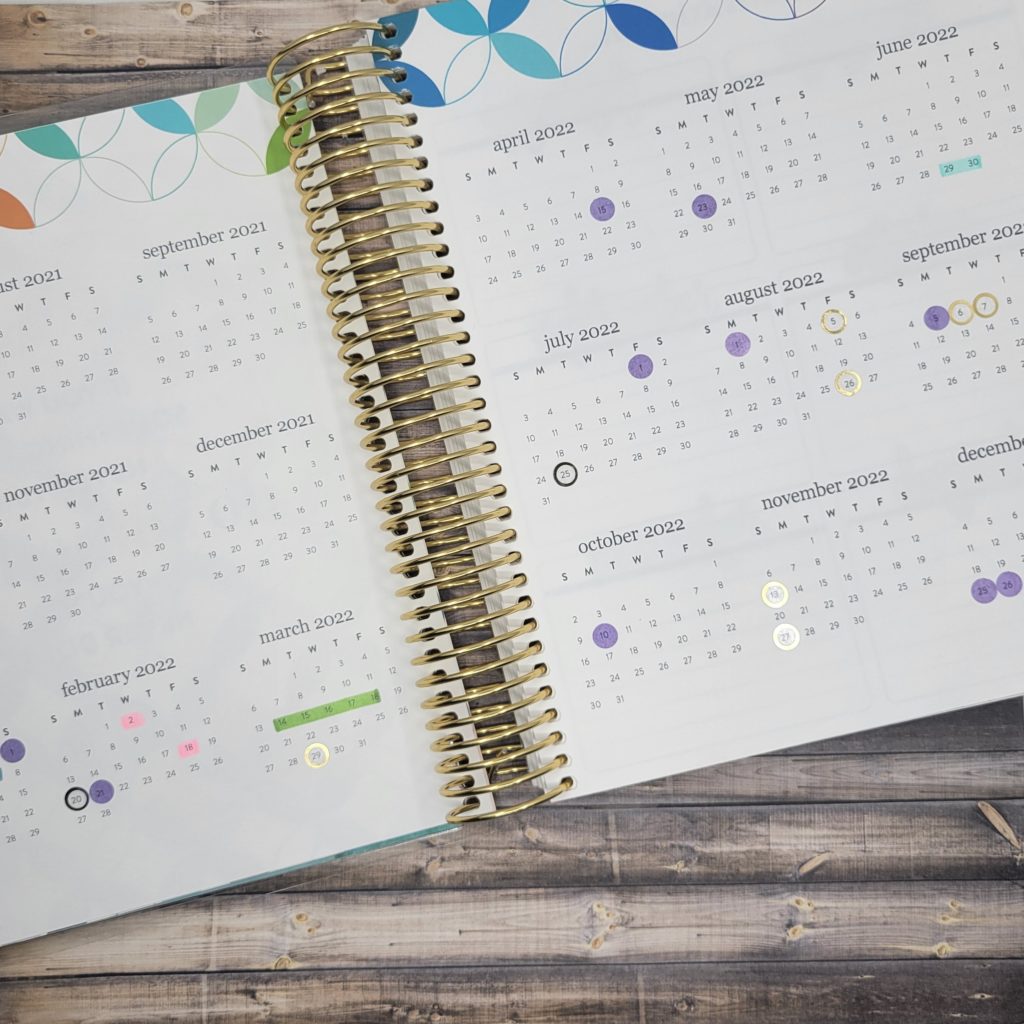 Monthly Goal Pages
I am never really too sure what to do with these two pages. There are 12 blank boxes and since there are no headings, they can be used for pretty much anything. I used the month header stickers from the Erin Condren sticker book and placed them above each box.
Some ideas for these boxes that I saw from other people are:
Birthdays
Goals
Events
Weight/ Measurement Tracker
I think it is a great page to track the progress of something throughout the year. Previously, I remember I used it for tracking our new puppy's weight and I added a picture of her every month. It was nice to see how much she has grown since we have gotten her.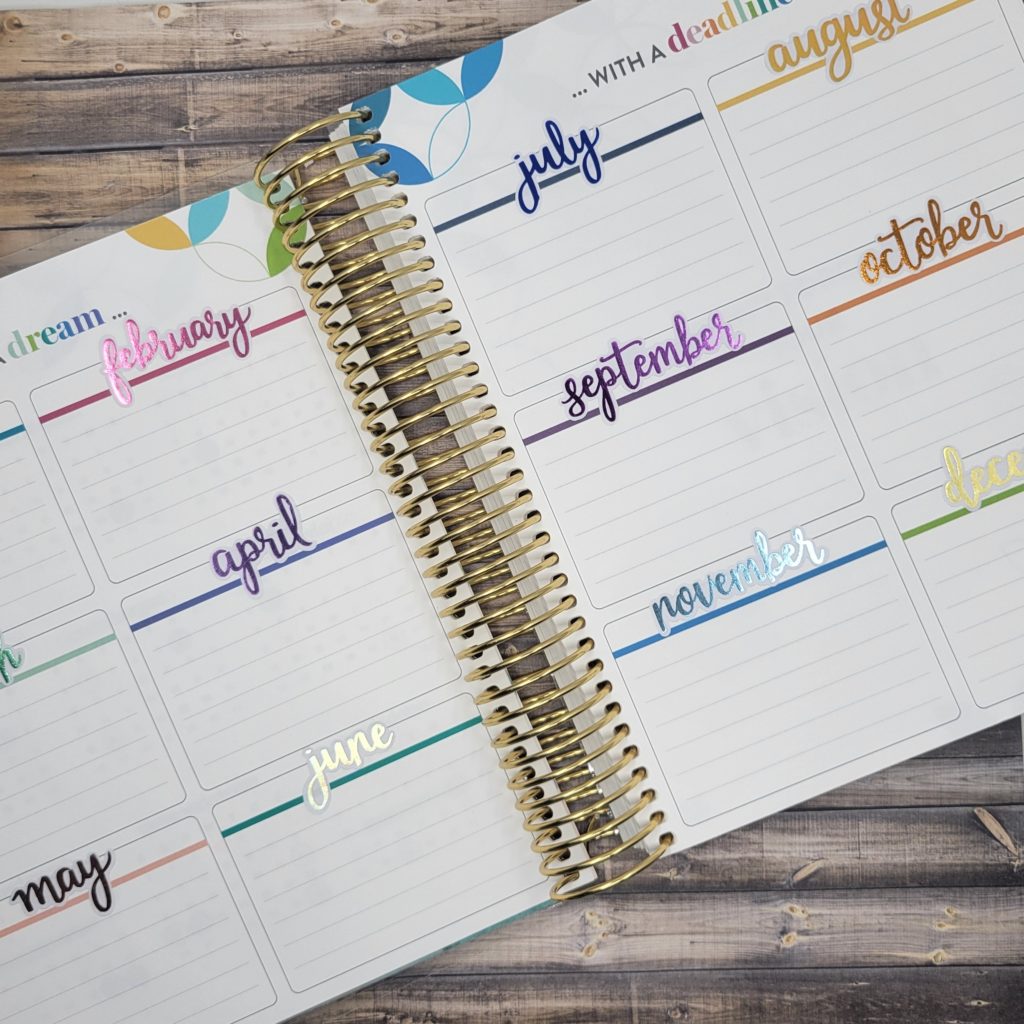 Monthly Overview
The monthly overview is one of my favorite pages and one that I use quite a bit. This page will show you what is going on that month. I will write down appointments, birthdays, bills due, paydays, events, work schedules,s, etc…
The sidebar is a to-do list of what I need to do that month and some quick notes. The stickers that I used are also from the Erin Condren monthly sticker book. I like how all stickers coordinate with the months' colors and theme.
I used the decorative stickers first and the label stickers later when I mark down appointments and events.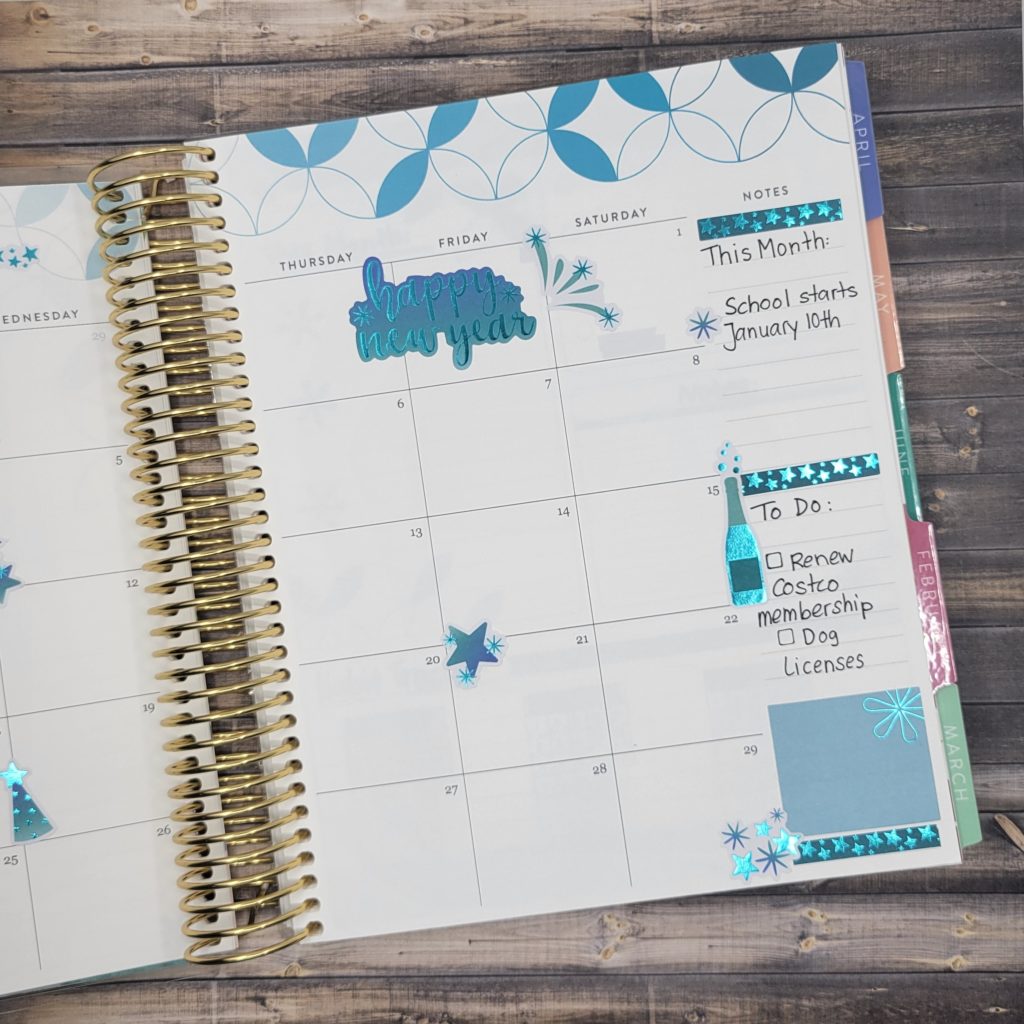 Dashboard
I have to admit that in the last few year's I haven't really used the monthly dashboard a lot. This year, I have set up each dashboard already, so it will be easy to fill out.
Here is how I am using each box.
This Month: Any highlights or important things that are happening this month. This can be birthdays, meetings, to-dos, or events.
Goals: Any goals that I want to achieve this month or I am working towards
Notes: A space for any quick notes
Habit Tracker: Keeping track of my habits. The 3 trackers are No Spend, Vitamins, 7+ hrs sleep. I might change them up later on.
On the opposite page, I am planning on doing a memory/ scrapbook page of the month. I will be adding photos, stickers, and decorations as the month goes on. It will be nice to flip back later and remember.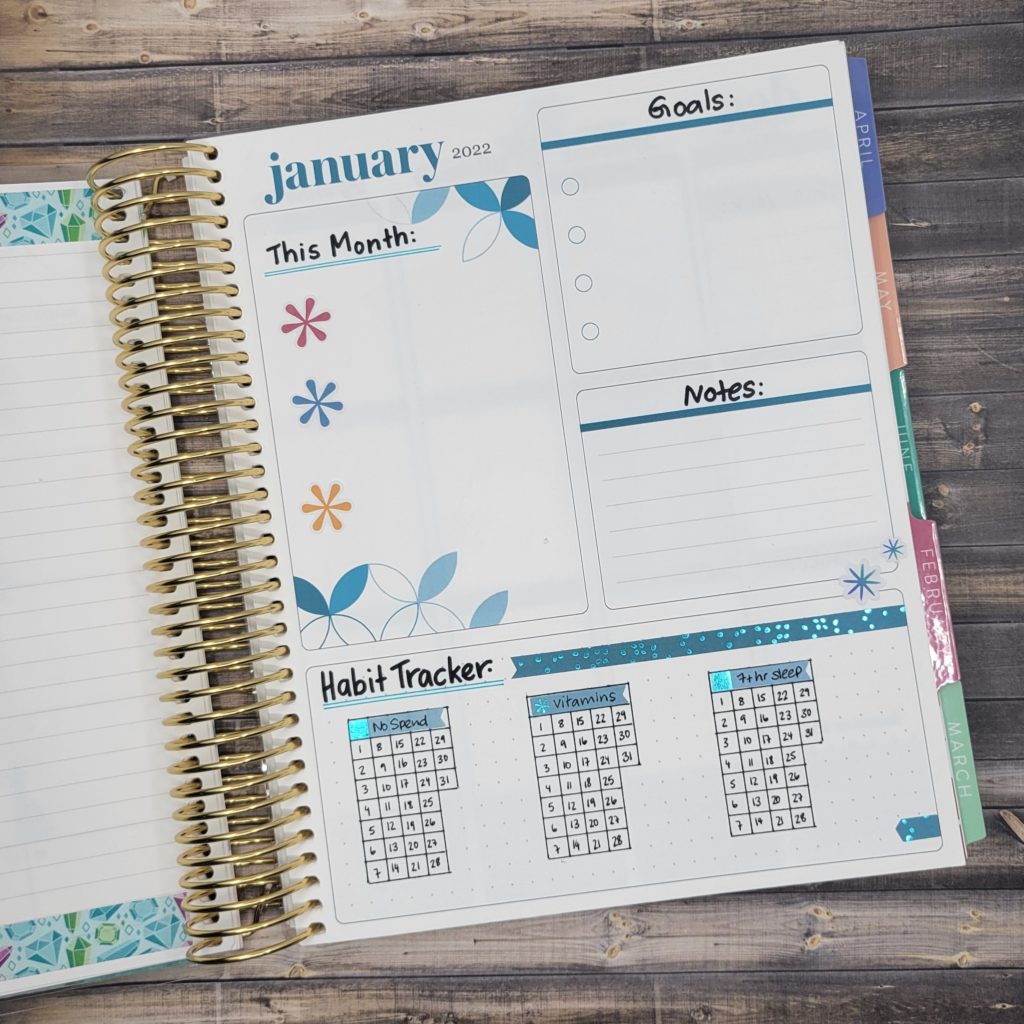 Weekly Pages
The main parts of this planner are the weekly pages. As I mentioned before, the vertical layout features 3 boxes that can be used for your specific needs. I am planning on using the boxes this way:
1st Box – Weather, all-day events such as Garbage Day, Payday, Holiday, etc.
2nd Box – Timed events, meetings, and appointments
3rd Box – To-Do list for the day
Notes – Meal plan, health stats (sleep, steps, HR)
The sidebar is for items not specific to a day but more for the week. Things that need to get done this week or any plans. Further down, I liked writing down a list of all online orders that I am expecting. Once I receive a package, I will check it off. If it didn't arrive that week, I will carry it over to the next week.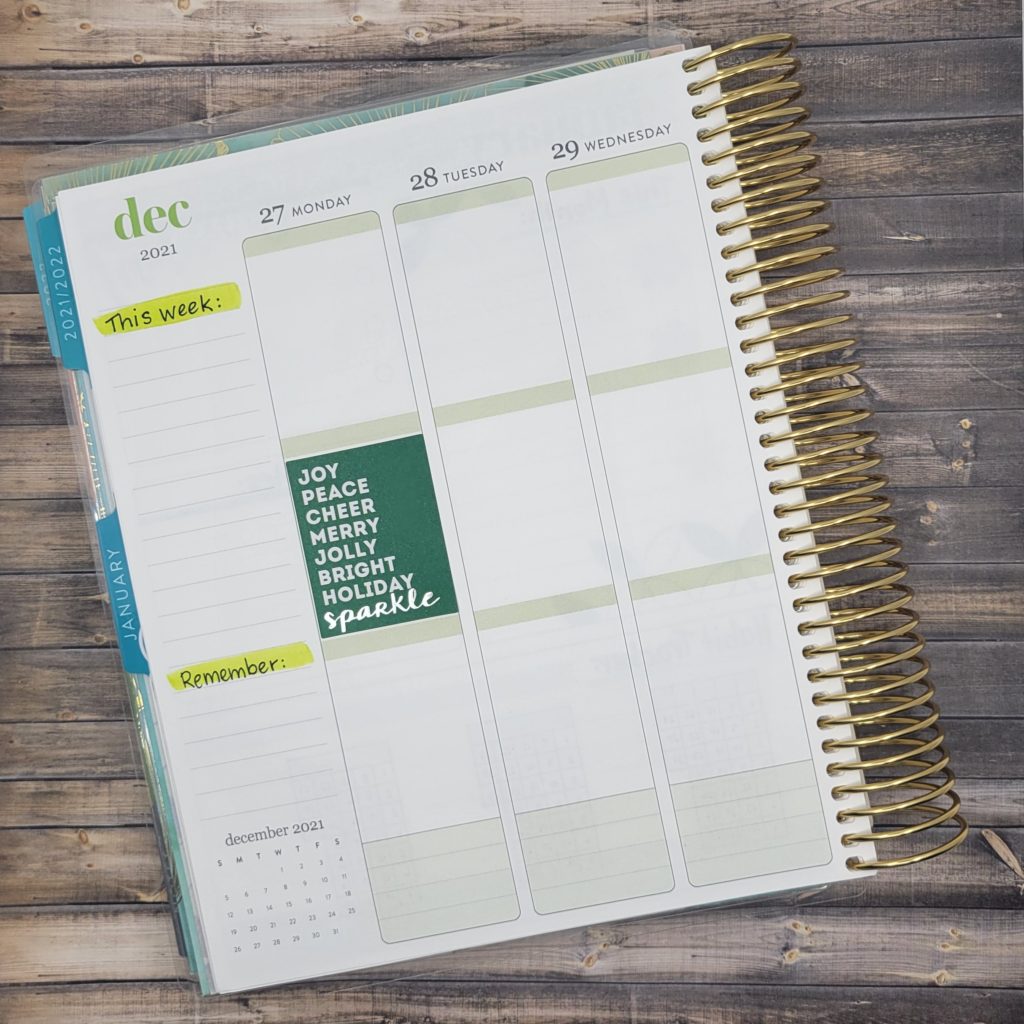 Note Pages
Towards the end of the planner, there are a few lined note pages. These are great for any lists or just plain note-taking. Last year, I wrote down my son's class schedule, a car maintenance log so we can remember when we did the last oil change, a Christmas/ Birthday gift idea list, and just random notes.
So this will be it for my 2022 Erin Condren Planner Setup. I am excited to start using the planner soon. Please check out my Instagram @melhasplans for planner pictures and layout ideas.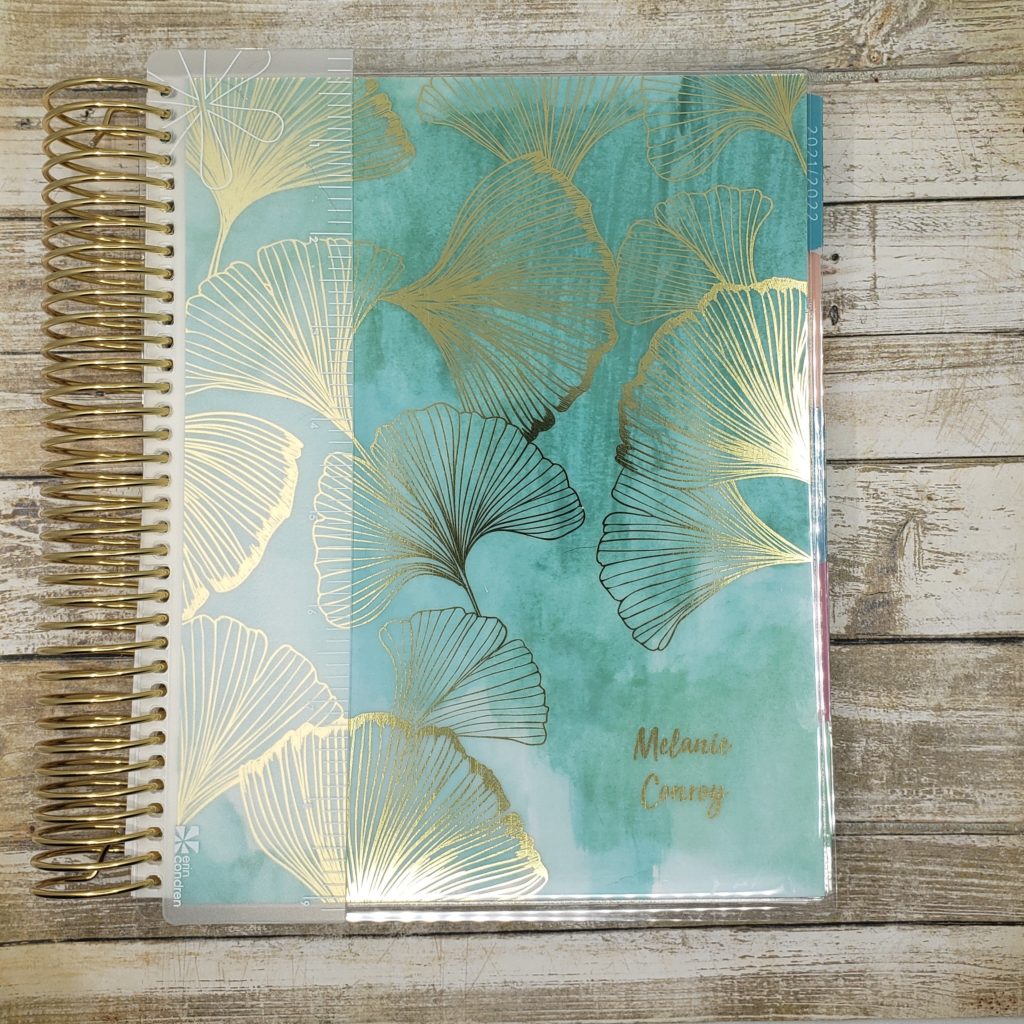 I have also created a Facebook group to share pictures of everyone's planner layout and get ideas and inspiration. Come join us and share your planner pics.
If you are interested in getting notified when new planner posts and printables are published, please subscribe to my monthly newsletter via the link below.
Thanks so much for reading. Let me know if you have any questions or comments. Check out my 2023 / 2024 Erin Condren Planner Review