Erin Condren LifePlanner Review
Here is my review of the 2021 / 2022 Erin Condren LifePlanner. I have been using this planner since 2017 and recently bought the latest 2021 / 2022 planner. The planner is available as an 18-month or 12-month planner. I started out buying the 18-month Planner which runs from July to December of the following year but lately have switched to a 12-month planner from January to December. It makes more sense to me and I get to buy a new planner every year.
Since the planners are coming out in May and I already had my 2021 Planner, my newest planner won't start until January 2022 and I have to wait patiently until I can use it. I am still going to do some pre-planner before that.
*** This post contains affiliate links. By purchasing an item through an affiliate link, I earn a small commission at no extra cost to you. ***
If you are interested in purchasing the same Planner and are new to Erin Condren, you can use my affiliate link to receive $10 off your first order. I will also receive $10 off my next order.
Planner Cover
One great thing about the Erin Condren Planners is that you can choose from many different covers. The website has many cover options available which can be further customized with different colors. You can have your name or a quote printed or some covers even give you the option to use your own photos. If you are having a hard time deciding which cover you like, buy a few extra covers. The great thing is that they are all exchangeable! Change your cover every month or with the different seasons.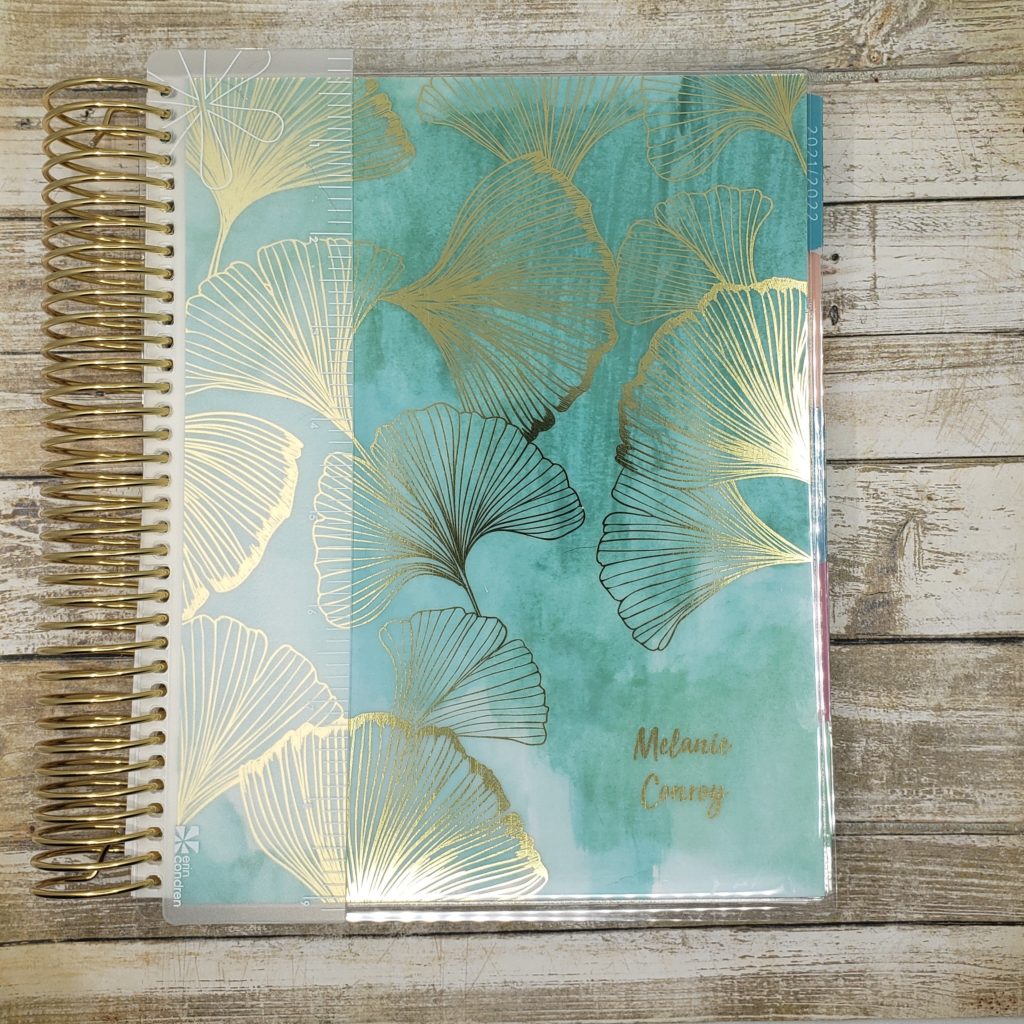 First Page
The first page of the Erin Condren LifePlanner has a place for you to write your name and maybe contact information in case you lose your planner. A lot of people write are hand lettering their name or use pretty script stickers.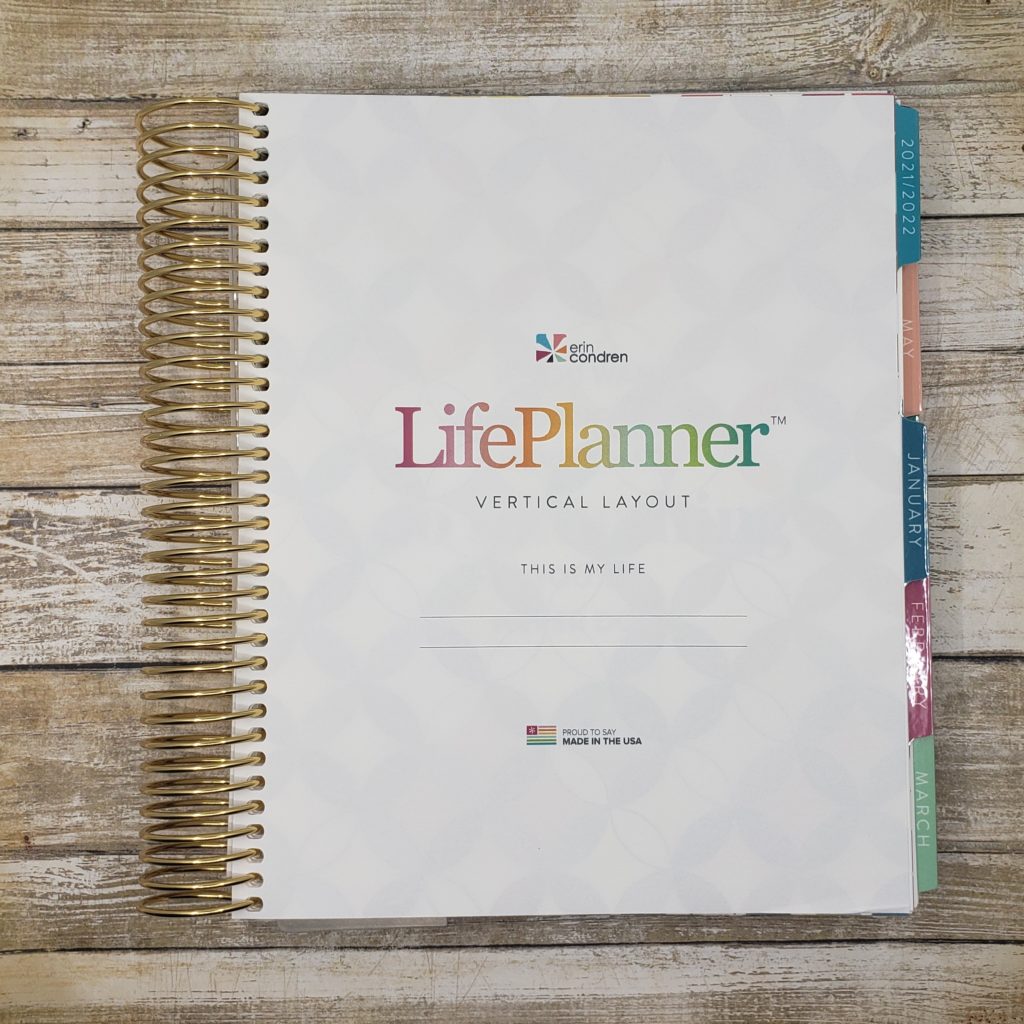 Year-At-A-Glance
The Year-At-A-Glance page is one of my favorite pages. I can see the whole year on these two pages. Usually, the first thing I do is, mark all holidays and birthdays with transparent dot stickers. Erin Condren sells these stickers or they are available online through various sellers. You can do school holidays if you have kids and mark your own vacation days from work as well.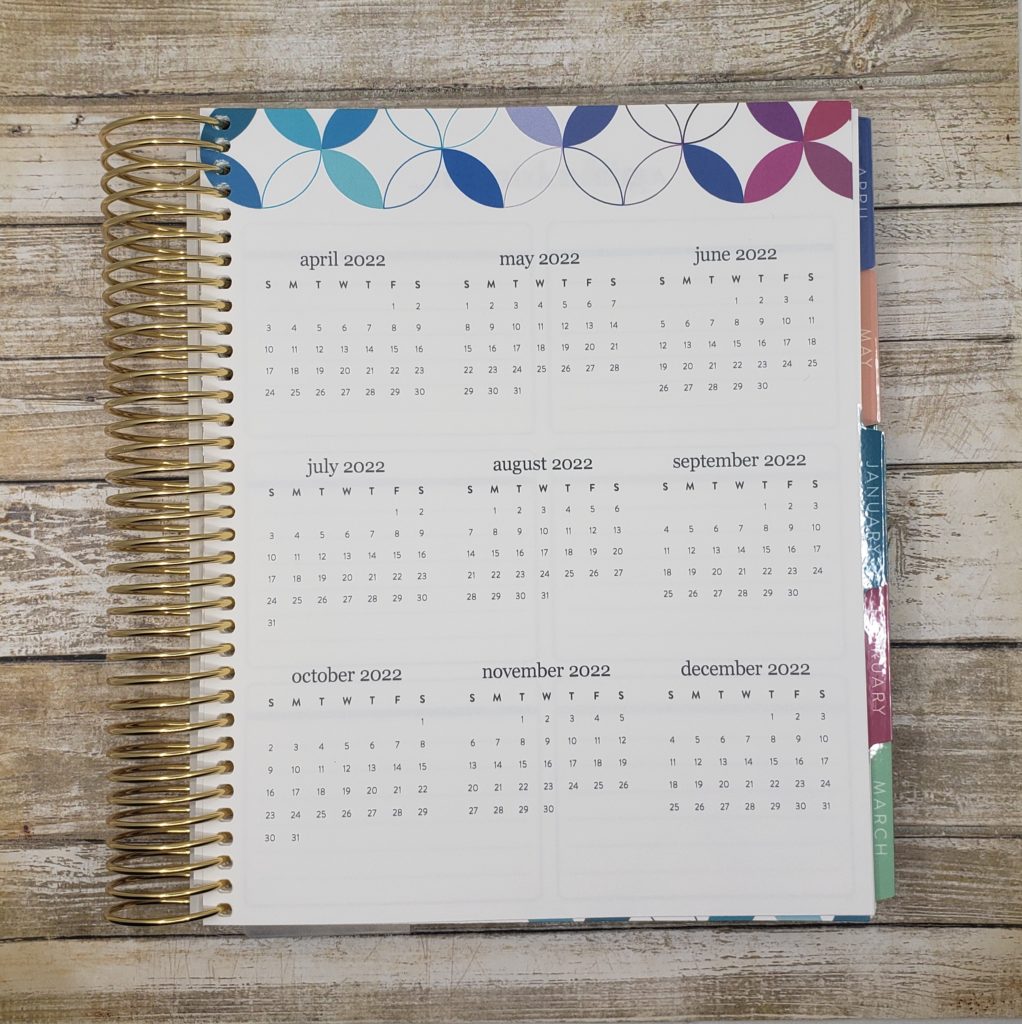 Goal Pages
I am not really sure if you should call them goal pages. A lot of people use these for goals but they can be used for pretty much anything. Erin Condren has left them blank so you can write your own headings. They are 6 boxes on each page, so technically it can be one box per month. Different uses can be health/fitness tracking, memories and events, finances, and so much more.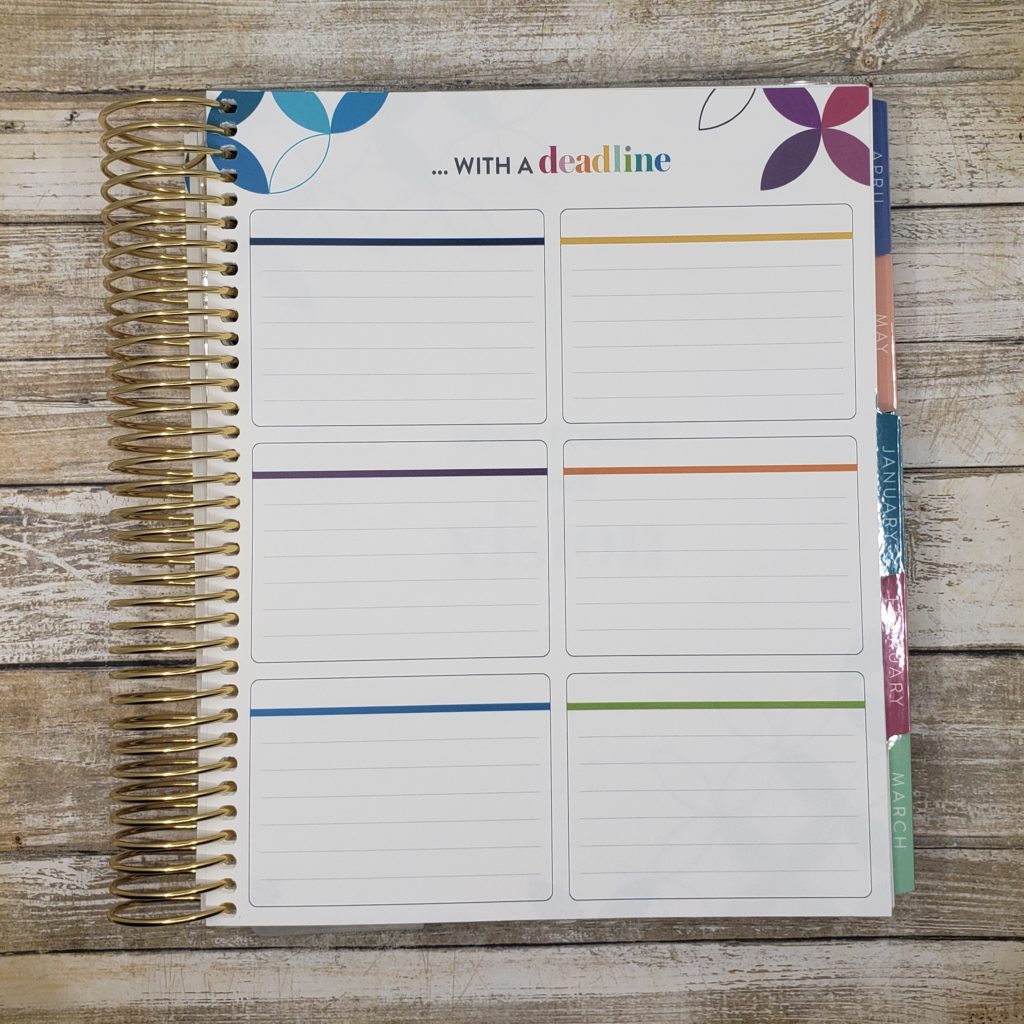 Monthly Overview
This is your monthly overview. Great for seeing right away what is going on that month. I write down all my appointments and work-related meetings, as well as my son's school events. Anything with a due date I will write down on this page as well and check it off once it's been done.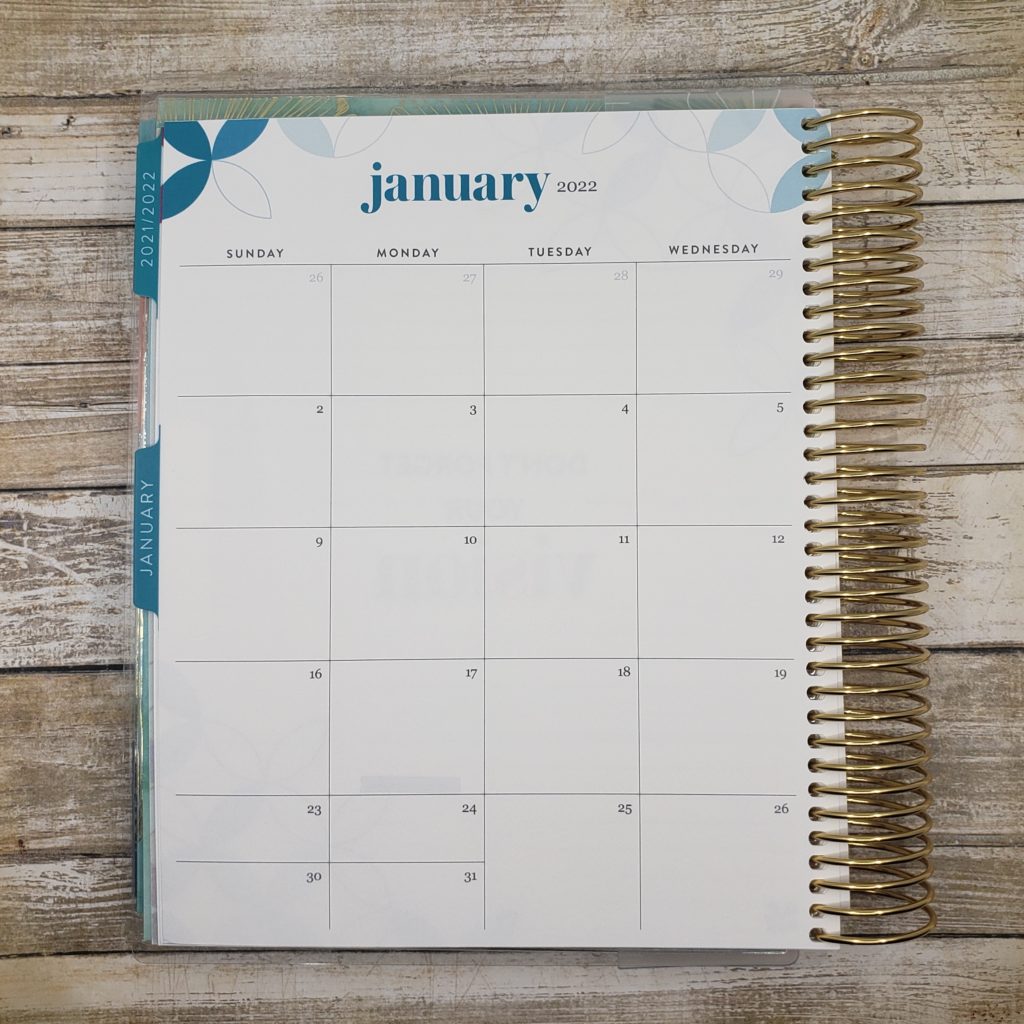 Monthly Dashboard
The monthly dashboard can be used for so many different things. It is great that there are no pre-printed headings and you are able to choose your own. One of the boxes can be a to-do list, and maybe another one for birthdays happening that month. The dot grid at the bottom is perfect for monthly habit trackers.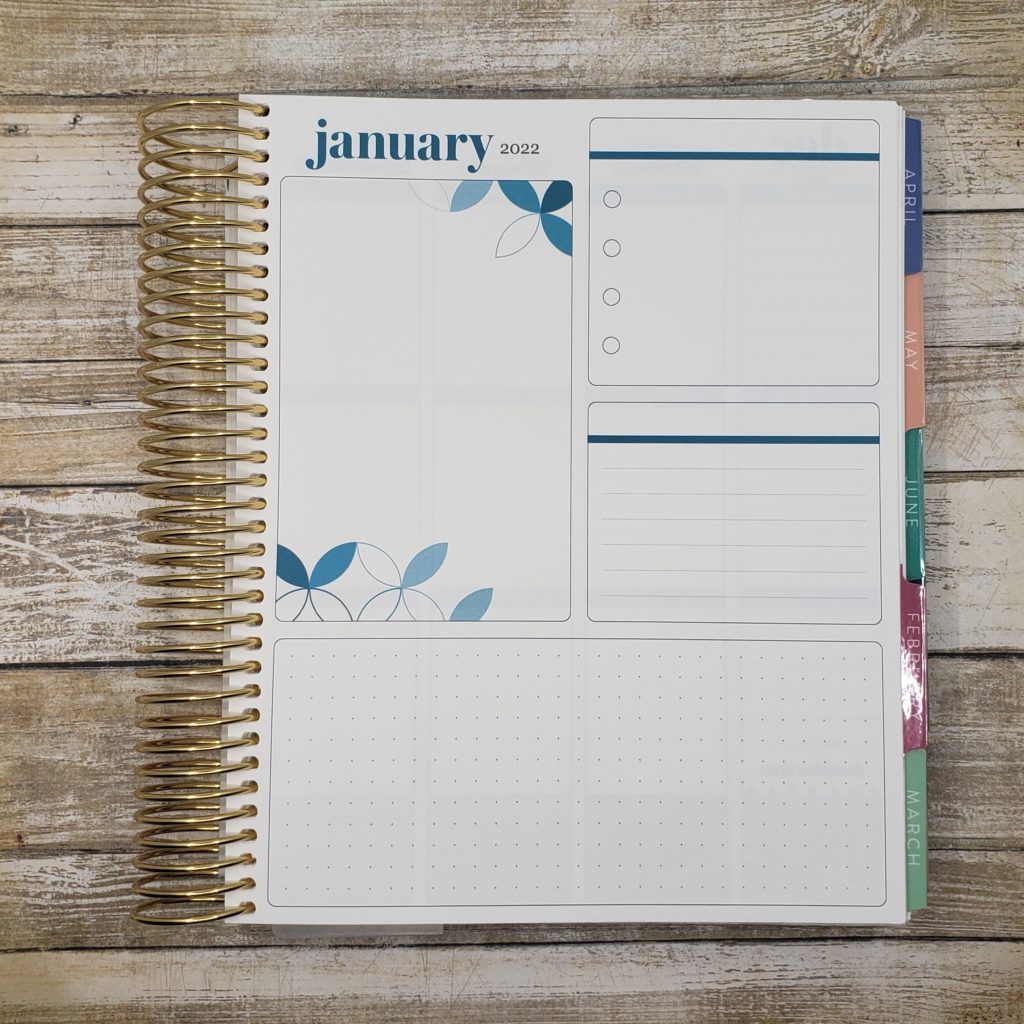 Weekly Pages
The main part of the planner are the weekly pages. There are 3 different layouts to choose from. The layout that is pictured is the vertical layout. There is also a horizontal layout and an hourly layout that people can pick. My last planner had the hourly layout. Since I am working 9-5 every day, the majority of the page was just for work and pretty much blank. Not many meetings during Covid times. So for my 2022 planner, I chose the vertical layout which allows me to break down the boxes into 3 different categories. I am not sure if I am doing, Morning-Afternoon-Evening or School-Work-ToDo. Lots of different options.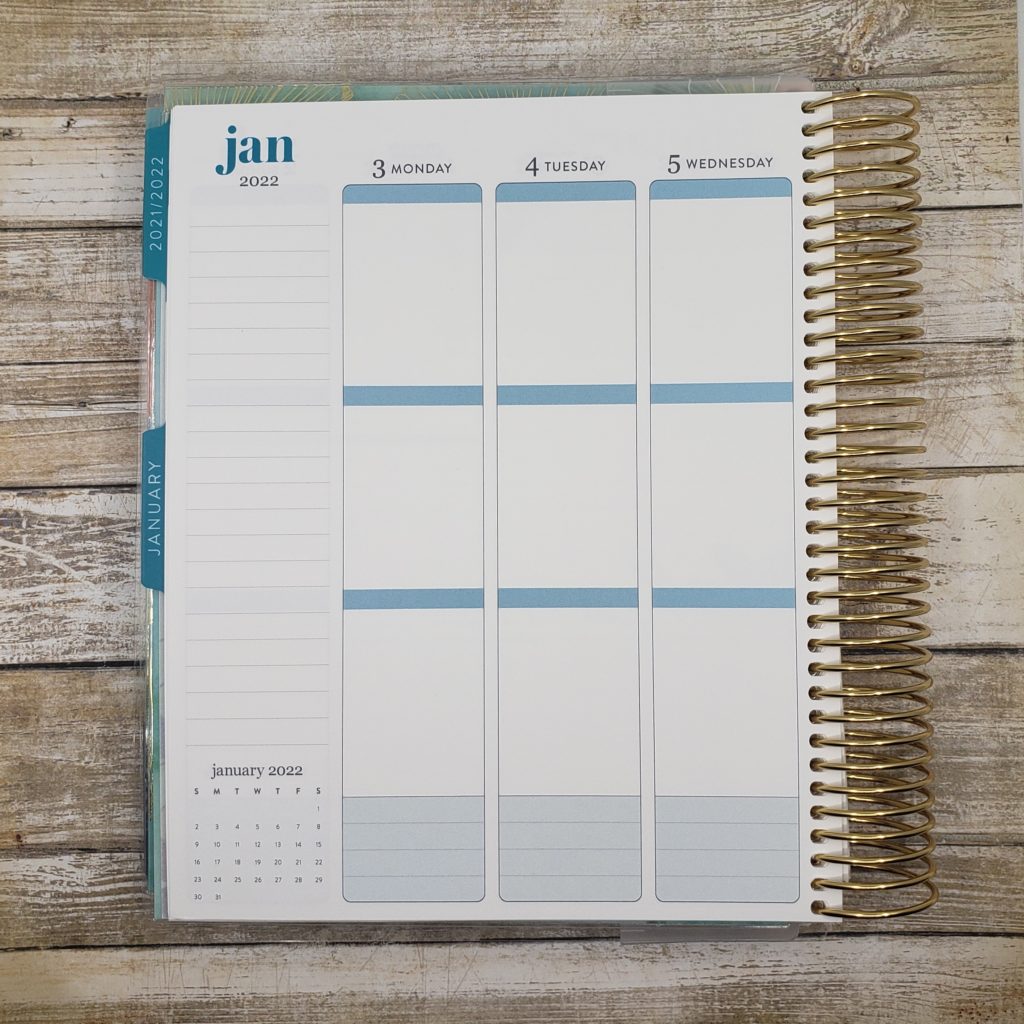 Notes Pages
At the end of the planner, there are a few lined note pages and an address page to keep your important contact information handy. I think it's a great place to write down your Dr.'s info, Vet, Kid's school, Emergency contacts, etc..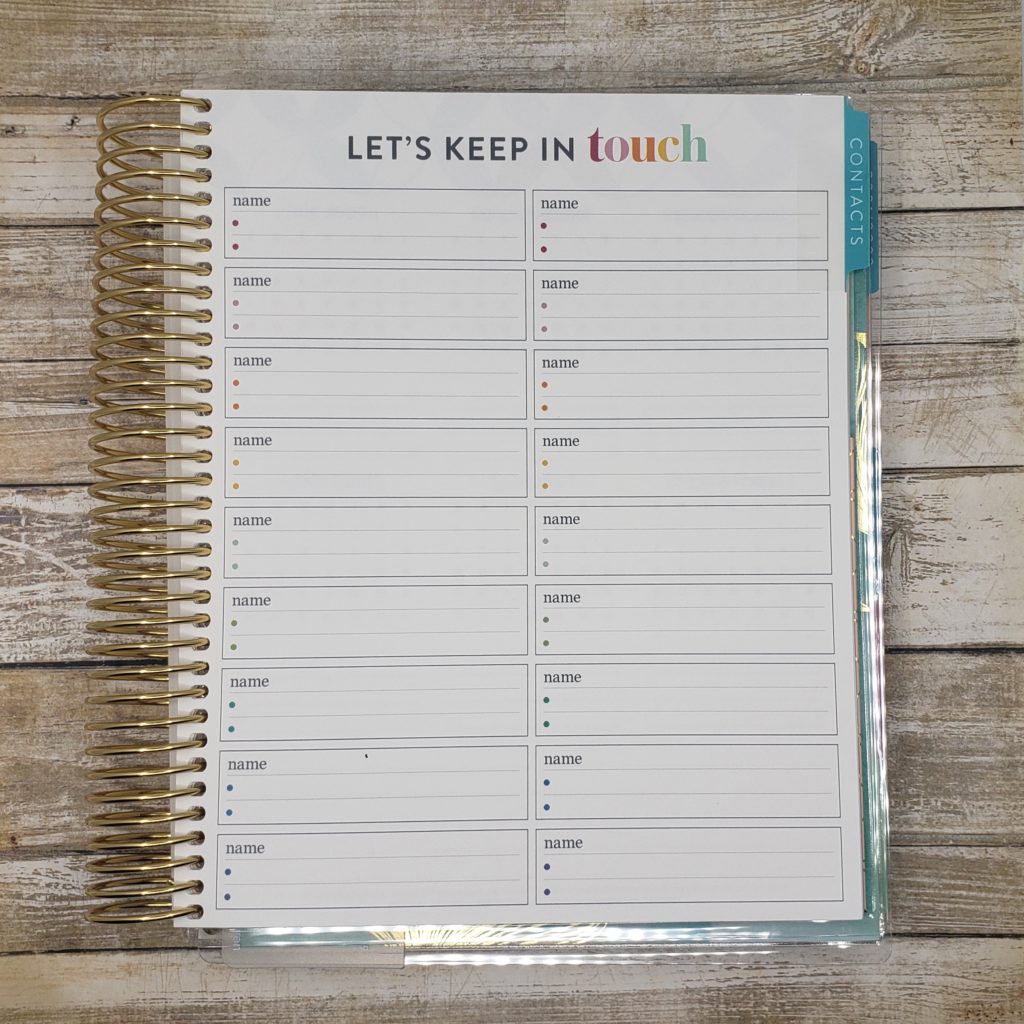 Next year
This page is actually pretty useful. It's a look ahead to the next year. A lot of times there are appointments or events happening in the next year you already know about but you don't have the new planner yet. All these future appointments can be written down here and carried over to your new planner the next year.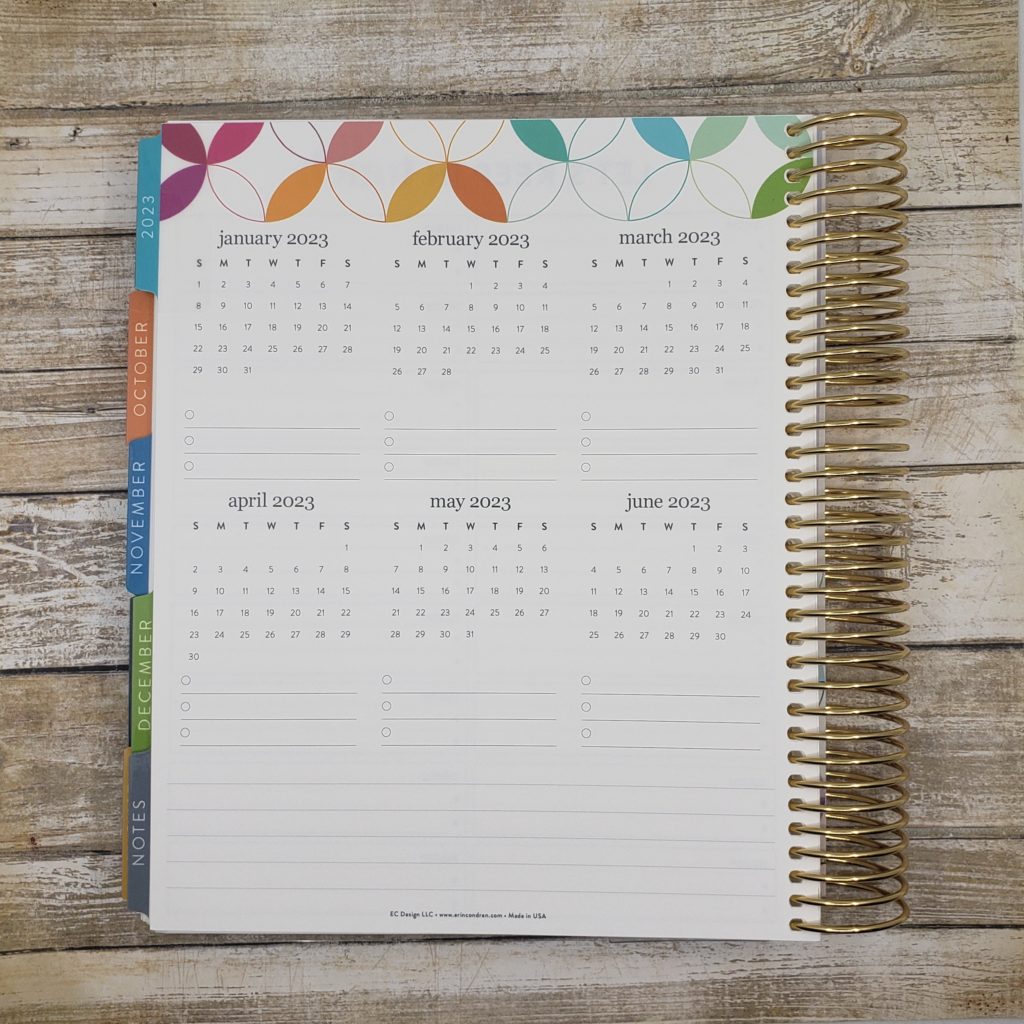 Goodies
At the end of the planner are some beautiful sticker pages to help you plan in your new planner. There are a total of 4 sticker pages that features various kinds of stickers for decorating your planner.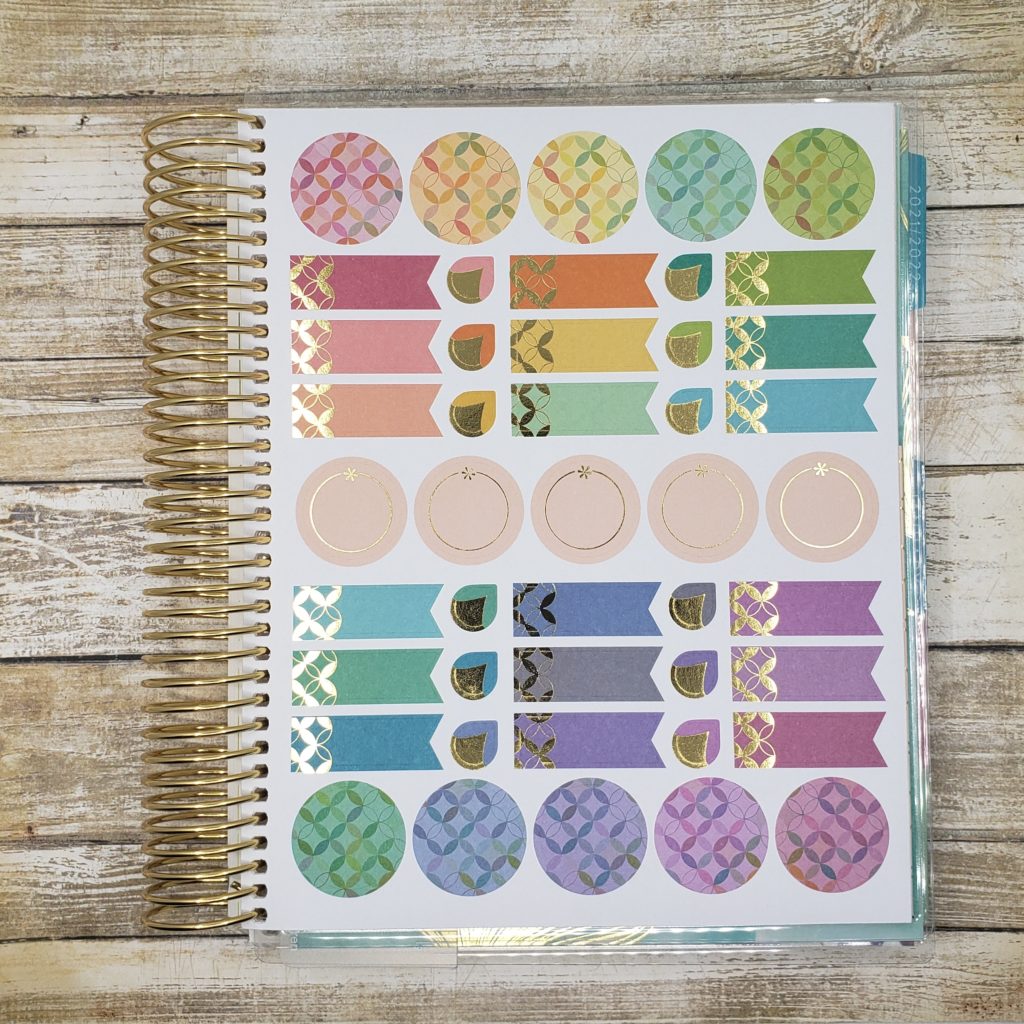 The last page is a corner pocket that lets your store items in your planner. I think this is the first year they included another sticker sheet that features various kinds of holidays. The corner pocket is great for storing additional stickers, receipts, etc.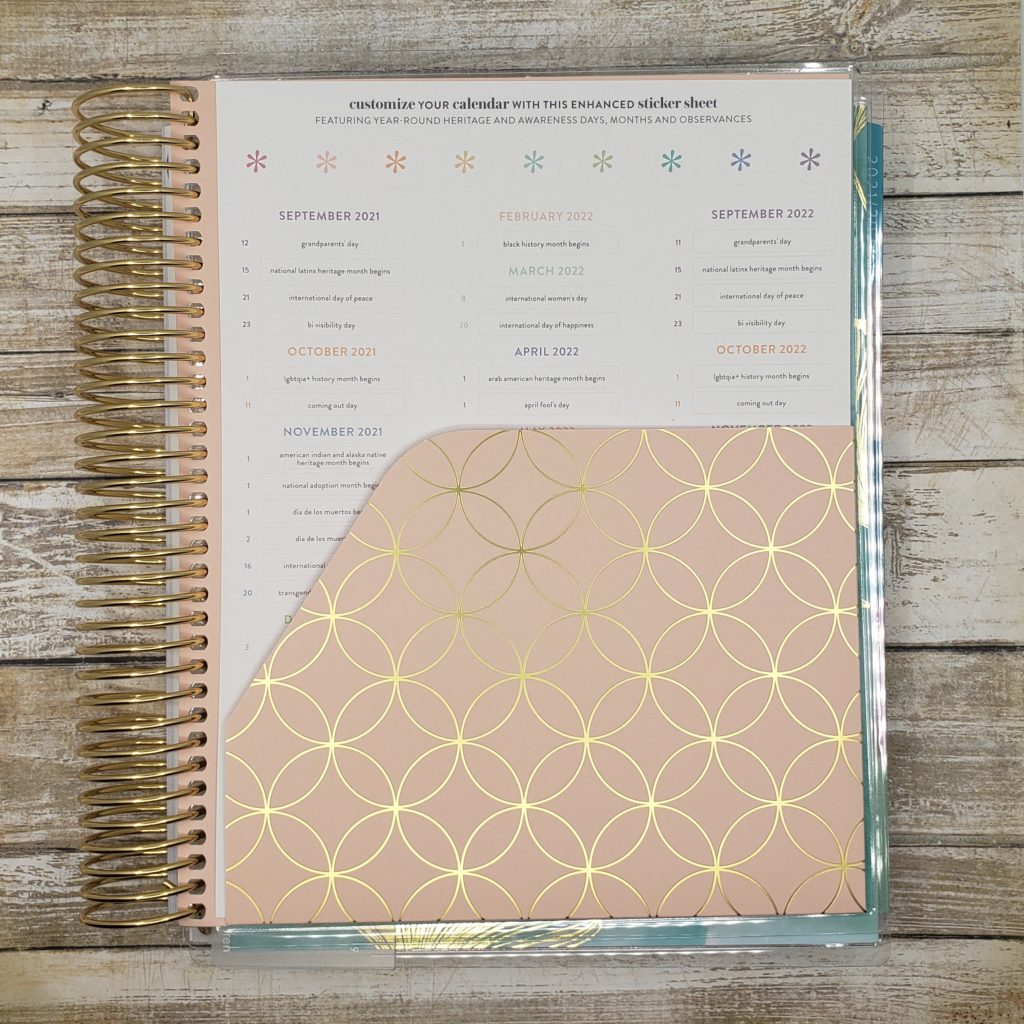 Here is a quick look at what the planner looks like from the side. This planner is the 12-month planner, the 18-month planner would have an additional six tabs and is quite a bit thicker. The coil is larger on the 18-month planner. A lot of people buy the 18-month planner which is an additional $5 to get the larger coil, but then remove the first 6 months to have extra room. If you are using a lot of stickers, the larger coil will give you extra room, as the planner gets quite chunky with so many stickers.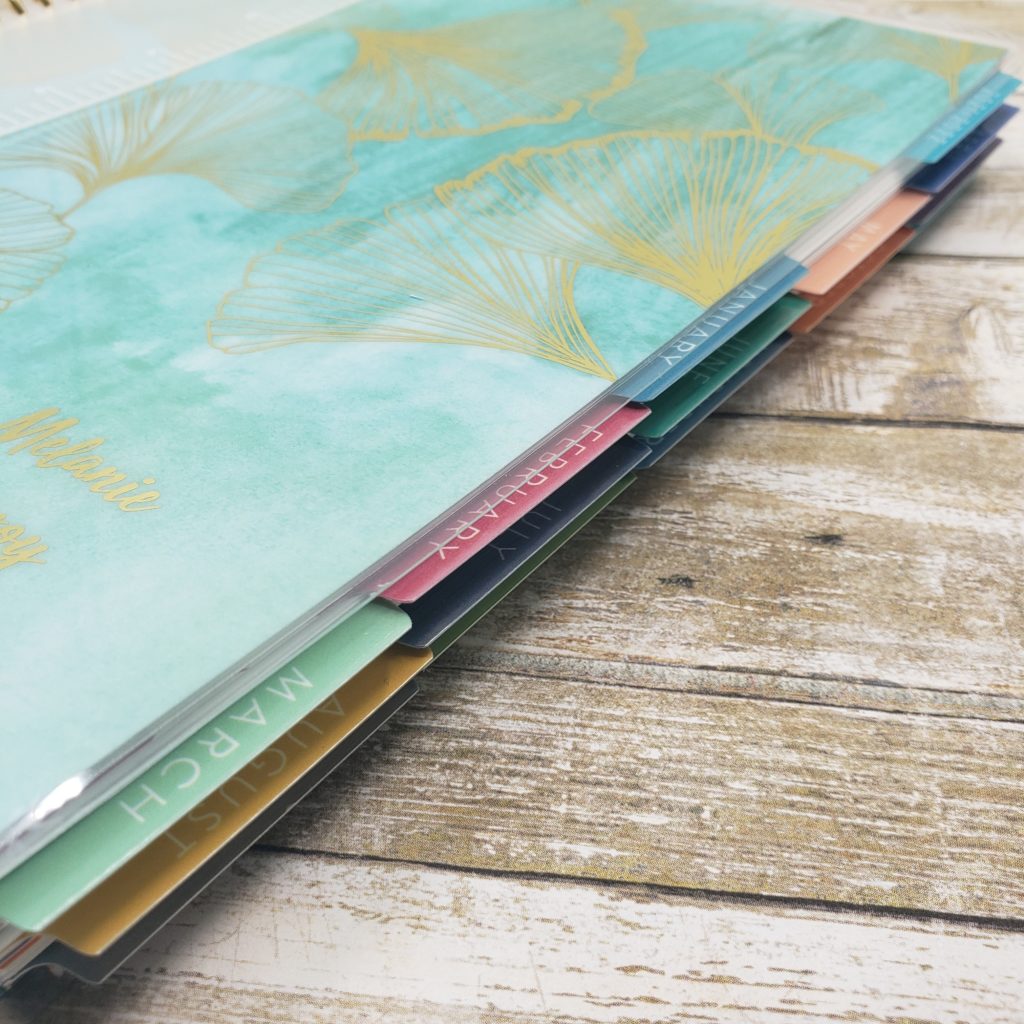 I hope you liked my little review. Please let me know if you have any questions. I will make another post when I am setting up my new planner.
If you are interested in reading how I set up my other Erin Condren Planner as a Budget Planner, check out Budget Planner Set Up for 2021
You can subscribe below to get notified once new posts are published. Thanks so much for reading!!!