Budget Planner Setup for 2021
My 2021 Budget Planner Setup
*** Update: 2022 Budget Planner Setup ***
Today I would like to share with you the setup that I use for my new 2021 Budget Planner. The planner that I chose is the 7×9 Erin Condren Monthly Planner. This planner is great for setting up your budget planner exactly the way you want it. It features a monthly calendar overview that easily helps you keep track of bills, expenses, and income. 
Each month has 10 lined note pages, that can be used as a transaction log, your budget, account balance tracker, and more. You can see how I set up my monthly note pages below. Update: Monthly Budget Planner pages 
If you are interested in purchasing the same monthly Planner and are new to Erin Condren, you can use my affiliate link to receive $10 off your first order. I will also receive $10 off my next order.
The back of the planner has more note pages. You have the option to choose between 40 or 80 pages. They are great for financial trackers, goals, and overviews and these pages would not necessarily relate to a specific month but for the whole year. I will show you in a separate post, how these trackers and overview pages can be set up.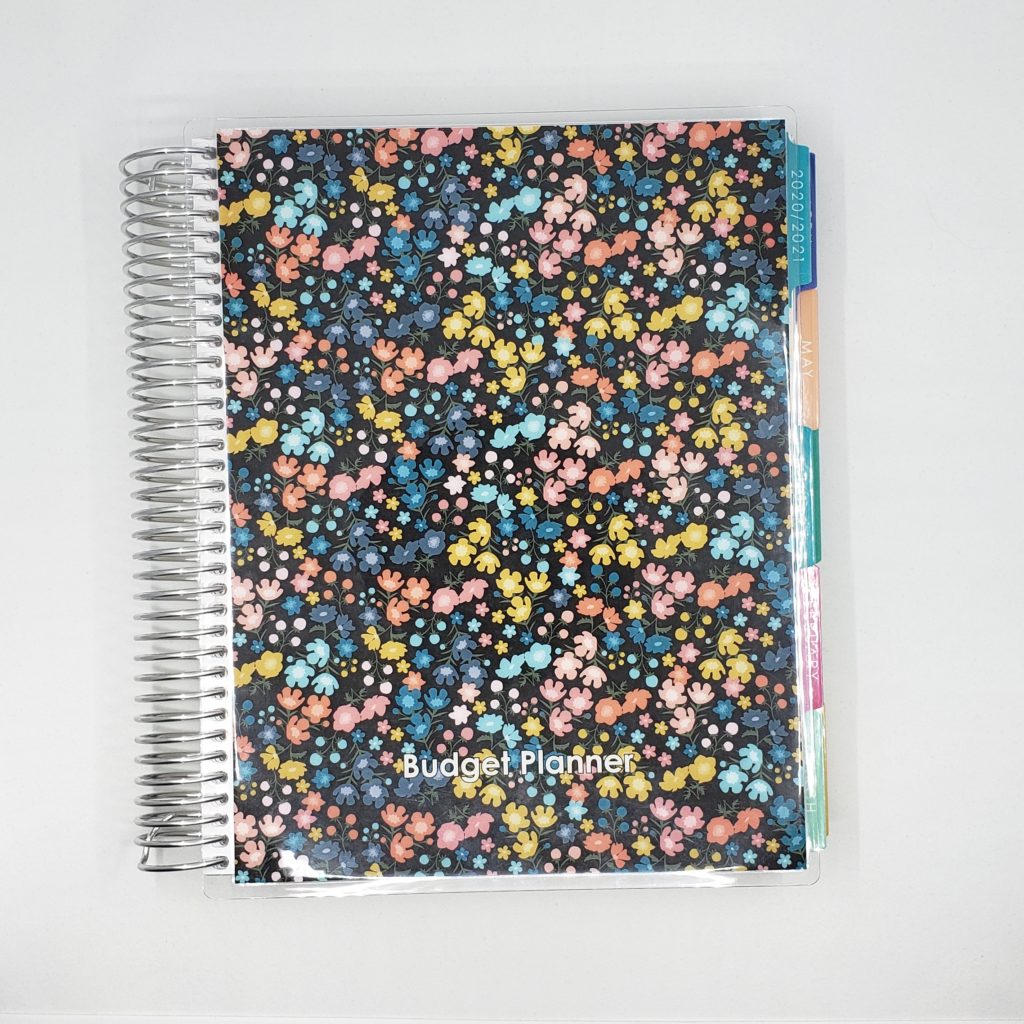 Year At a Glance
This overview is great to track irregular bills that aren't due every month and paydays. Most of our bills are monthly except property taxes and some subscriptions. Since I am getting a bi-weekly paycheck, there are a couple of months where I am receiving three paychecks instead of two (a great opportunity to put the extra money towards debt or savings). You can identify these months clearly in the overview.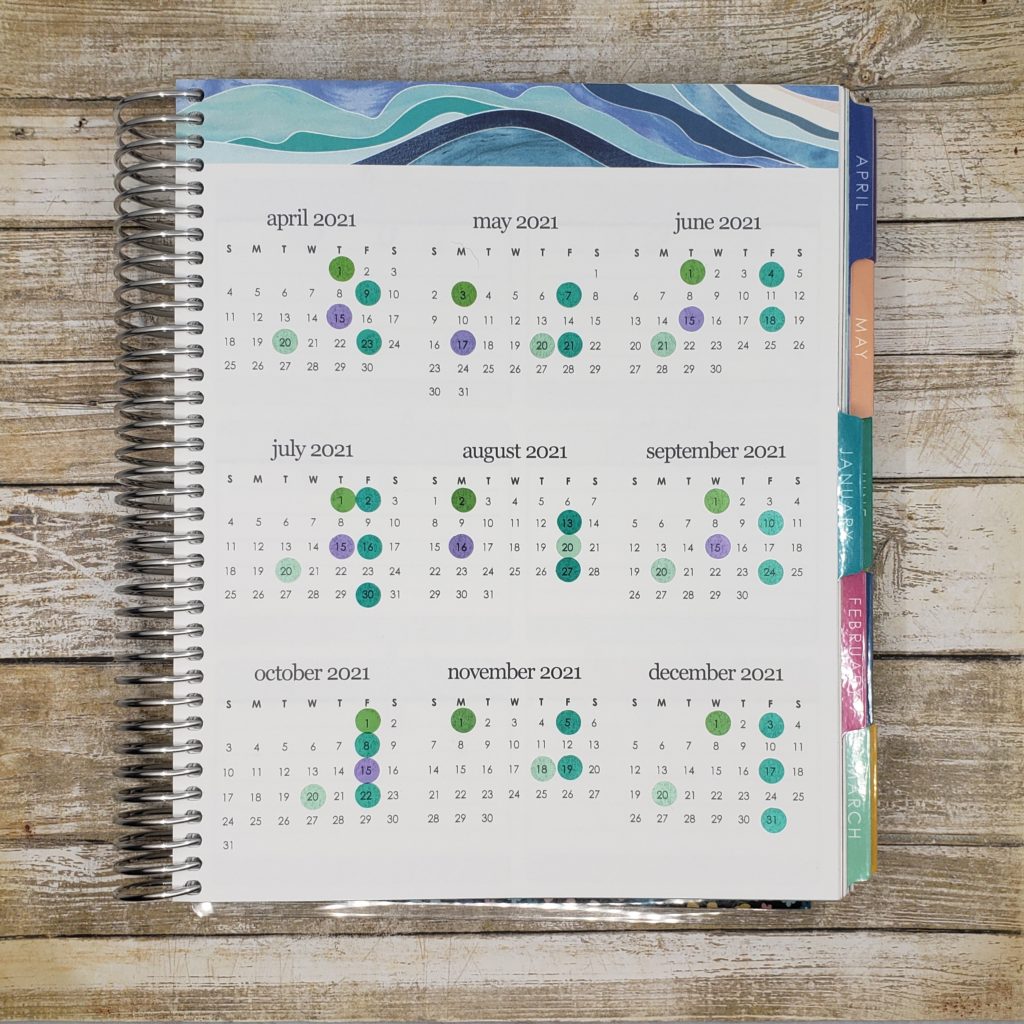 The next pages have 12 empty boxes. I placed monthly header stickers down to keep track of savings goals, events, or just account balances. Not quite sure yet.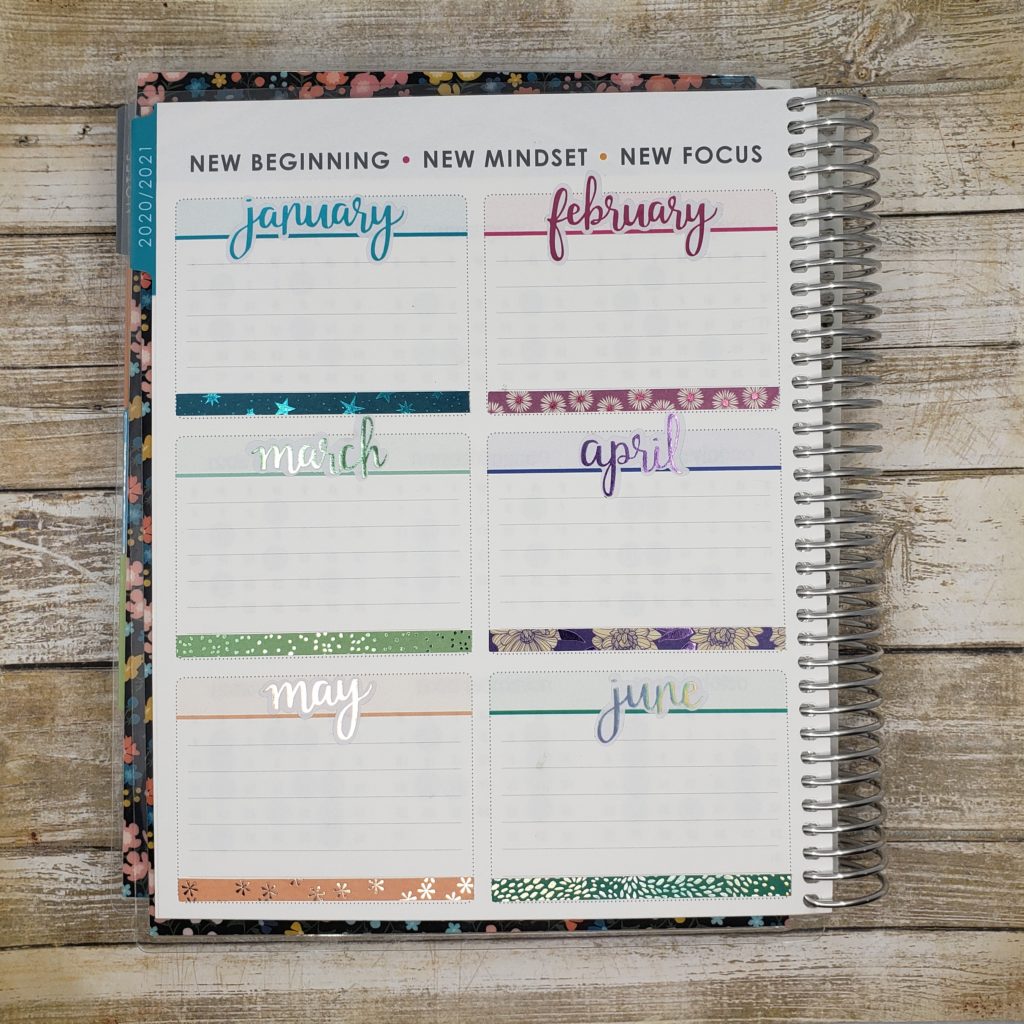 Monthly Overview & Budget
The monthly overview is one of my favorite pages. It gives you an at-a-glance view of your monthly income and bills. This will help with budgeting and bill payment tracking. 
I am also thinking about logging all my expenses such as groceries, gas, and other purchases in this overview, which is much like a transaction log but easier to visualize how many times I went to get groceries that month or week. You can color code the categories with stickers or pens.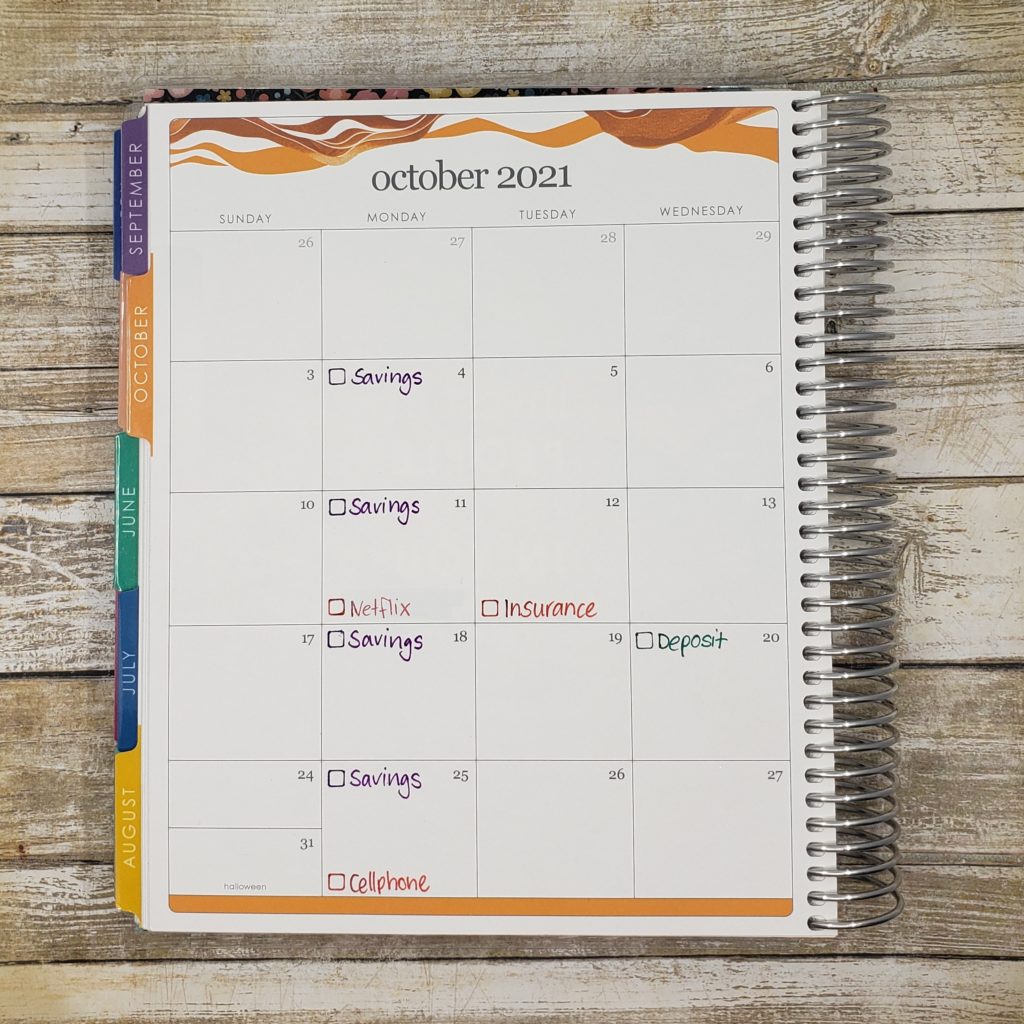 Monthly Dashboard
The next couple of pages feature a lined page on the left side and a sort of monthly dashboard on the other. I have decided to use the dashboard as an overview for any bills due, financial goals, a no spend tracker, and events such as birthdays, vacations, etc. that are happening for that month. The green stickers are from the Erin Condren Monthly sticker book (Edition 5) and I made the script stickers myself.
The lined page on the other side will be set up as my net worth tracker/ overview and will list all my bank accounts, savings, investments, and assets here with their beginning balance at the start of the month, as well as all debt such as credit cards, line of credit, loans, etc. At the end of each month, I will write down the ending balances and then calculate the difference between the two, which will give you an overall increase or decrease in net worth. The ending balances will be the new beginning balances for the next month.
I am using the rest of the monthly note pages for my budget, weekly check-ins, sinking funds, and a transaction log, which are explained in more detail in my other blog post ( Setting up monthly budget pages in my Planner ). These pages will be set up the same for each of the 12 months.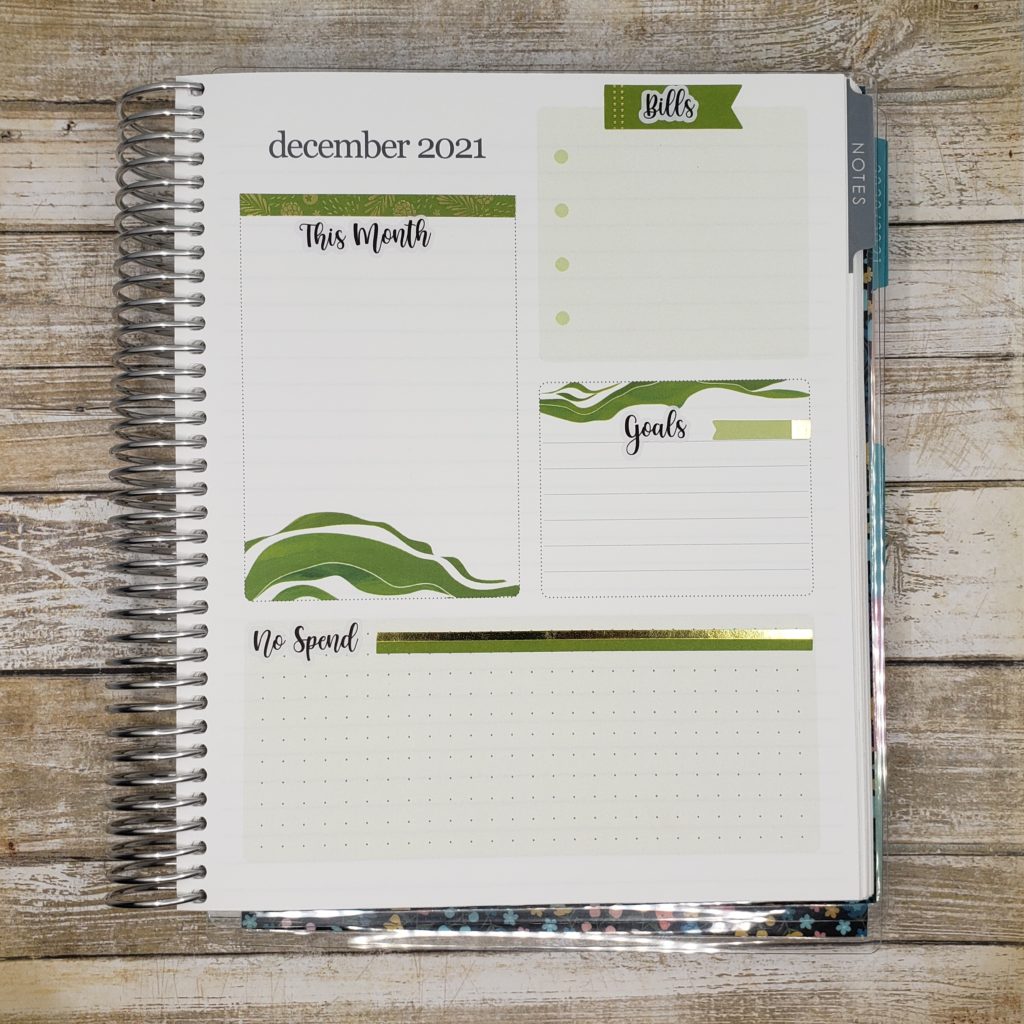 Financial Trackers
The Erin Condren Monthly planner can be ordered with 40 or 80 additional note pages at the back. I think it is great that you have the option to get lined, productivity, or dot grid pages. The dot grid pages are my favorite as they give you the most flexibility for setting up your different pages and are great for financial trackers.
Below are some examples of financial trackers that can be set up in your planner. Have a look at my other post on Setting up monthly budget pages for some great examples.
Banks and Account Numbers
Investment Accounts (Balances, Gains/Losses, Interest & Dividends)
Debt payoff tracker
Yearly Bills Overview 
Emergency Fund (Balance, Transactions)
Sinking Funds
Savings Tracker
Utility Bills (Consumption, Graphs, Comparison)
Financial Quotes
Investment Accounts
The page below is for keeping track of balances and new stock/mutual fund purchases. This example is for my work pension plan. Every time a contribution is made, I note the price and amount of shares purchased. The last two columns on this page are a running total of all how many total shares I own and what they are currently worth.
Monthly Bills
This will probably be one of my most used pages, which lists all bills and amounts due. Some of the bills are not due every month or the amount varies from month to month. To help me with monthly bills, these pages provide a quick overview of how much is due and when as well as remembering any infrequent bills that occur once a year or quarterly.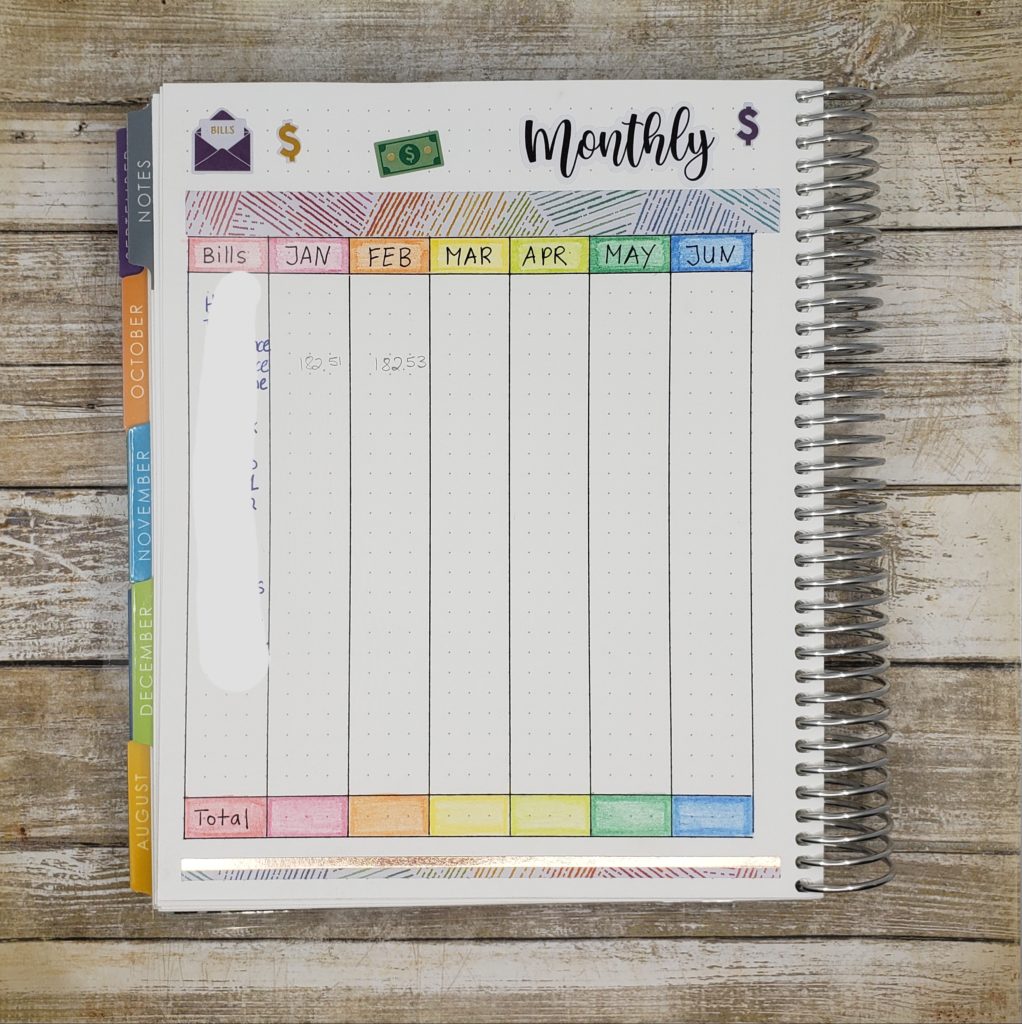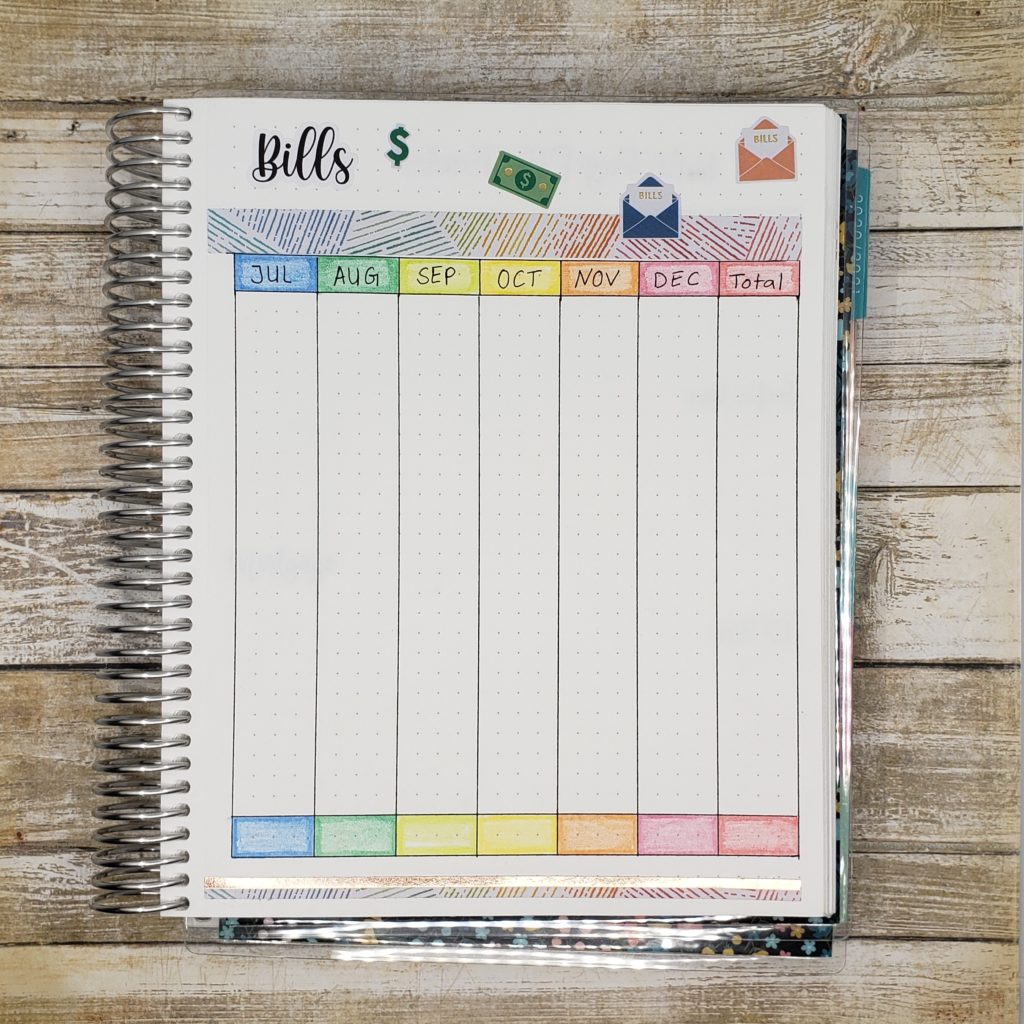 I hope you like my Budget Planner Setup.
Please let me know in the comments below if you have any questions or suggestions.
Thank you!