Hobonichi Weeks Setup 2022
I have had my Hobonichi Weeks for a couple of weeks now. The new 2022 planners launched in early September of 2021. My order arrived from Japan within 10 days and I can't wait to start using it. Here is my Hobonichi Weeks Setup for 2022.
Update: Hobonichi Weeks Setup 2023
Here is a quick Hobonichi Weeks Review of the 2022 planner that I am using, if you are not familiar with the Hobonichi Planner. There is also the Hobinichi Cousin, which is bigger than the Weeks.
The Hobonichi Weeks has monthly and weekly pages. The monthly pages run from December 2021 to March 2023 whereas the weekly pages start on November 29th, 2021, and go to December 31, 2021. This means I can already start using my planner in just a few weeks.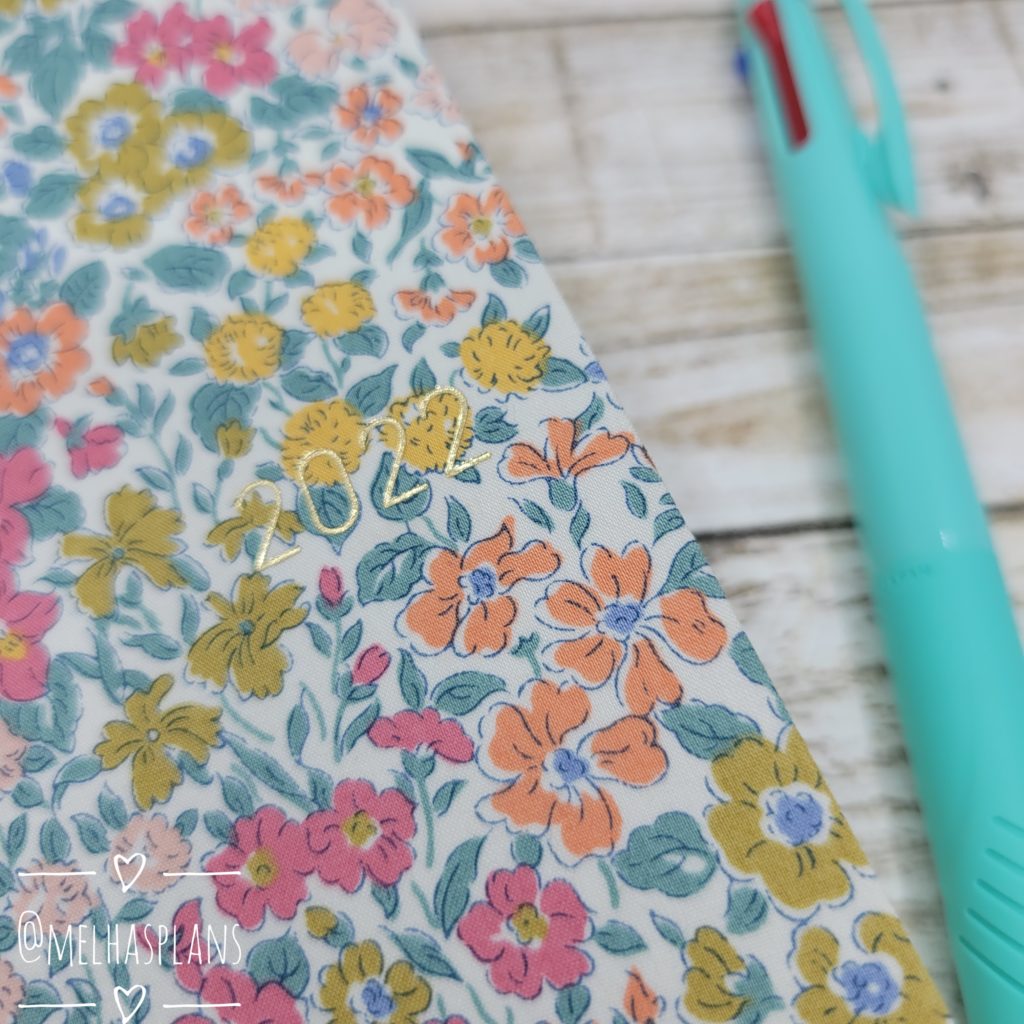 I have already started setting up my planner. This will be the first time for me using the Hobonichi planner and I am not sure yet what layouts work for me.
*** This post contains affiliate links. By purchasing an item through an affiliate link, I earn a small commission at no extra cost to you. ***
Planner Decoration
I am keeping the planner in a clear cover to protect the fabric from dirt and stains. If I am taking the planner with me, I'll put it in a zipper cover so the pages are protected when it's in my purse.
The first page is decorated with washi tape. I picked a few different kinds that match in colors and placed them across the page. The gold and glitter washi make it extra pretty.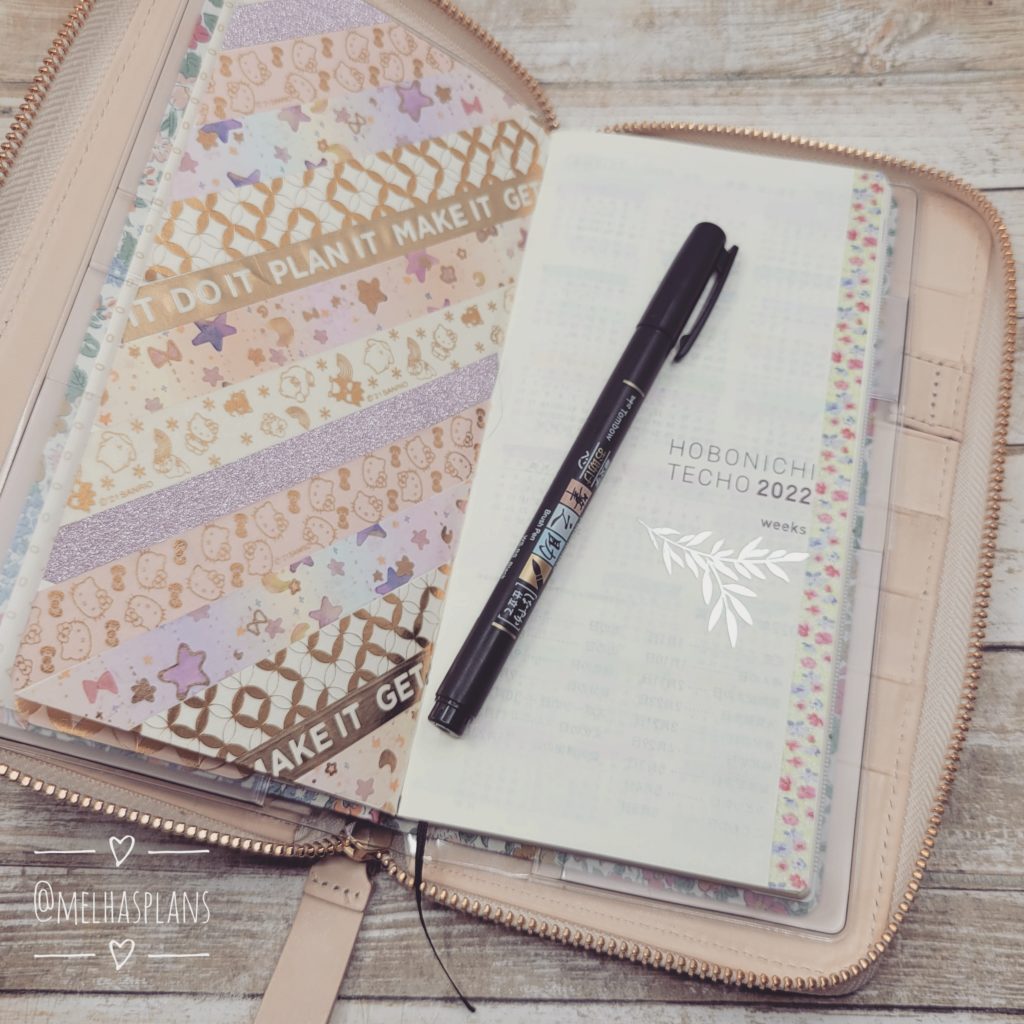 Yearly Pages
There are two types of yearly pages in the Hobonichi Planner. The first one is an overview of 2022 and a look forward/ back to 2021 and 2023. It is very helpful if you need to know what day of the week a certain day is. I don't think I will be doing too much with these pages. The only thing I did was highlight each month with a certain color. I might use these colors as a monthly theme color. So in this picture, it would be grey for January and pink for February. The pens that I used are the Zebra Mildliners. I bought the 15-pack which will give you a nice variety of different colors.
The next yearly overview is nice for habit/ stats tracking such as weather, steps, sleep, mood, weight, etc. The sections are a little bigger which makes it easier to write down something. Again, I used the same colors as I did on the previous page for the headers.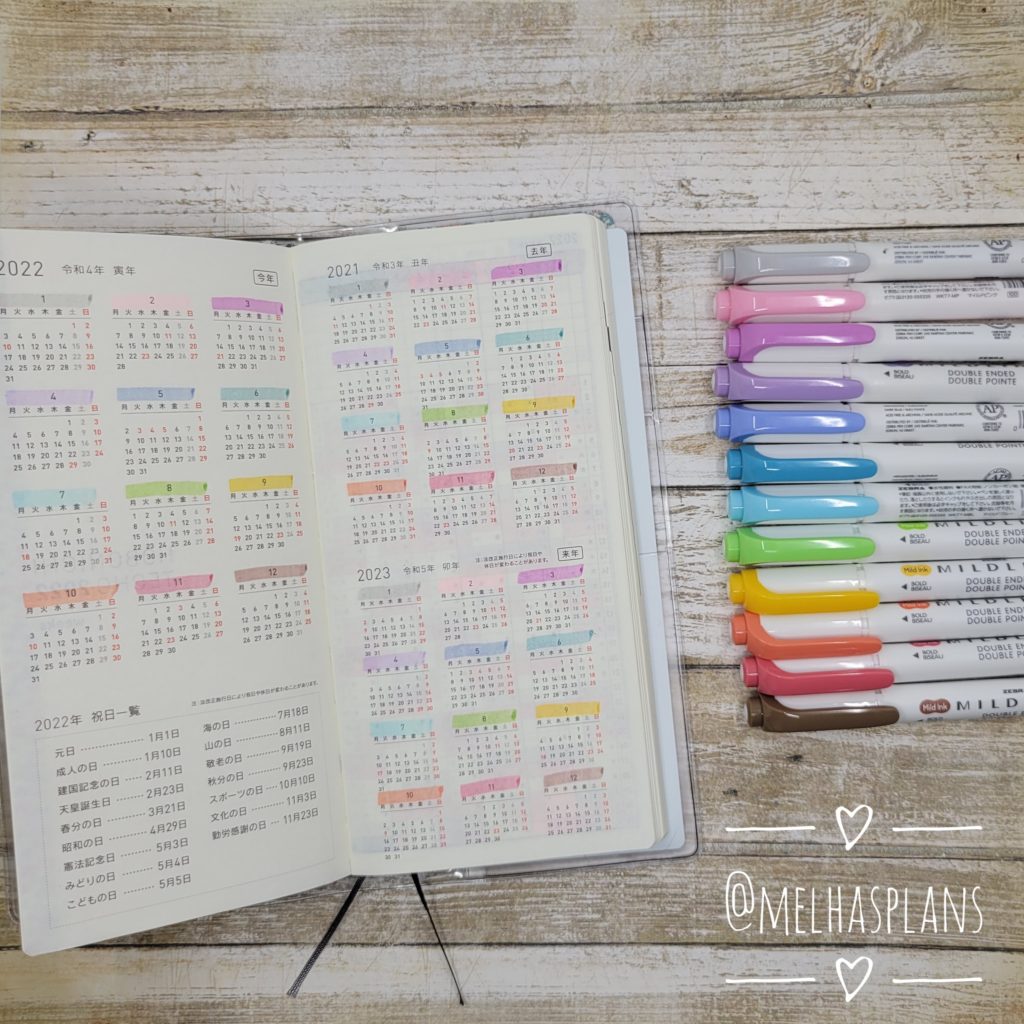 Monthly Pages
What I did so far with my monthly pages was writing out each month on the sidebar. I used a Tombow Fudenosuke Brush Pen with a soft tip for the hand lettering. Since I am still practicing my hand lettering, I printed the months out on a piece of paper and placed it behind the page to trace. The Hobonichi paper is very thin and it's easy to see through.
I used the Zebra Mildiners again to mark my paydays, vacation time, holidays, and birthdays. Each event has a specific color. By using color coding on the monthly planner pages, it is easy to see at a glance what is happening throughout the month.
There is also some space below the month. I will probably use it for a monthly habit tracker and a to-do list/reminder.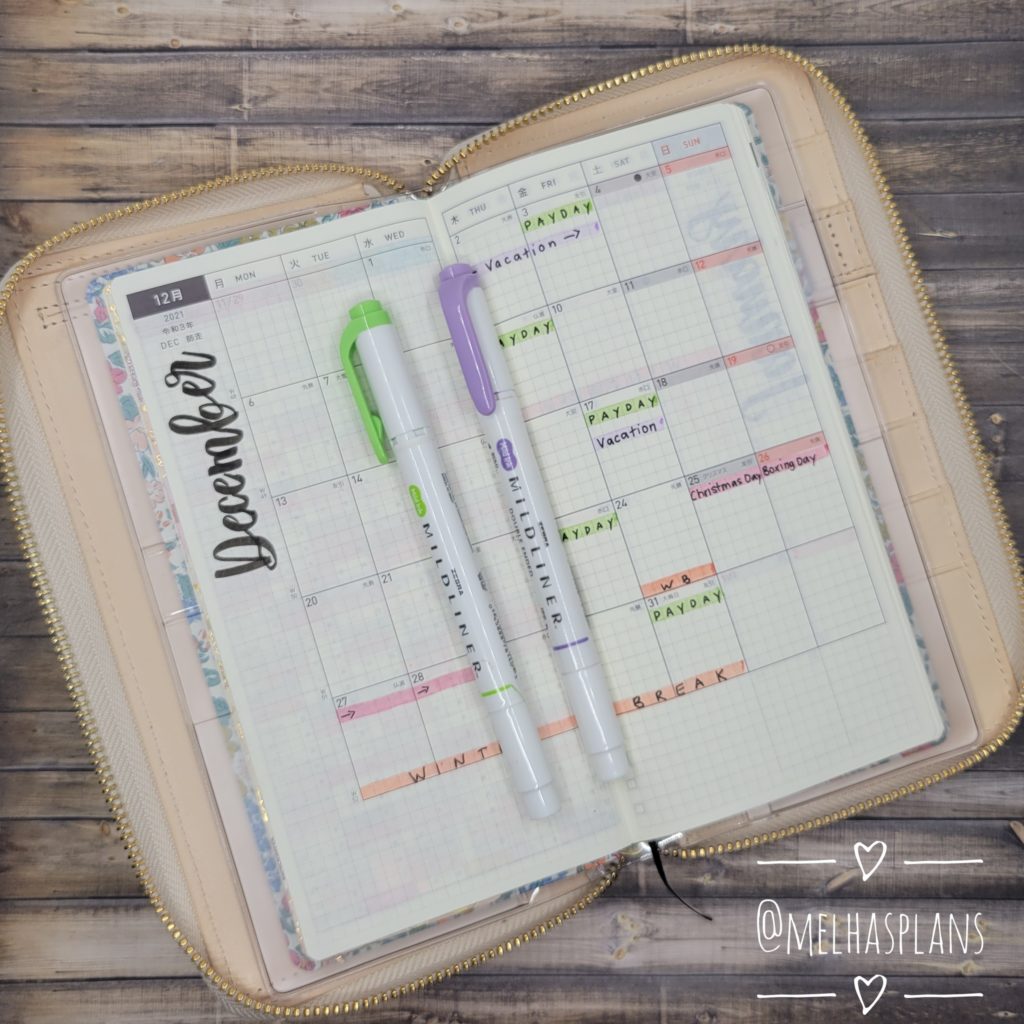 Weekly Pages
I haven't done anything with the weekly pages yet. I think I will be mostly using my Zebra Mildliners and a Faber Castell Pitt Artist pen size XS for writing in my task and appointments. The left side is blank grid paper that I am planning on using for:
To Dos
Notes
Meal Plan
To Buy
Trackers
Weather
Routines
Chores
I have set up a Key on my note pages that lists different symbols for tasks, events, and appointments. These Keys are used a lot in bullet journaling and the Hobonichi grid pages are perfect for using a similar kind of journaling. Have a look at the picture below that shows the Key and color codes that I am using in my planner
Note Pages
The Hobonichi Planner has 70 note pages in the back which are perfect for obviously note-taking but also making lists, trackers, doodles, and charts. Currently, I have set up my journal Key, an Order tracker, Gift ideas, and a chart that will keep track of heartworm prevention medication for my two dogs. I am going to set up a few more lists for birthdays, plants, vehicle maintenance, and so on. There are actually quite a few things you can keep track of in your planner and it's great to have it with you for reference.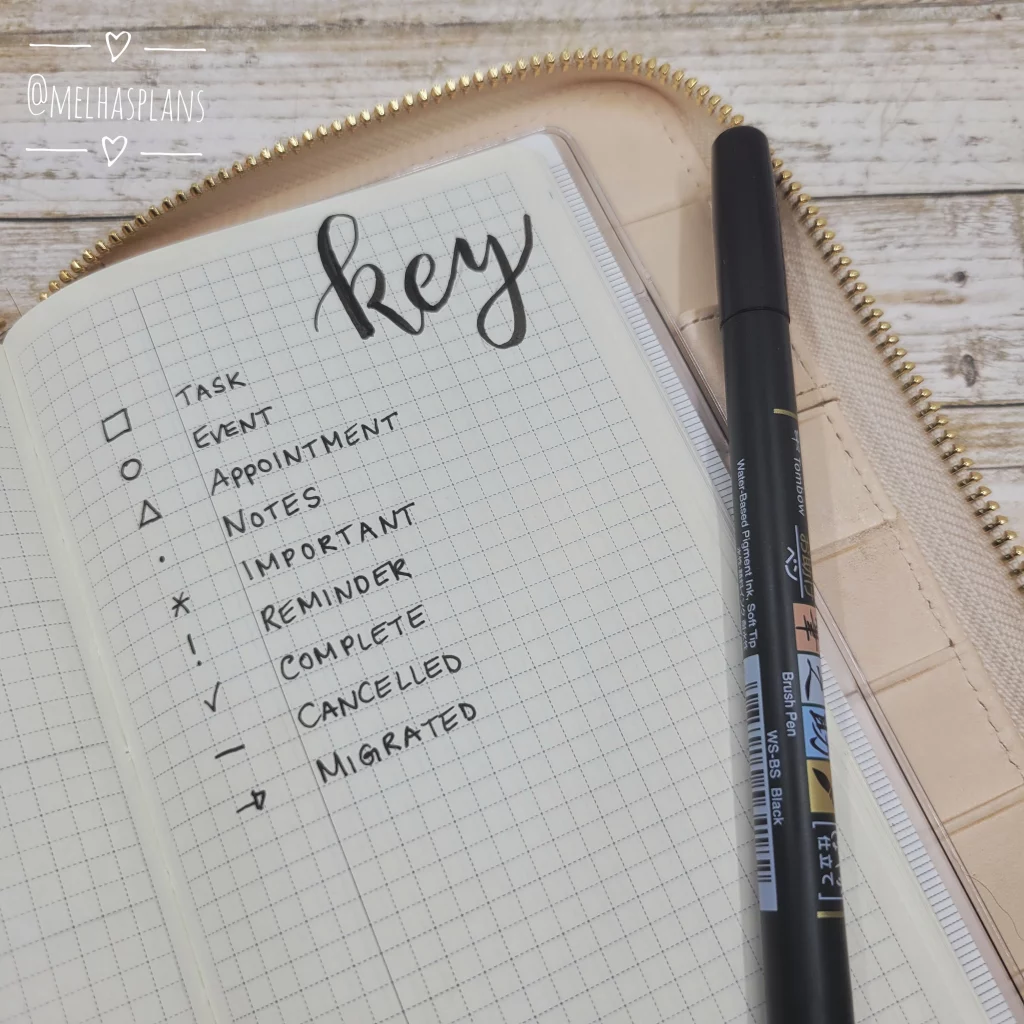 I will be updating this post when I set up a few more pages in my 2022 Hobonichi Weeks planner. I hope you liked this post about my Hobonichi Weeks Setup. Let me know in the comments what you think and tag me on Instagram to show me your setup.
Please follow my Instagram @melhasplans if you are interested in seeing more planner pages and subscribe to my newsletter to get notified when new content is available. Thanks so much!!!