Printable Habit Tracker
Here is a fun and simple printable habit tracker that you can use to track your daily routines and habits. Habit trackers such as this one are great to hold you accountable to your goals. You can see at a glance if you kept it up or stopped.
There are good habits and bad habits. You want to keep the good habits and stop the bad habits. In the picture below there is a mixture of rountines, good habits and bad habits.
Sometimes habits are hard to stick to but if you can stay consistent it will get easier.
This habit tracker can help you stick to those habits and make it fun to color in each square. Keep the habits realistic and don't make it too difficult. You can update your habits for the next month. For example, if your goal is to walk 5,000 steps each day and you are doing easily everyday because your job involves a lot of walking, then increase the step goal to 8,000 steps next month.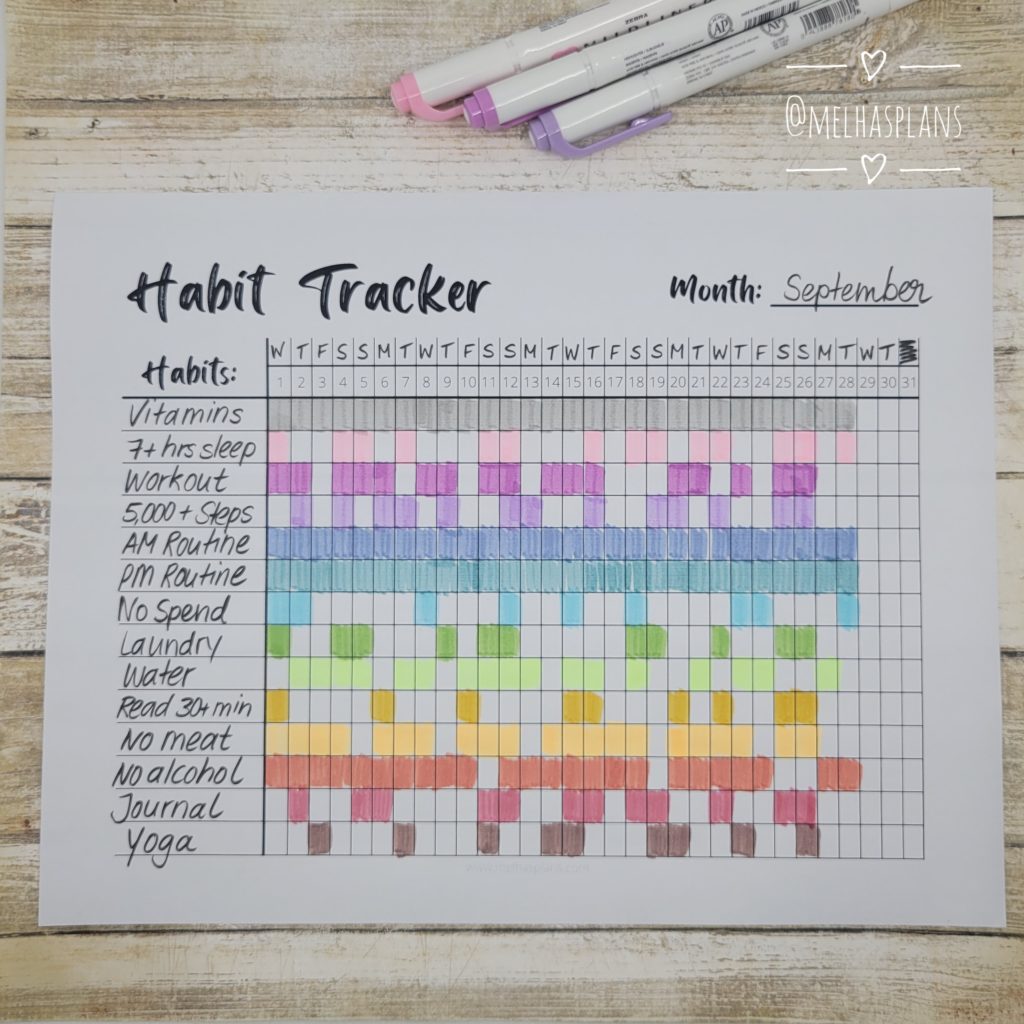 Examples of good habits, bad habits and daily routines
Here are just a few examples that you can use with your tracker
Good Habits:
Drink Water
Workout
Steps
Yoga
Journal
Family Time
Reading
Sleep
Bad Habits:
Spending
Alcohol
Smoking
Fast Food
Screen Time
Routines:
Morning Routine
Evening Rountine
Laundry
Cleaning
Chores
How to get the Habit Tracker printable
To get this printable please click on the download link below and follow these steps:
Download printable
Open file with PDF viewer such as Adobe Acrobat Reader
Print the file
The PDF is letter size (8.5″ x 11″).
*** This post contains affiliate links. By purchasing an item through an affiliate link, I earn a small commission at no extra cost to you. ***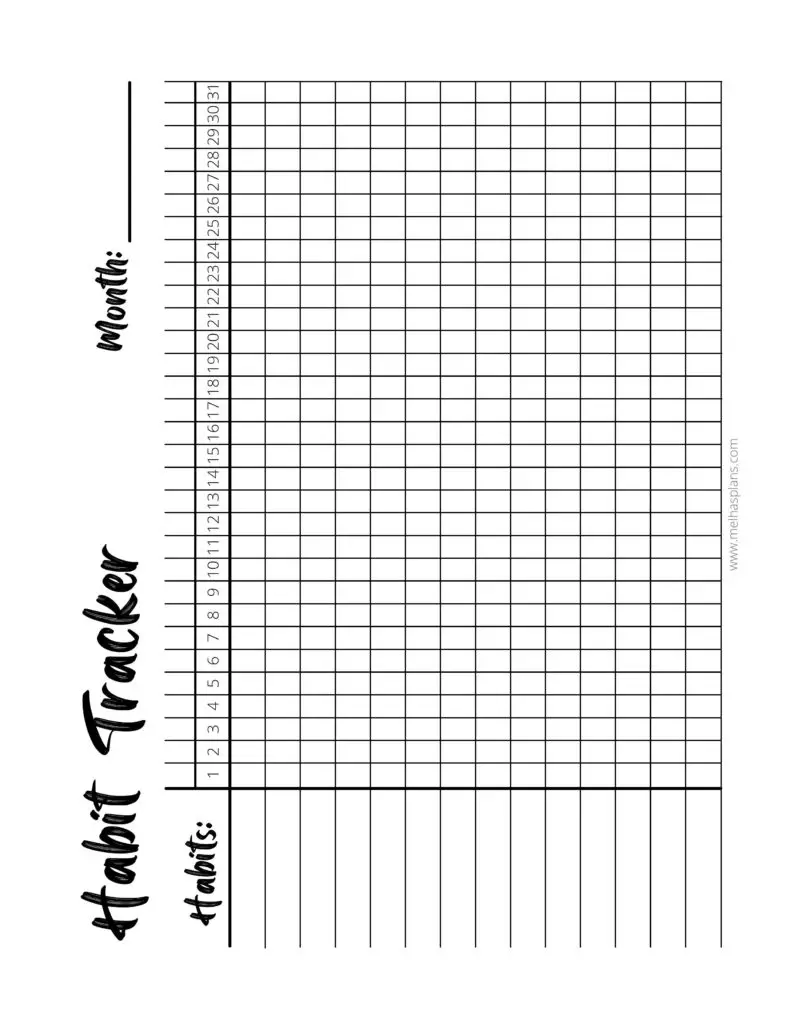 How to use the printable habit tracker
After you have printed the habit tracker, fill in all the habits and routines that you want to track each day. Above the days there is a spot to fill in the day of the week. You can use M for Mondays, T for Tuesdays etc… The habit tracker covers 1 month. Each month you can print a new tracker or print all 12 for the whole year. At the top right corner is a spot to write in the month.
Once the tracker is all set up, fill in each square daily if the habit/ rountine was completed. You can just use a check mark or color in each square. In my example I used Zebra Mildliners . Another great option would be the Crayola Super Tip Markers. They both come in many different colors and work well for coloring in things.
What you need:
Instructions:
Download file below
Open file with PDF reader
Print file on copy paper
Keep track of your habits
Use colorful markers
The printable is a PDF file that can be opened with Adobe Acrobat Reader or any other PDF reader. Please make sure they are printed at actual size (100% scale) and the portrait layout is selected. It is recommended to print on the highest quality setting.
If you would like to use the habit tracker in your planner or journal, you can adjust the scale in the print settings to make it fit to the size of your planner.
The PDF file is for personal use ONLY. Please do not share the file.
Download the printable habit tracker here
Show me your pages and tag me on Instagram @melhasplans or pin this printable to your Pinterest boards!
Thanks so much, and I hope you like the printable habit tracker PDF!
Please let me know if you have any questions and don't forget to subscribe to my monthly newsletter to get notified of new content and printables.