New 2022 Hobonichi Review
This is the first time I have ordered a Hobonichi Planner. It just arrived in the mail today and I am so excited to start using it. The planner that I choose is the Hobonichi Techo Weeks and I bought it right from the Hobonichi site. Here is my little review of the 2022 Techo Weeks.
Erin Condren LifePlanner Review
Hobonichi Cousin Avec Review & Setup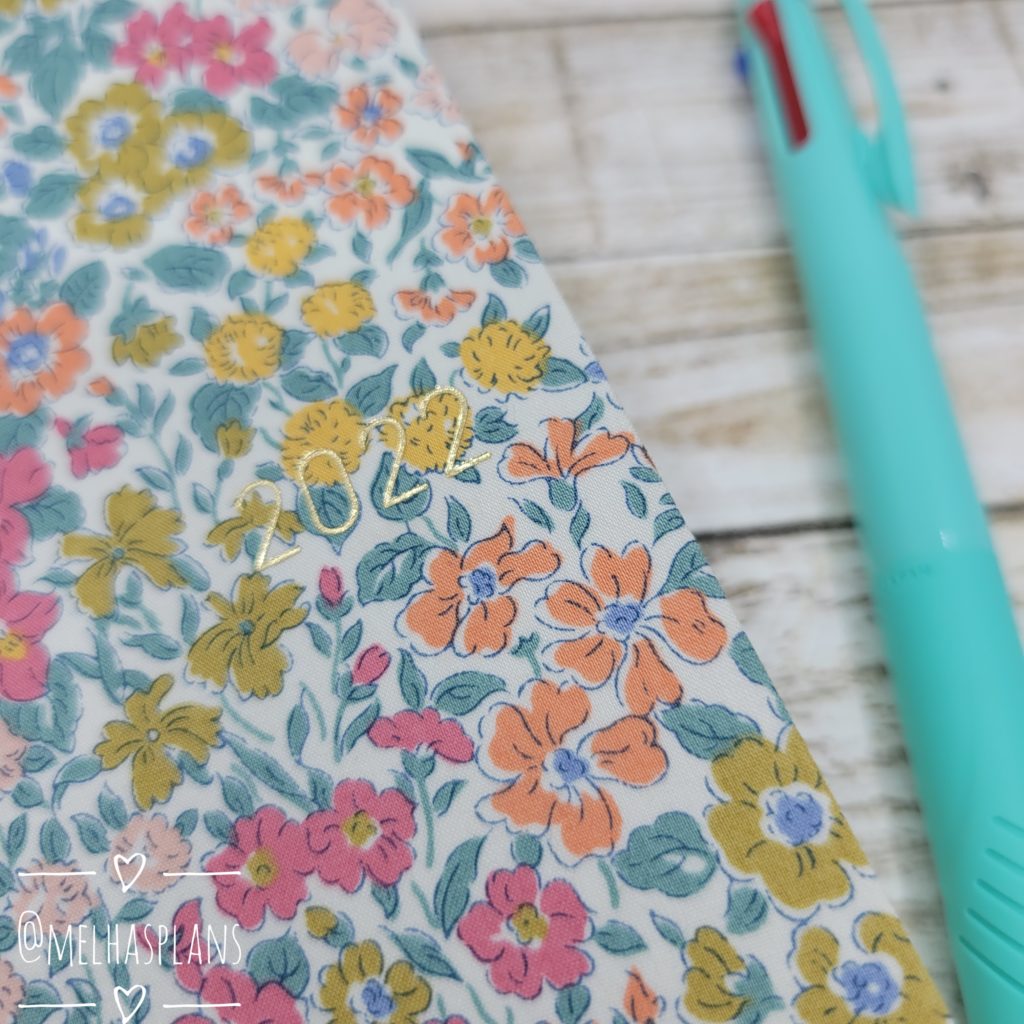 I was looking for a small planner that I can carry with me in my purse. I didn't want the standard 7″ x 9″ planner, but something much smaller. I heard and saw a lot about the Hobonichi Techo Weeks planner and have always wanted to try it for the last 2 years, but I either already had a planner or it was already too late in the year. This year it finally happened.
Hobonichi released the 2022 planners and accessories in early September 2021. Some of the items were already sold out when I ordered but many stationery stores will carry the Hobonichi items as well.
The items shipped within 3 days but shipping was a little delayed in transit but it finally made it here all the way from Japan within 1 1/2 weeks. Here are some first impressions and detailed pictures of the 2022 Hobonichi Techo Weeks planner.
*** This post contains affiliate links. By purchasing an item through an affiliate link, I earn a small commission at no extra cost to you. ***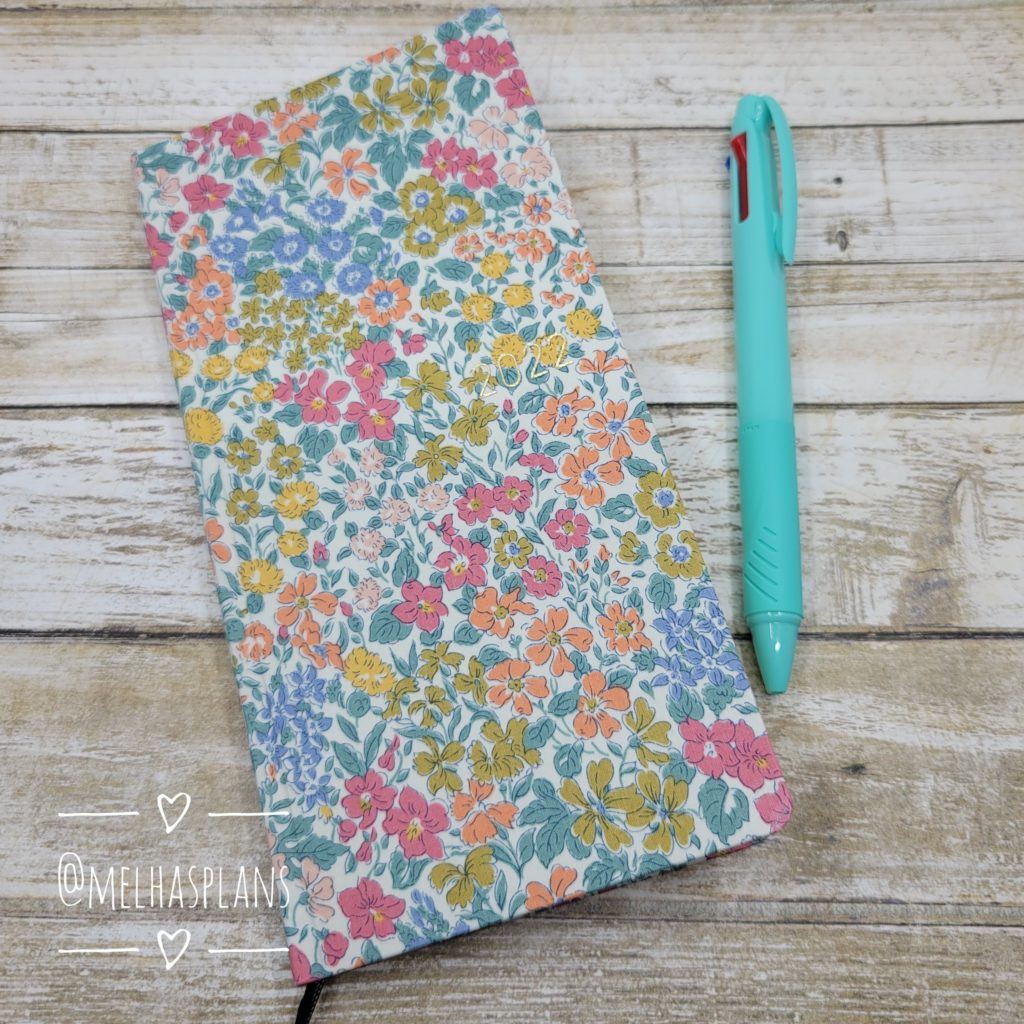 Hobonichi Techo Weeks
The Hobonichi Techo Weeks comes in two different options. The regular Weeks planner and the Weeks Mega planner which includes extra note pages. There are many different color options available. I chose to go with the Liberty Fabrics Joanna Louise cover. It is a light hardcover with a cotton fabric in a flower pattern.
The size of this planner is 3.7″ x 7.4″ or 9.4 cm x 18.8 cm. This is a perfect size to carry around in your purse when you are out and about.
The pen that is shown in the pictures is a Uni Jetstream 0.5 mm. It features 3 different colored pens (black, red, and blue). The pen was a freebie that came with any planner order. These pens are also available in different colors and sizes on Amazon.
Year At a Glance
The first pages show the previous year, the current year, and the next year. Great for looking back or planning ahead for the next year. I am not sure if I will do anything special with these pages but probably add a little bit of washi tape.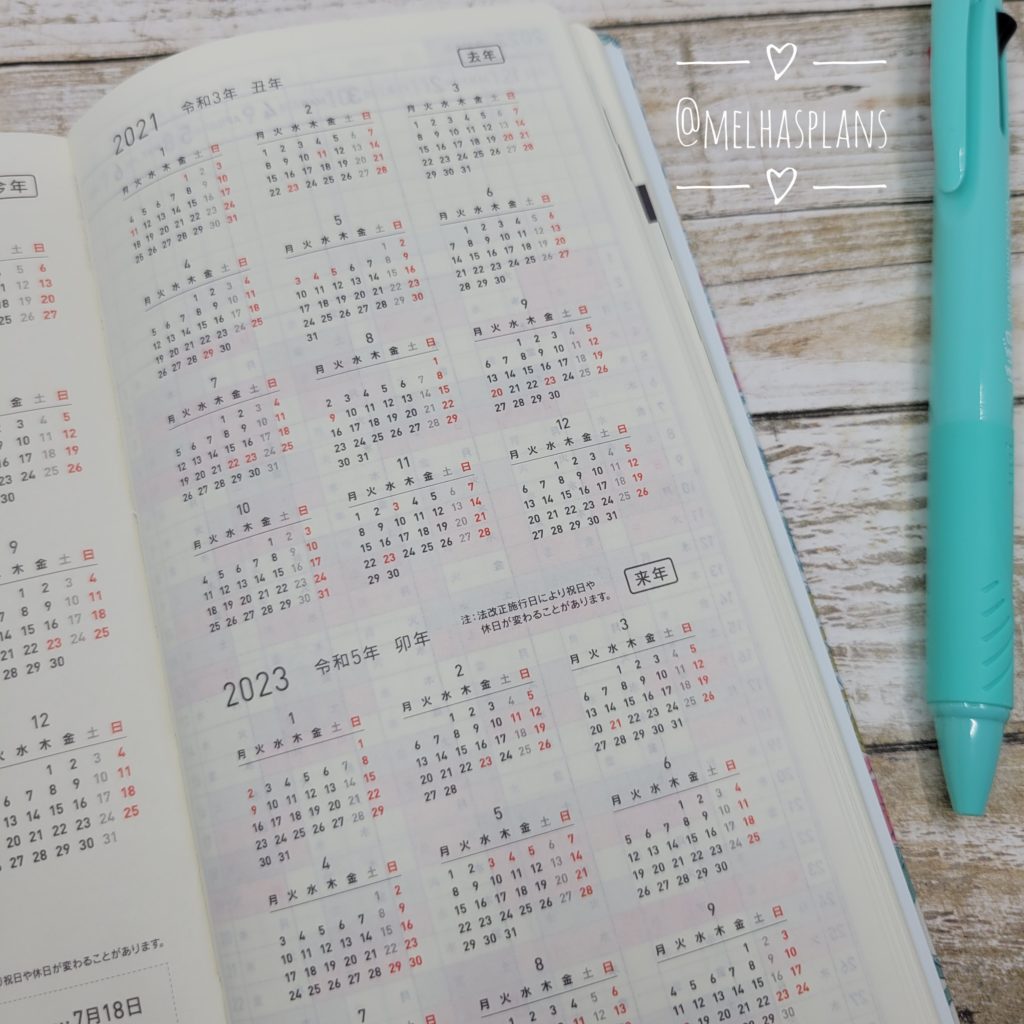 The following pages I think are perfect to use as a tracker. There is a small spot for every day of the year. You can use it to track health stats such as steps or weight or use them as a mood tracker, coloring each day in a different color depending on your mood.
I thought about tracking my vacation days from work but that would be only a few days of the year. Maybe holidays and birthdays would work? I know I definitely will use these pages for something 🙂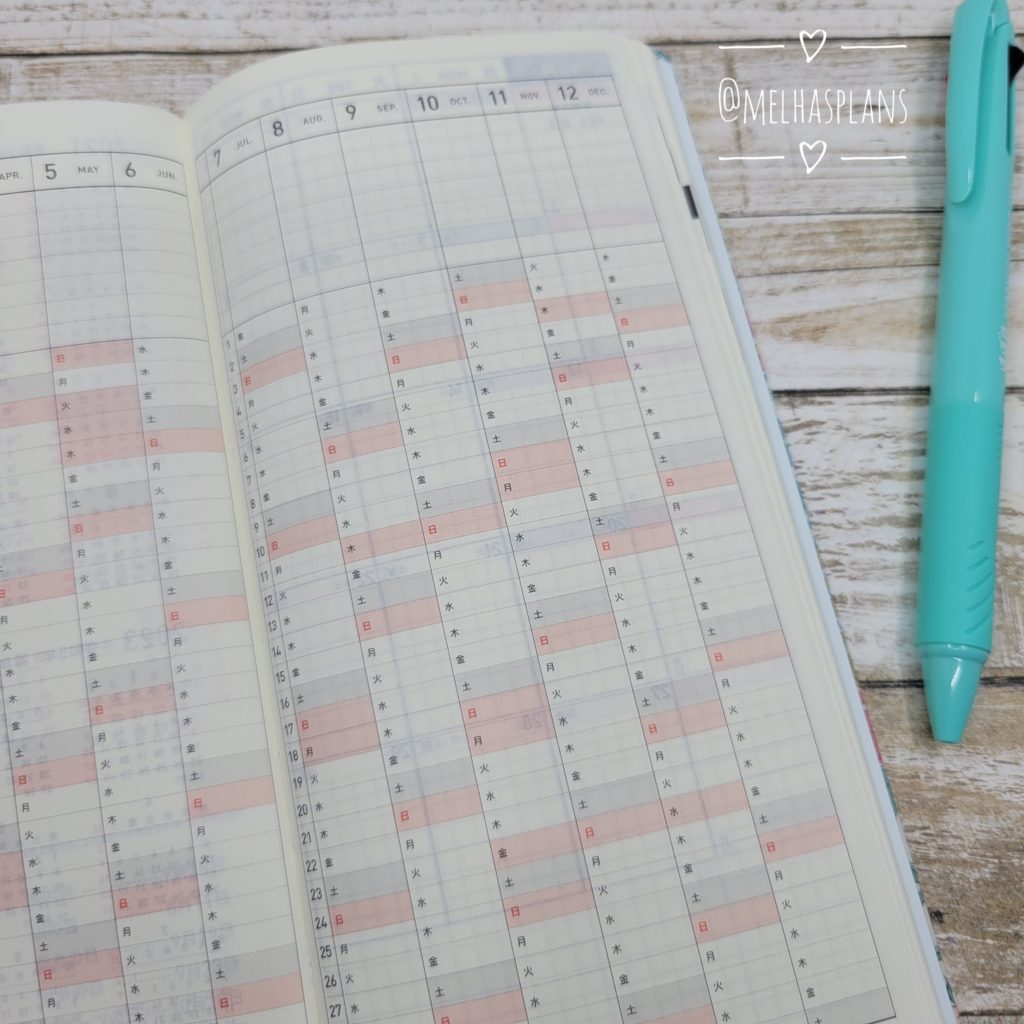 Monthly Pages
Here is a view of the monthly layout. I really like that these pages have these little squares. This would be perfect for setting up a sidebar on the left side and the bottom can be used for notes or a monthly to-do list. I think monthly trackers would work well here too.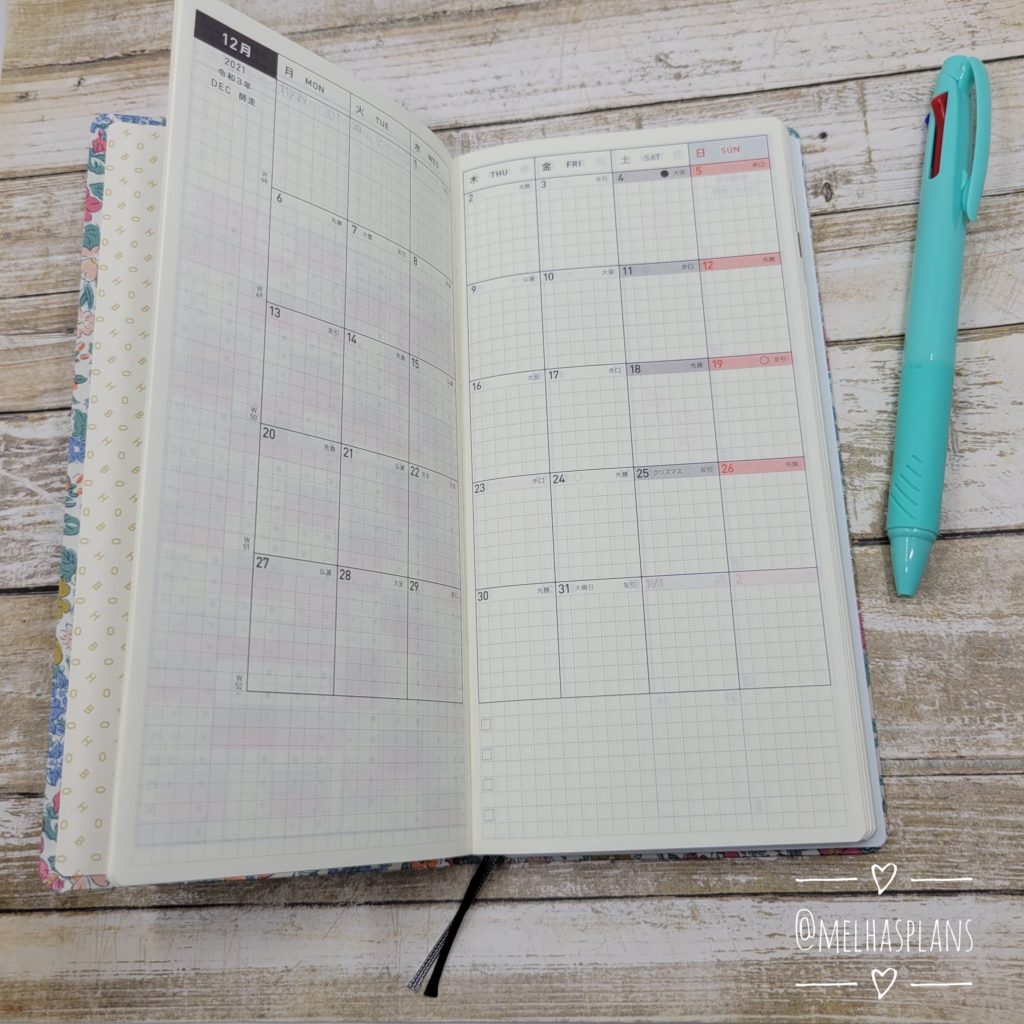 Weekly Pages
These are the weekly pages in the Hobonichi Weeks. The left side has the dates and the right side is the square grid again. There is so much you can do with these pages.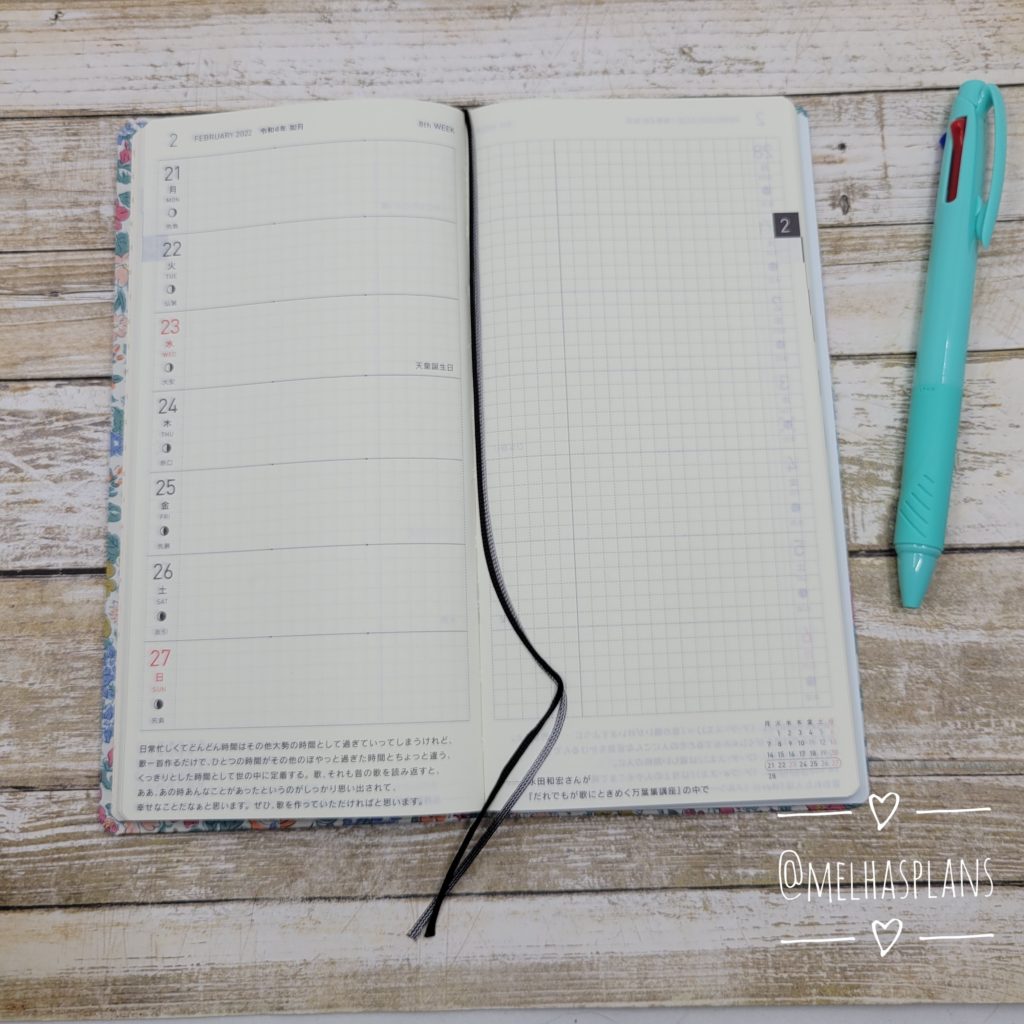 Note Pages and more
There are 71 square grid pages at the back of the planner for taking notes or sketches. Because of the square grid, it is easy to set up charts or trackers. The Weeks Mega option features 215 of the note pages and is a bit thicker than the regular Weeks planner.
The last few pages of the planner are informational pages such as measurements, charts, stretches, planner tips, and an address book.
Included with the Hobonichi planner is a clear sticky pocket that can be placed anywhere you want. I put mine on the inside of the back cover. It is perfect for storing appointment cards or receipts.
One neat thing that I just found out is that each planner comes with a unique serial number at the back.
Hobonichi Weeks Cover
There are a few different cover options available for the Weeks planner. I chose to go with a clear plastic cover as well as the Cast Mother 2 Leather cover. The great thing about the leather cover is that it has slots for cards and other loose items and can also be zipped up, completely protecting your planner. I am not sure I will also use this cover as my wallet or just use it for the planner. I think the colors go great together.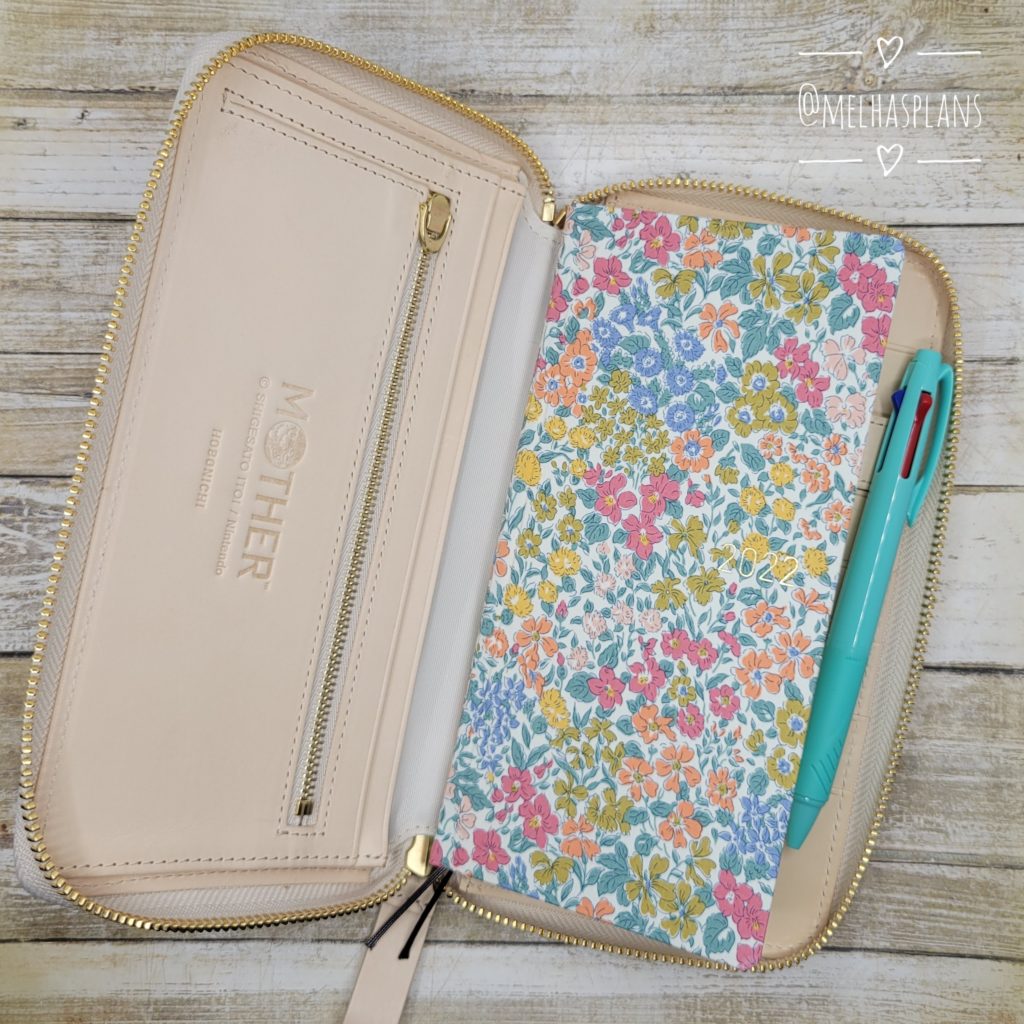 I hope you liked my little 2022 Hobonichi Review. Please let me know if you have any questions and check out my other planner posts.
Top 10 Tips – Getting Started with planning
Stay tuned for my next posts about setting up my Hobonichi Techo Weeks planner and how I plan on using it.
Please subscribe below to get my monthly newsletter and get notified when new posts are published. Thanks so much!