Perfect Gift Ideas for Planners – 2021
Perfect Gift Ideas for Planners. Do you have a family member or friend that is a planner and you're are not too sure what to gift them? Here are some perfect gift ideas for your planner friends or perhaps yourself!
All items that are suggested here, I have purchased and used myself. All opinions are mine.
*** This post contains affiliate links. By purchasing an item through an affiliate link, I earn a small commission at no extra cost to you. ***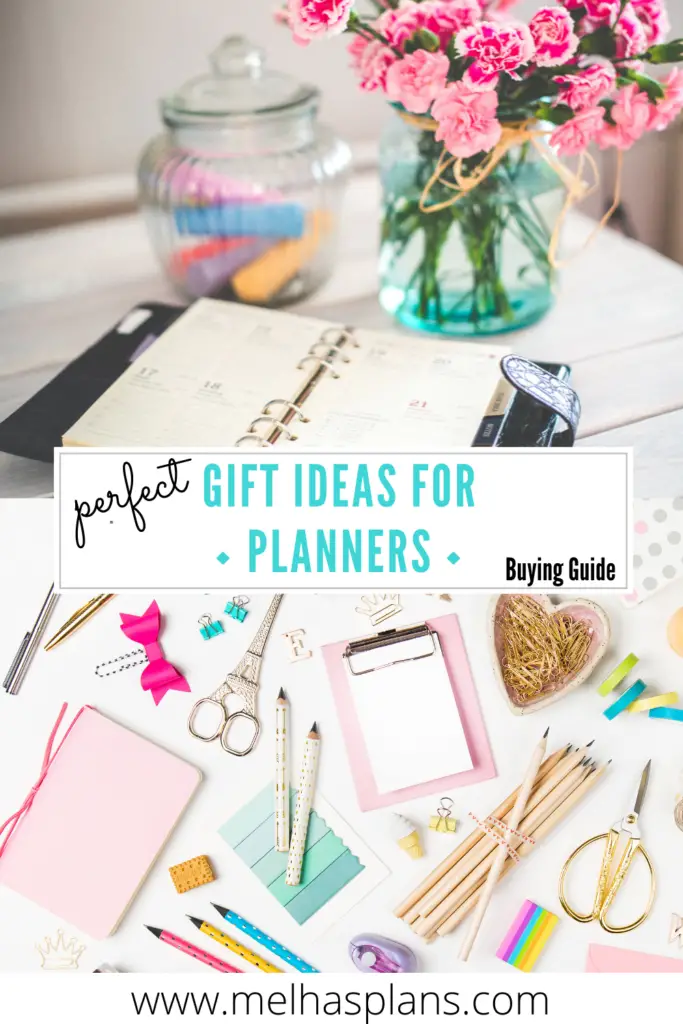 Planners
Erin Condren
The Erin Condren LifePlanner is available in different sizes, layouts, and color themes. The covers are customizable if purchased on the Erin Condren website. Additional covers can be purchased to If you would like a little more info about the Erin Condren planner, see my planner review here.
Hobonichi
The Hobonichi Techo Planner features Tomoe River paper that is very light and thin. It is bleed-resistant and smooth to write on. It works great with fountain pens. The Hobonichi planners come in different sizes and start dates. Here is my review of the Hobonichi Techo Weeks planner.
Happy Planner
The Happy Planner is known for its disc system. The disc system allows you to take out pages and place them back into the planner. Additional planner extension packs can be purchased that could be meal planning, budgeting, fitness tracking, etc. The Happy Planner also comes in different sizes and color themes.
Bullet Journal
I tried two different kinds of Bullet Journals. If you are wondering what a Bullet Journal is, here is a quick look at the Scribbles That Matter journal.
Writing
Pens
There are a few different pens that I like to use in my planners. Here is a more detailed post about my Top 3 pens.
Mildliners
These are some of my favorite pens. The Zebra Mildliners work great with any planner and paper. They are highlighters but don't have traditional neon colors.
Crayola Supertip
The Crayola Supertip Washable Markers come in many different colors. Perfect for using a color-coding system with the planner.
Stickers
I would recommend the sticker books from MAMBI to get started. There are so many sticker books available in different styles and themes, each of them featuring hundreds of stickers. This sticker book is the Pastel Rainbow Theme and comes with 631 stickers that are functional and decorative.
Washi
You can never have too much washi tape. Washi tape is perfect for decorating your planner. You can use it with stickers or just on its own. There are so many different designs available it is hard to just get a couple of rolls. This washi tape set comes with 48 rolls for a great price.
Storage
A Pencil Case is great for not only storing your pens but also smaller items such as rulers, erasers, glue sticks, paper clips, sticky notes, etc.
This transparent storage cube is perfect for storing washi tape. It features 3 drawers with dividers that store your rolls and other accessories safely and tidy.
If you are thinking of taking your planner and planning supplies with you for a planner meet up, for example, this zippered planner bag can hold all your supplies and keep them safe and organized.
This rolling utility cart features 3 shelves and hanging cups to store all your planner supplies at home. The cart comes in 3 different colors and can be easily moved around.
Accessories
Here are some planner accessories that are useful for any planner.
Paper Trimmer – Fiskars SureCut Deluxe Craft Paper Trimmer 12 inch
Scissors – Fiskars Softgrip Straight Stainless Steel 8 inch
Glue Tape – Tombow MONO Permanent Adhesive Applicator
Ruler – Plastic Ruler
Electronics
Printer
A great printer is the HP Envy Pro 6455 Wireless printer. The printer is wireless and documents and pictures can be printed from your phone via the HP Smart App. In addition to printing photos, it also has the ability to scan documents and store them directly to Google Drive or Dropbox.
Cutting Machine
Designing and making your own planner stickers is fun. The Silhouette Portrait is a small cutting machine that cuts out your stickers for you so you don't have to use scissors. The Silhouette software is used to design your stickers. There are many great tutorials on YouTube.
Mini Photo Printer
The Canon Ivy is a mini photo printer that prints 2″ x 3″ photos right from your phone. The paper has a peel and stick backing so photos can be placed right in the planner. This will be great for memory planners
I hope you liked my gift ideas for planners and found some great gifts.