Free Monthly Budget Printable Stickers
I am using a monthly planner for our budget. It is an easy way to keep our finances together and everyone has access to it. The planner that I am using is the Erin Condren Monthly Planner. Here is a post on how I set up my Monthly Budget Planner and the monthly Budget Pages that I created. I am using monthly budget stickers for these pages.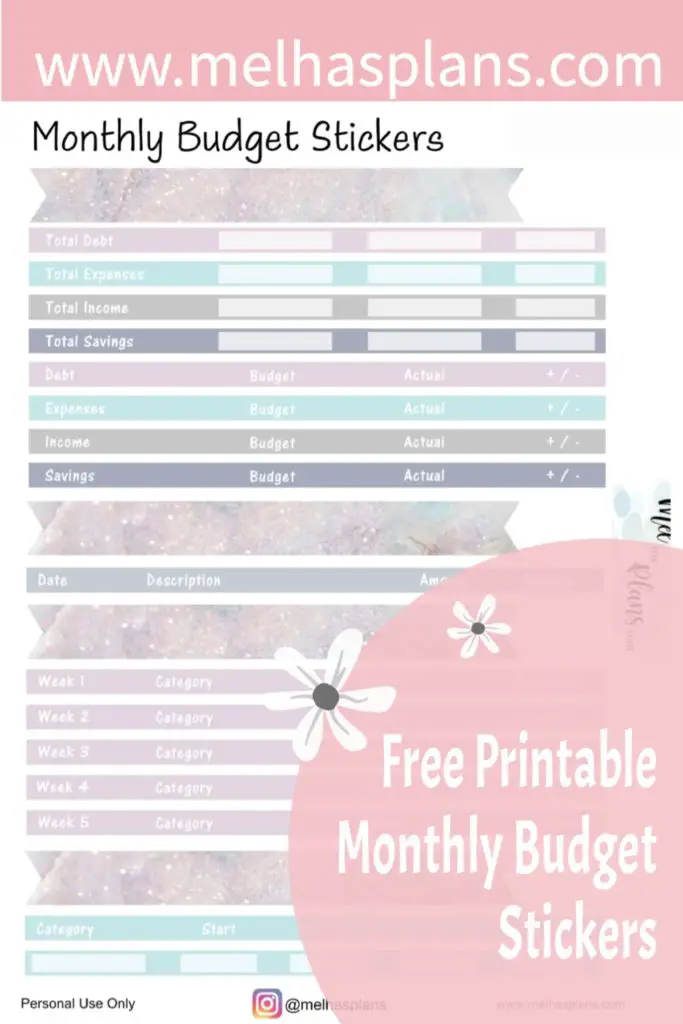 If you are interested in purchasing the same Planner and are new to Erin Condren, you can use my affiliate link to receive $10 off your first order. I will also receive $10 off my next order.
Printable Budget Stickers
I decided to create a printable with the monthly budget stickers that I use in my planner and share it with you. The stickers are sized for the Erin Condren Planner but you can use them in a different planner or notebook as well.
The Stickers are for 4 different kinds of budget Pages. The monthly budget, a weekly check-in, sinking funds overview, and a transaction log. I will give a brief explanation of how I use each page below.
Monthly Budget Overview
The monthly budget overview is your main page. At the beginning of each month fill in your budgeted amounts. These are the expenses and income that you are expecting for the month. There are 4 separate sections: Income, Expenses, Debt & Savings. Your expenses, debt payment, and savings should equal your income. At the end of the month add up all the actual numbers. The amounts should be close to what you have budgeted. A weekly check-in will make sure you don't go over the budgeted amounts.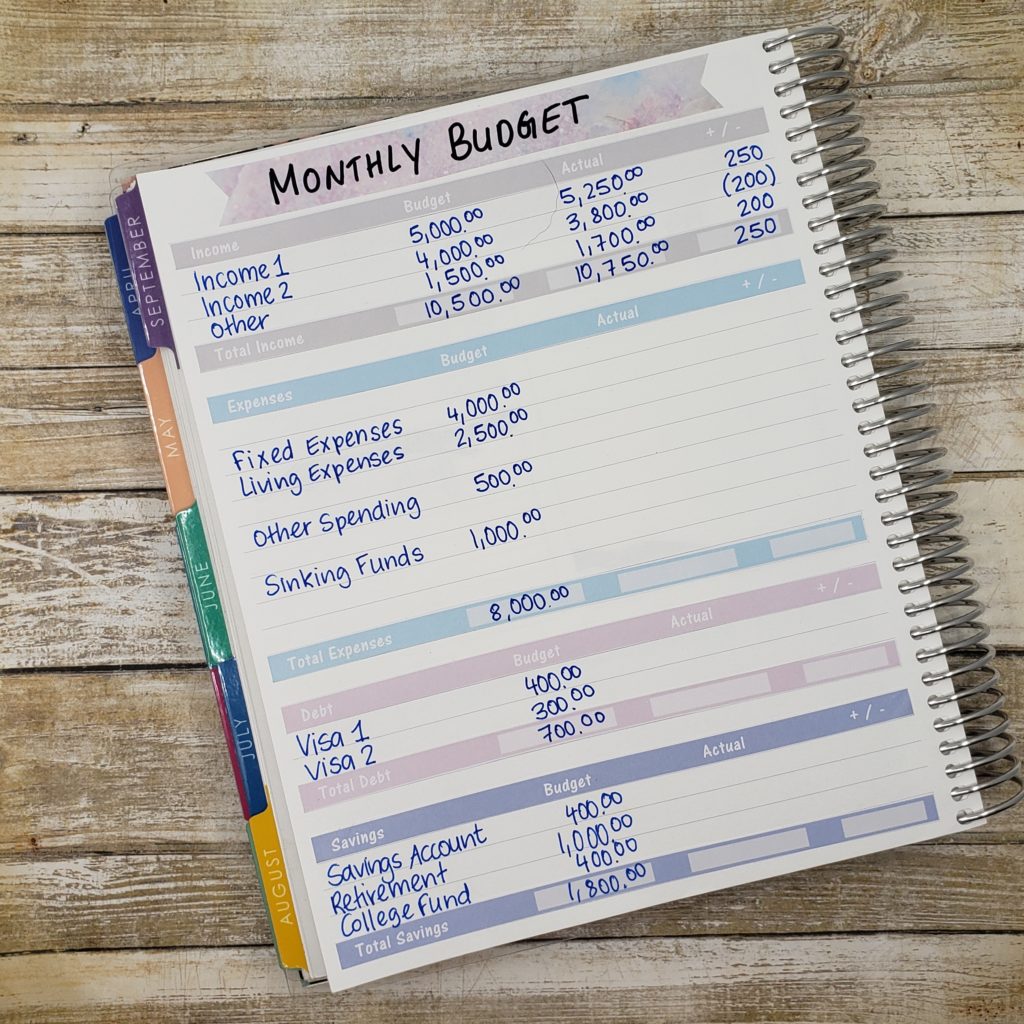 Weekly Budget Check-In
The weekly check-in is making sure you don't go over your budgeted amounts. As you can see in the picture below, $800 has been budgeted for Groceries this month. In the first week, I have spent $200 on groceries, leaving me with $800 left for the remaining month. In week 2, I spent $150 on groceries resulting in $650 left to spend. I usually just keep track of "Living Expenses" in the weekly check-in. Any other categories like Clothing or Entertainment would be in my sinking funds.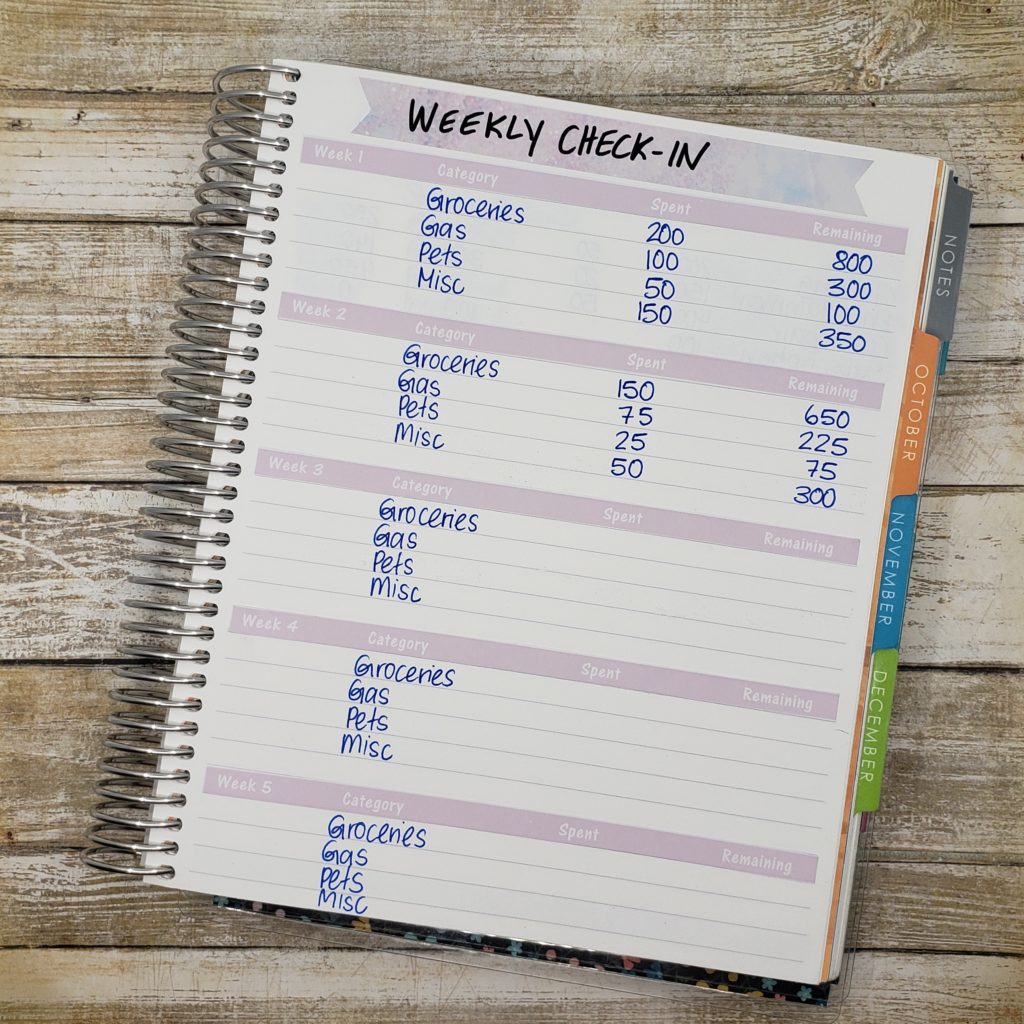 Sinking Funds
I could probably write a whole post just on sinking funds but I'll try to keep it short and simple. Sinking funds is money you put aside for an expense that does not happen right away but will happen in the near future. Some people use sinking funds for house or car repairs and other bigger expenses but I do like using them for smaller items such as clothing, personal care, entertainment, etc.
As an example, every month I allocate and put aside $50 for car repairs. After 9 months I have saved $450 and suddenly my car needs new brake pads for $300. I can use the money that I have saved already without affecting the monthly budget or using a credit card.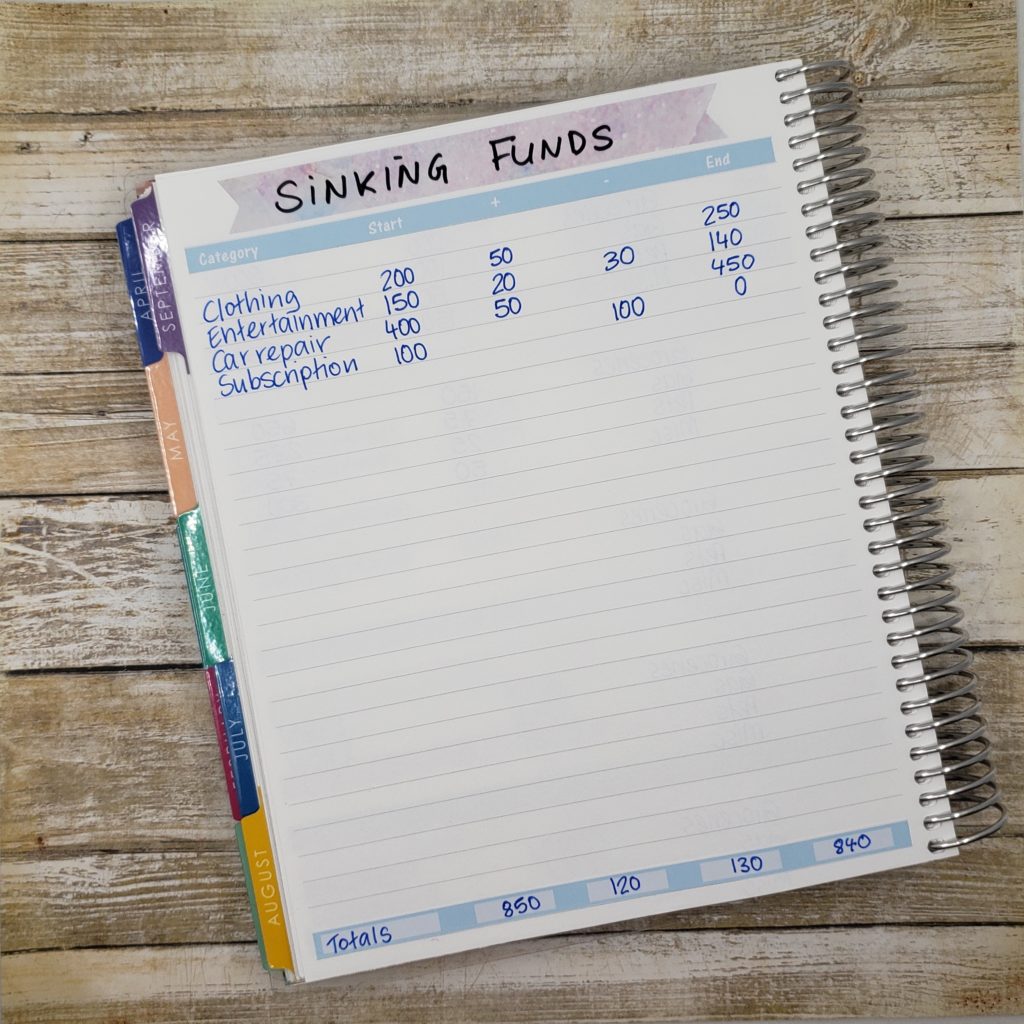 Transaction Log
The transaction log is good for keeping the running balance of your checking account. The starting balance at the beginning of the month is $4,000 and every time money goes in or out, it is recorded in the transaction log.
I think it is great for keeping you accountable and reduce overspending. It is so easy nowadays to just keep using your debit card and just tap here and there and not realizing how much you have actually spent. At least with using cash you had to make sure you had enough to pay.
That just reminded me of what my son said to me when he was 3 years old and we were at a store and he wanted a toy. I told him that I don't have any money and he told me excitedly: Mommy, you don't have to use YOUR money, you can just use the card! lol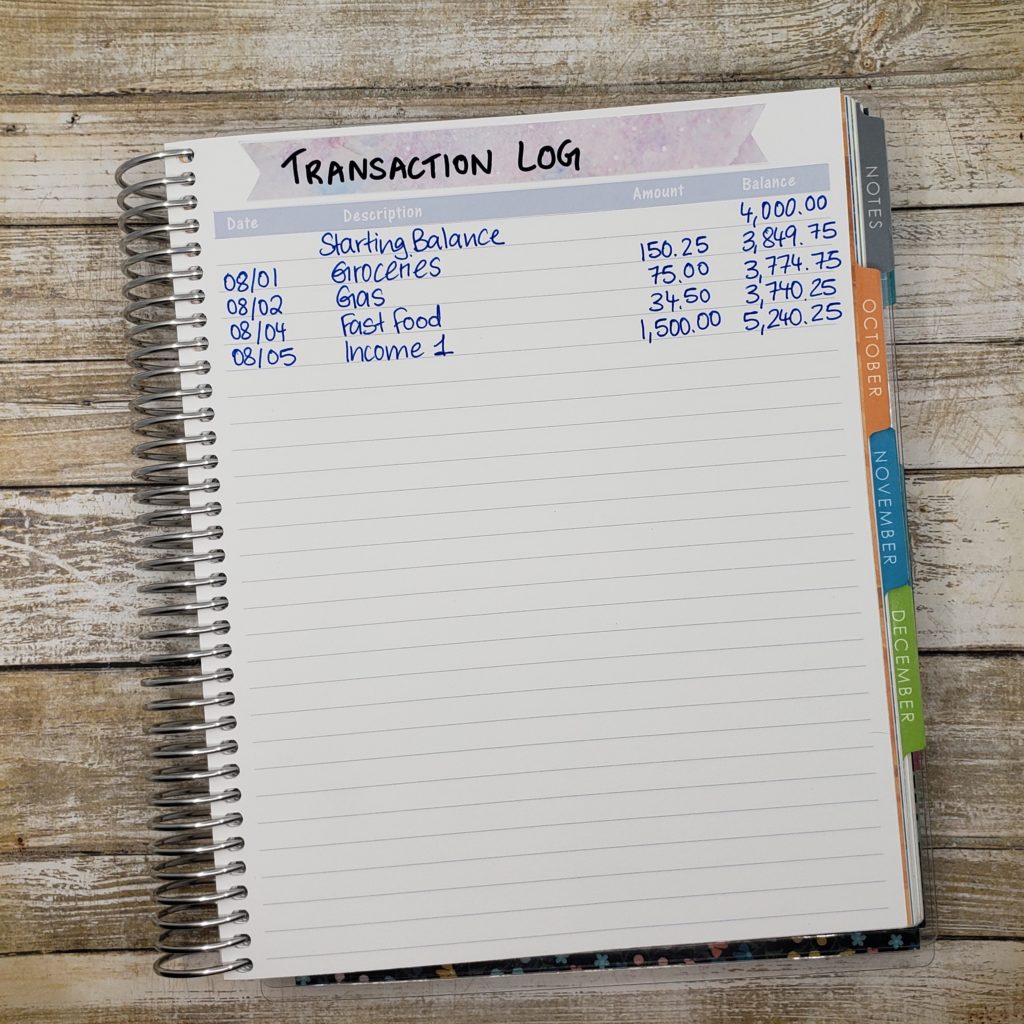 How to get the Free printable
To get this printable please click on the download link below and follow these steps:
Download printable
Open file with PDF viewer such as Adobe Acrobat Reader
Print the file
The PDF is letter size (8.5″ x 11″).
*** This post contains affiliate links. By purchasing an item through an affiliate link, I earn a small commission at no extra cost to you. ***
What you need:
Optional: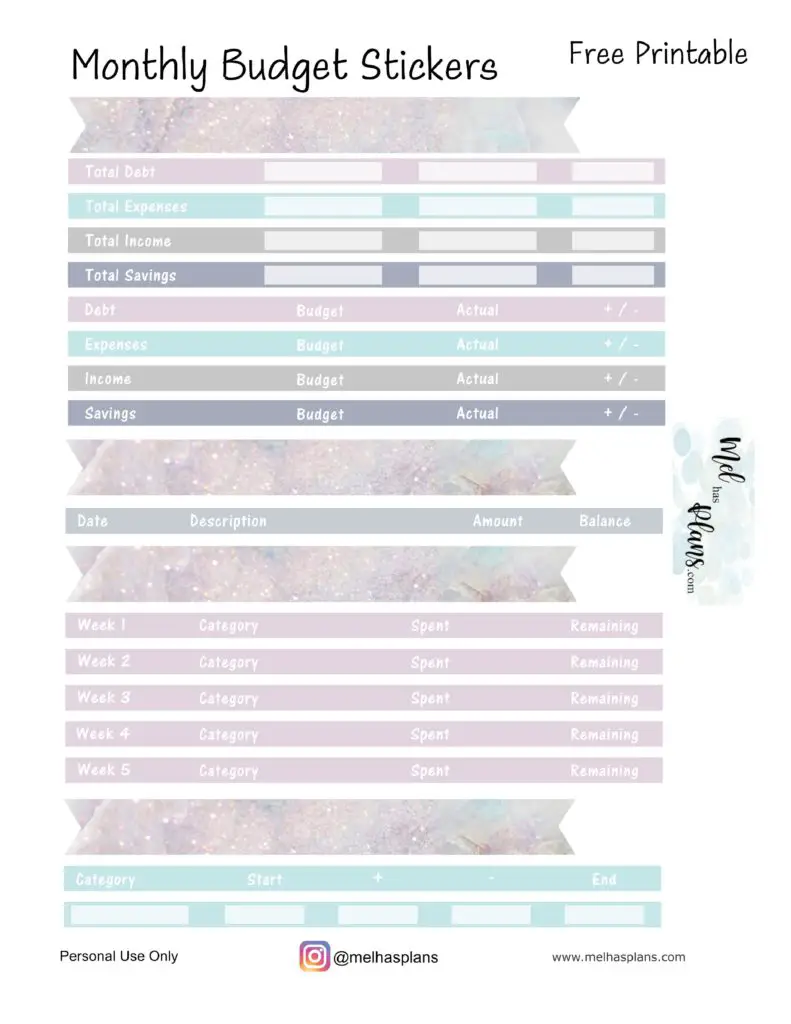 Instructions:
Download file below
Open file with PDF reader
Print file on sticker paper
Cut stickers with scissors
Decorate your planner
The printable is a PDF file that can be opened with Adobe Acrobat Reader or any other PDF reader. Please make sure they are printed at actual size (100% scale) and the portrait layout is selected. It is recommended to print on the highest quality setting.
Depending on printer and monitor settings, the colors may vary slightly.
The stickers are for personal use ONLY. Please do not share the file.
Download the Free Monthly Budget Stickers here
Show me your planner pages and tag me on Instagram @melhasplans or pin these stickers to your Pinterest boards!
Thanks so much, and I hope you like the planner stickers!
Please let me know if you have any questions.