52 Week Money Saving Challenge Printable
52 Week Money Saving Challenge
What would you do with an extra $1,378.00? This is how much you can save in 1 year with the 52-Week Money Saving Challenge. It is a fun challenge that will also reward you at the end with extra money to spend or to boost your savings.
So what is the 52 Week Money Saving Challenge? The savings challenge consists of putting a set amount of money aside every week. This can be $1 in the first week, $2 in the second week, and at the end of the challenge, putting $52 away in week 52. The total amount saved at the end of week 52 will amount to $1,378.00.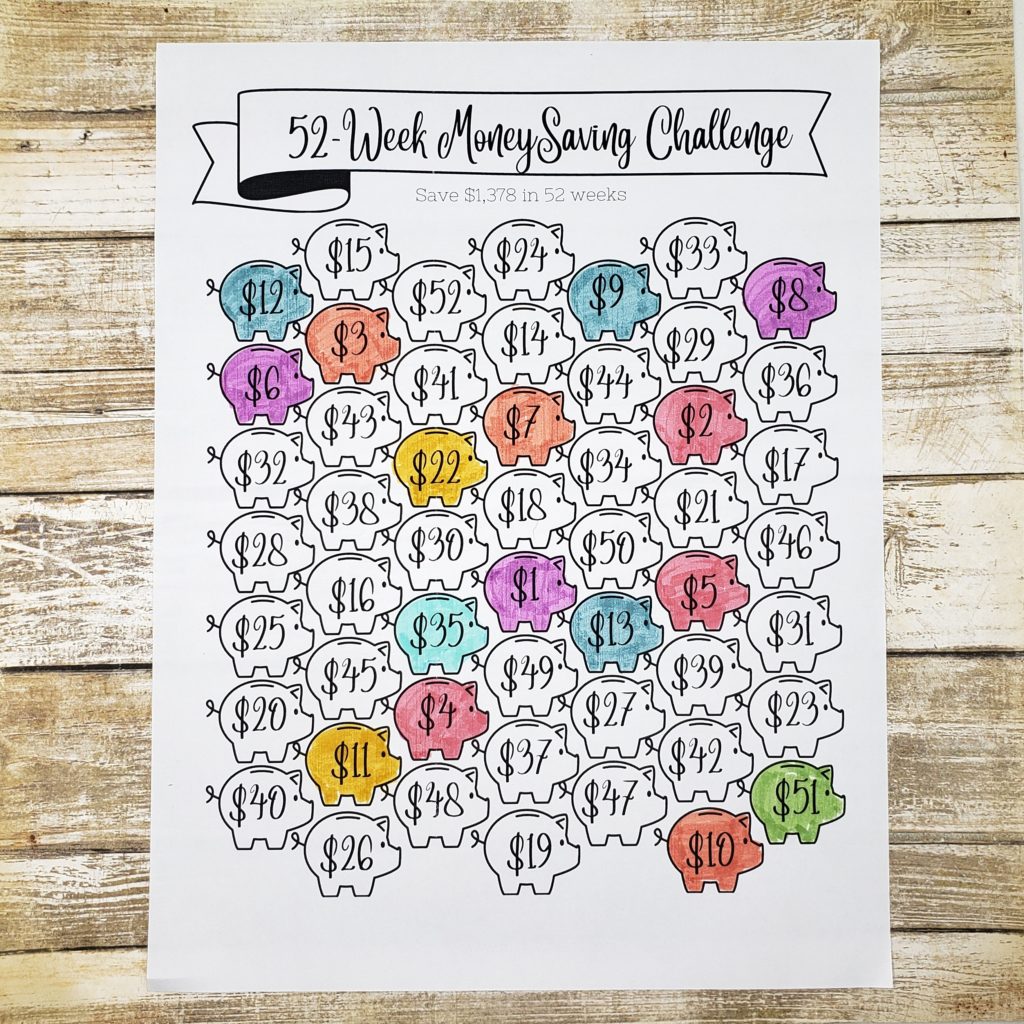 Savings Strategy
Many people start the challenge by putting aside $1 in the first week and increasing the amount by $1 each week. This strategy is great but towards the end of the challenge, between weeks 49 and 52, you are putting away $202 in a month compared to just $10 in weeks 1 – 4.
In my opinion, a better strategy is to put as much money aside each week as you can and fill in each corresponding amount on the printable. Some weeks you can do around $40, some weeks it might just be $5. This strategy will give you more flexibility and won't stress you out if you have less money available that week.
You can also try working on the larger amounts first and leave the small amounts for the end. 🙂
Where to keep your savings?
You can keep your savings from the challenge in a separate account or keep it in a money jar or piggy bank. I think it comes down to preference and convenience. If you are using a lot of cash, it might be easier for you to put extra bills or spare change in a piggy bank.
On the other hand, it might be easier to use a bank account if you don't tend to use cash and make your purchases with your bank card or credit card. In that case, it will be more convenient to transfer the money over via online banking.
How to use the 52 week money saving challenge printable?
The 52-week Money Saving Challenge printable is easy to use. Every week, when you put your savings amount in your money jar or savings account, color in the piggy with the corresponding dollar amount. You can see how much you have left and what amounts are still open.
How to get the Free printable
To get this printable please click on the download link below and follow these steps:
Download printable
Open file with PDF viewer such as Adobe Acrobat Reader
Print the file
The PDF is letter size (8.5″ x 11″).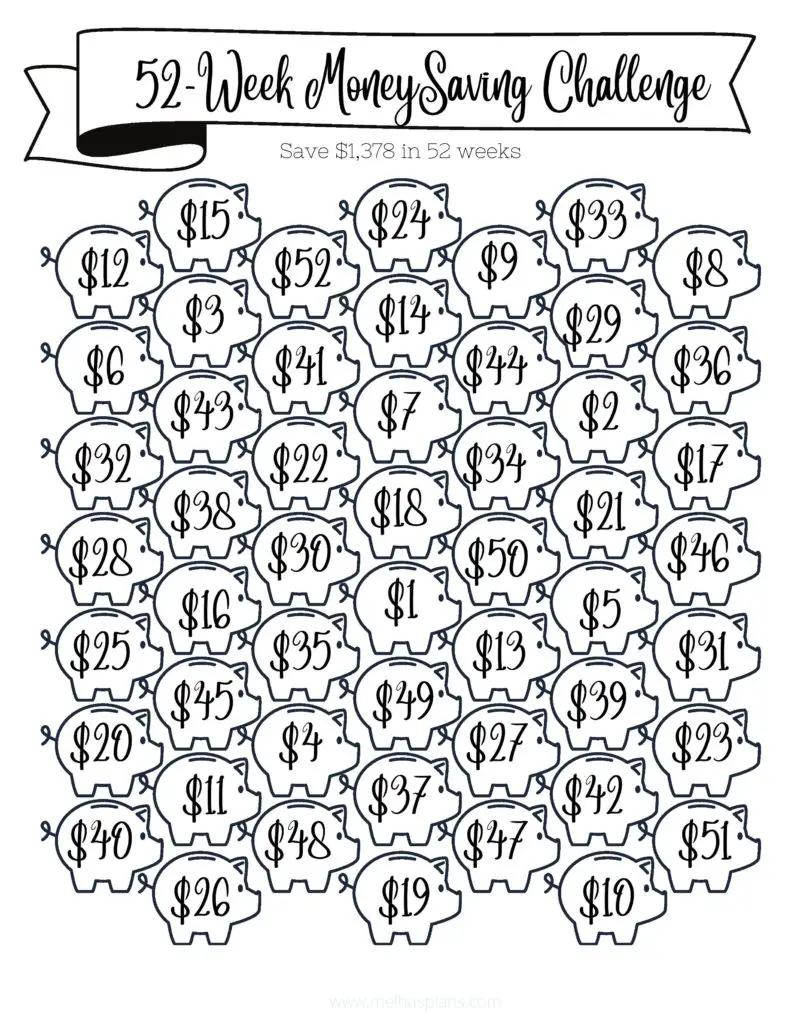 *** This post contains affiliate links. By purchasing an item through an affiliate link, I earn a small commission at no extra cost to you. ***
What you need:
The printable is a PDF file that can be opened with Adobe Acrobat Reader or any other PDF reader. Please make sure it is printed at actual size (100% scale) and the portrait layout is selected.
This printable is for personal use ONLY. Please do not share the file itself but you can share this post with your family and friends.
Download the 52 Week Money Saving Challenge Printable here:
Thanks so much, and I hope you like the saving challenge printable!
Please let me know if you have any questions.