Using different planners to stay organized
I have been using planners to stay organized since I was young but they were usually the standard plain office planners that featured 365 pages for each day of the year. Once I started going to University, I need a planner that would keep track of all my different classes, assignments, homework, projects, and exams. I also needed extra pages for classrooms, marks, professors, etc… That's when I first heard about specialist academic planners and bought a Quo Vadis Academic Planner. I used these through University and they helped me a lot to manage my time and plan out the week so I can get everything done on time and not miss anything.
*** This post contains affiliate links. By purchasing an item through an affiliate link, I earn a small commission at no extra cost to you. ***
Since I have gotten so used to using a planner regularly, I was looking for a planner that could help mainly with appointments and my son's school events. I came across the Erin Condren Life Planner and purchased my first one in 2016. For the last 5 years, I have been using many different Erin Condren planners. Here is a list of all the Erin Condren planners that I am currently using.
If you are interested in purchasing the same Planner and are new to Erin Condren, you can use my affiliate link to receive $10 off your first order. I will also receive $10 off my next order.
Life Planner
The Life Planner is my main planner and everything is written down in this planner. The planner is available in 3 different layouts. The layouts are: hourly, horizontal and vertical. This year I choose the hourly layout but I think the vertical layout will work better for me next year. The planner has a monthly overview that will give you an at-a-glance view of what's going on that month. Whether it is appointments, birthdays, days off, or due dates, you can see right away what's going on.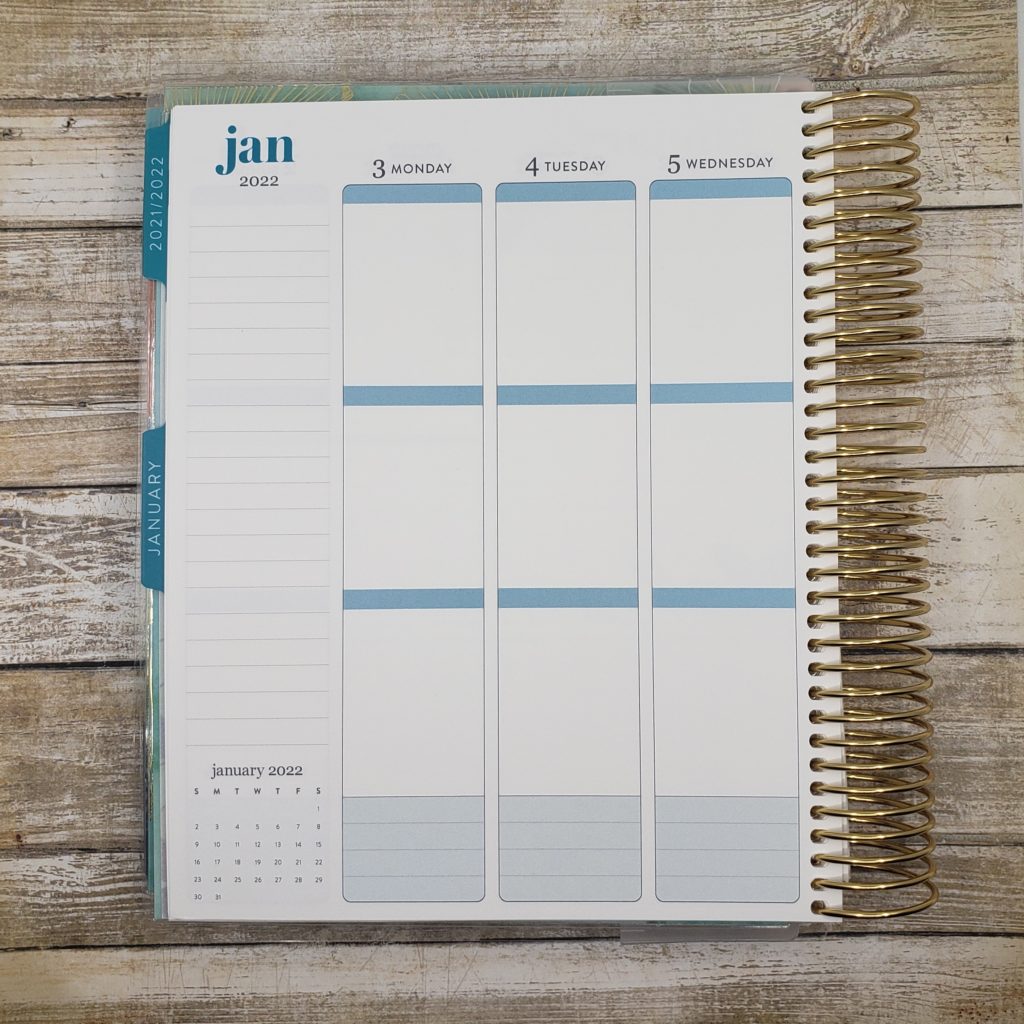 The weekly pages are just focusing on one week at a time. Anything that was tracked on the monthly page is now written down in more detail on the weekly page. In addition to that, I will write a To-Do list where the left sidebar is. A sidebar is also a great place for any habit trackers. Many people like keeping track of their medication, water intake, or exercise.
At the bottom, I usually write down what we'll be having for dinner that week. It is like a quick meal planner that I prepare the Sunday before when I get my groceries.
If there are some blank spaces I fill them with stickers, quotes, or photos. The photos are a great idea if you want to remember anything special that happened that week, similar to a memory planner.
The note pages at the back are currently used for my son's class schedule, teachers, and room numbers, as well as a vacation day tracker for me and my husband.
If you would like to see more about the Erin Condren Life Planner please have a look at my 2021 Life Planner review.
Monthly Planner
The Monthly Planner is similar to the Life Planner but does not feature any of the weekly pages. Instead, you have lots of lined note pages. This planner is being used as my budget planner. The monthly pages are used for keeping track of my paydays, bills, and any other expenses. This is my main go-to page and I can't absolutely go without it.
We receive our paychecks at the end of every week, which is every Friday. Our bills don't come out on a specific date of the week but on the 15th or 21st for example. Sometimes that is a Monday, sometimes that can be a Thursday. To be able to see the whole month laid out with any income and expenses, it is so much easier to plan ahead.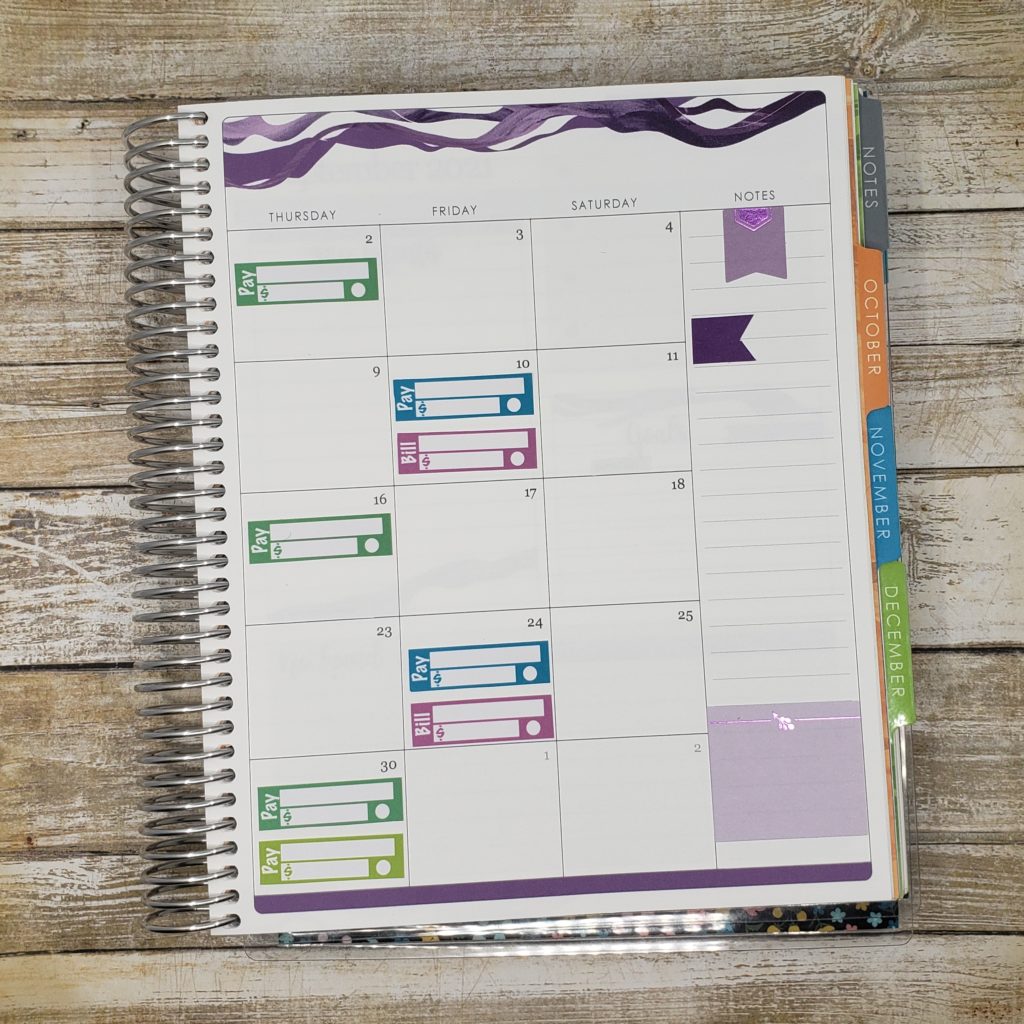 The note pages are used for the monthly budget, investment trackers, bank information, debt & savings trackers, etc…
I have written a couple posts about my Budget Planner Setup and Monthly Budget Pages.
Petite Monthly Planner
The Petite Monthly Planner is a small planner that has monthly pages just like the other planners and lots of lined note pages. Because this planner is so small and light, it is perfect to have in your purse. I usually have a pen clipped to it and anytime something comes up, I can write it down in my planner right there. The note pages are great for writing down any info or thoughts you might have before you forget them. This planner is an absolute must for me to have in my purse.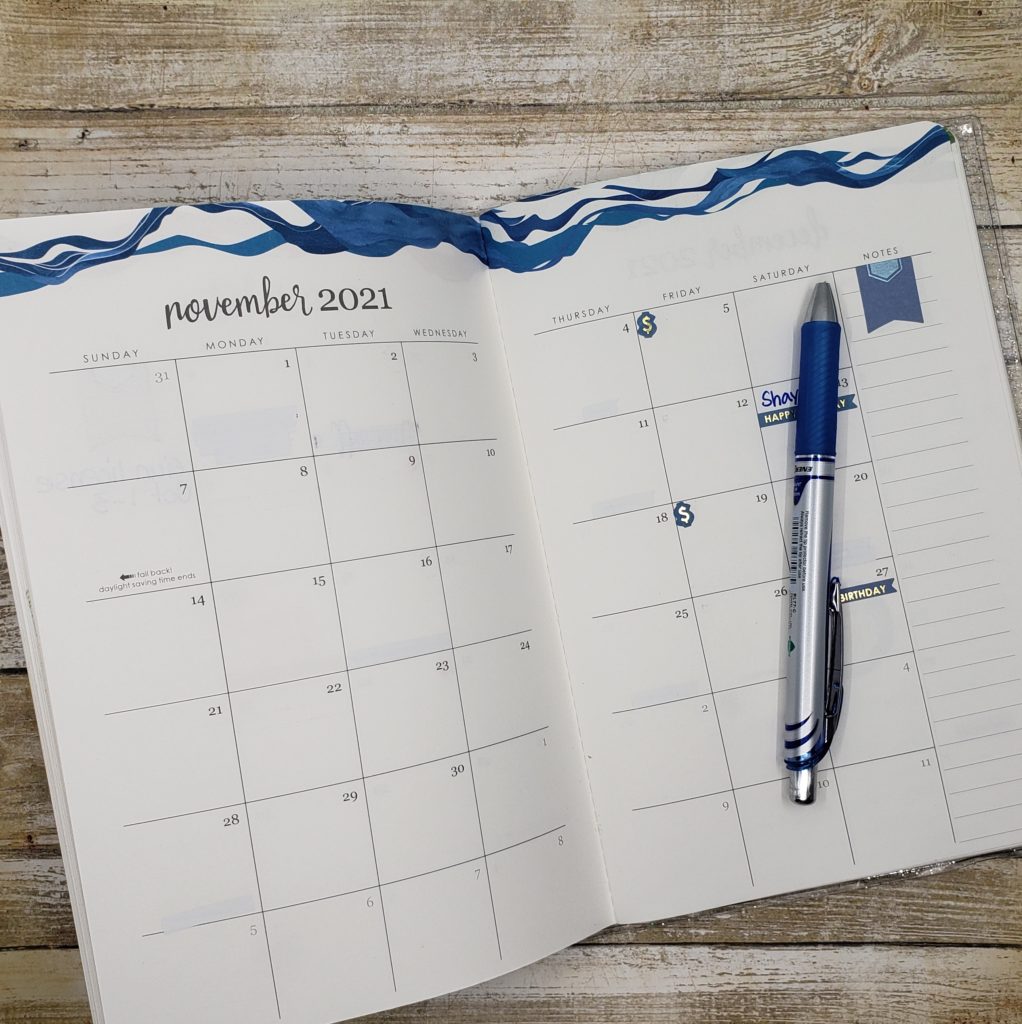 Petite Meal Planner
The Meal Planner is nice to have if you are interested in meal planning. You can write down your meals for the week on the side and your grocery shopping list on the other. The meals are divided between breakfast, lunch, and dinner. Since we don't really eat breakfast and lunches are usually leftovers, I am using all columns for dinner ideas, which gives me 3 weeks of meals instead of just 1. Since I like to start my week on a Monday rather than a Sunday, I created stickers that change the days. If you are buying this planner, it would start on a Sunday.
On one of the pages in the back, I created a lunch ideas list for my son. He is a picky eater and listing all the things he would eat will make it easier to plan his lunches so it's not always the same.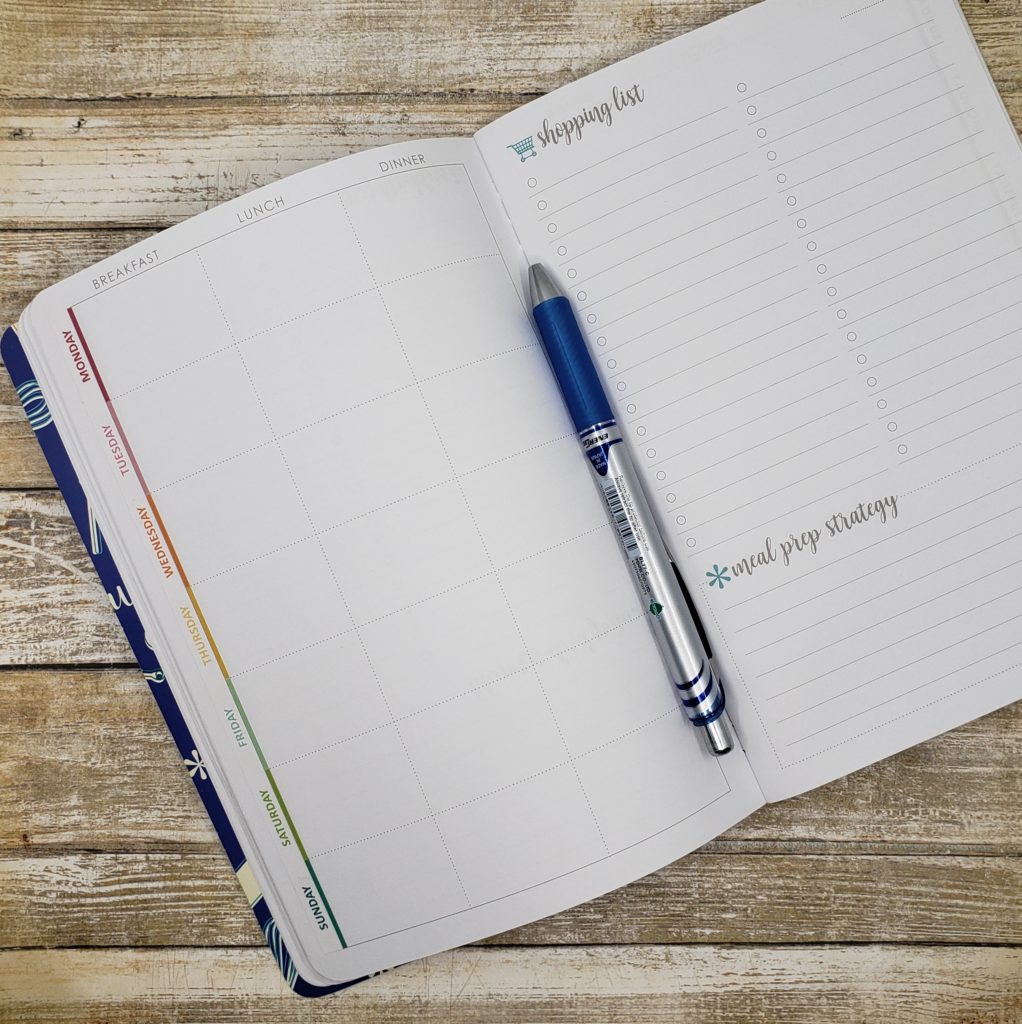 Petite Wellness Log
The Wellness Log worked great for me last year. Every day I kept track of what I ate, my exercise, and my weight. I am not good with calorie counting but just changing my diet and written everything down helped me lose 40 lbs. This planner lasts for about 6 months if you use it every day.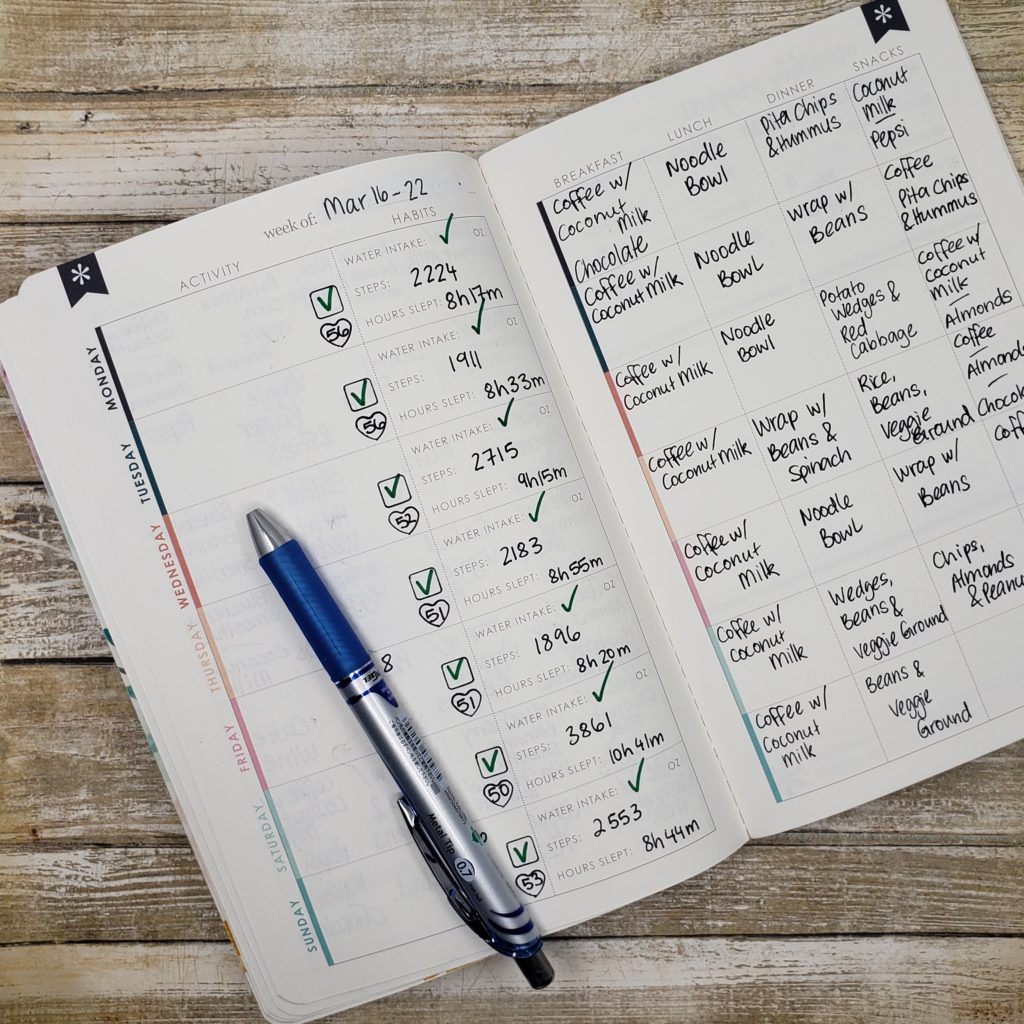 Petite Journal (Dot Grid)
The Petite Journal is not really a planner but can be used as one. It features blank dot grid pages that can be set up for anything you want. Just like a bullet journal, it allows you to set up trackers, lists, and goals.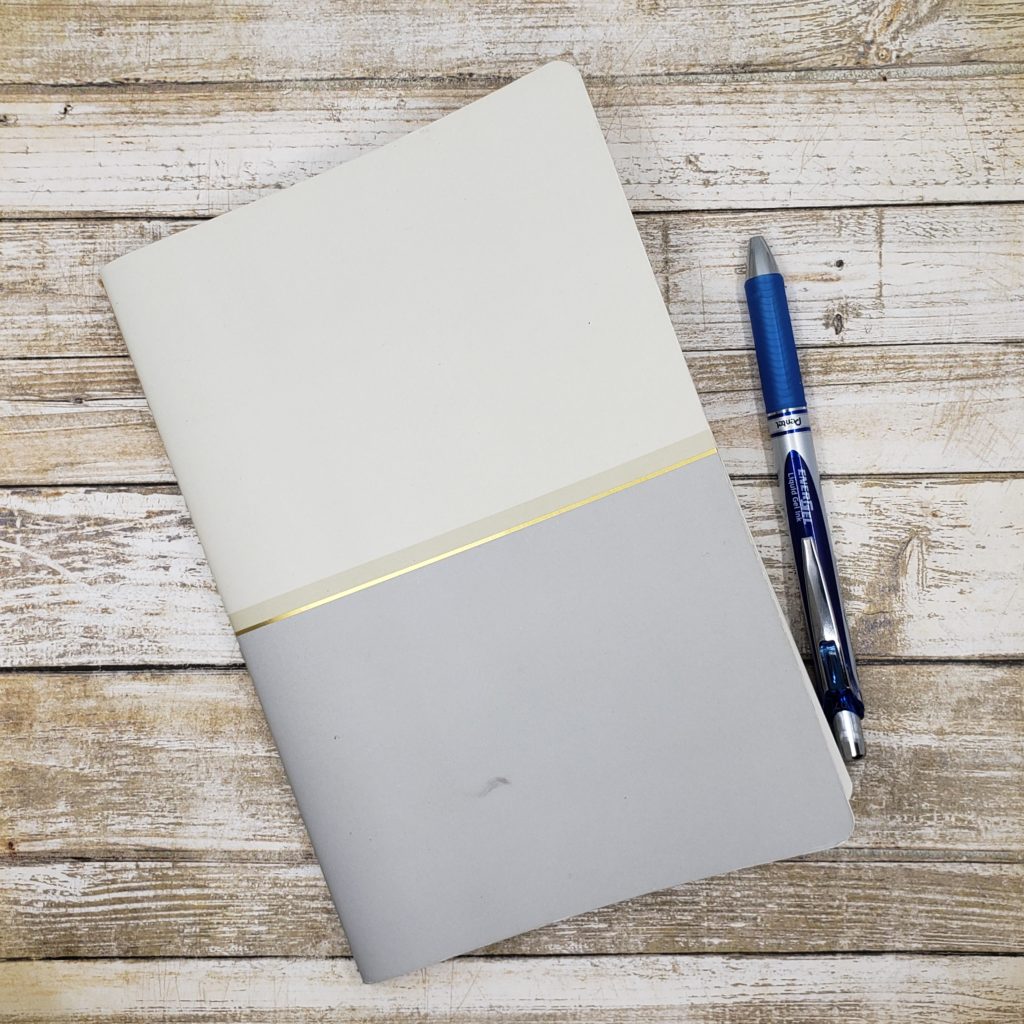 Address book
The Address book that I have is one of the older ones. I don't think it is available anymore. There is a newer one that is smaller and looks different. I do like having all my contacts written down somewhere safe in case my phone battery dies or I lose my phone. Most people I think just have it saved somewhere in the cloud or like I said on their device but what if you don't have access to that. I see it as having a backup. A pretty backup 🙂 The names are written down with a pen but any other information is written with a pencil in case information changes.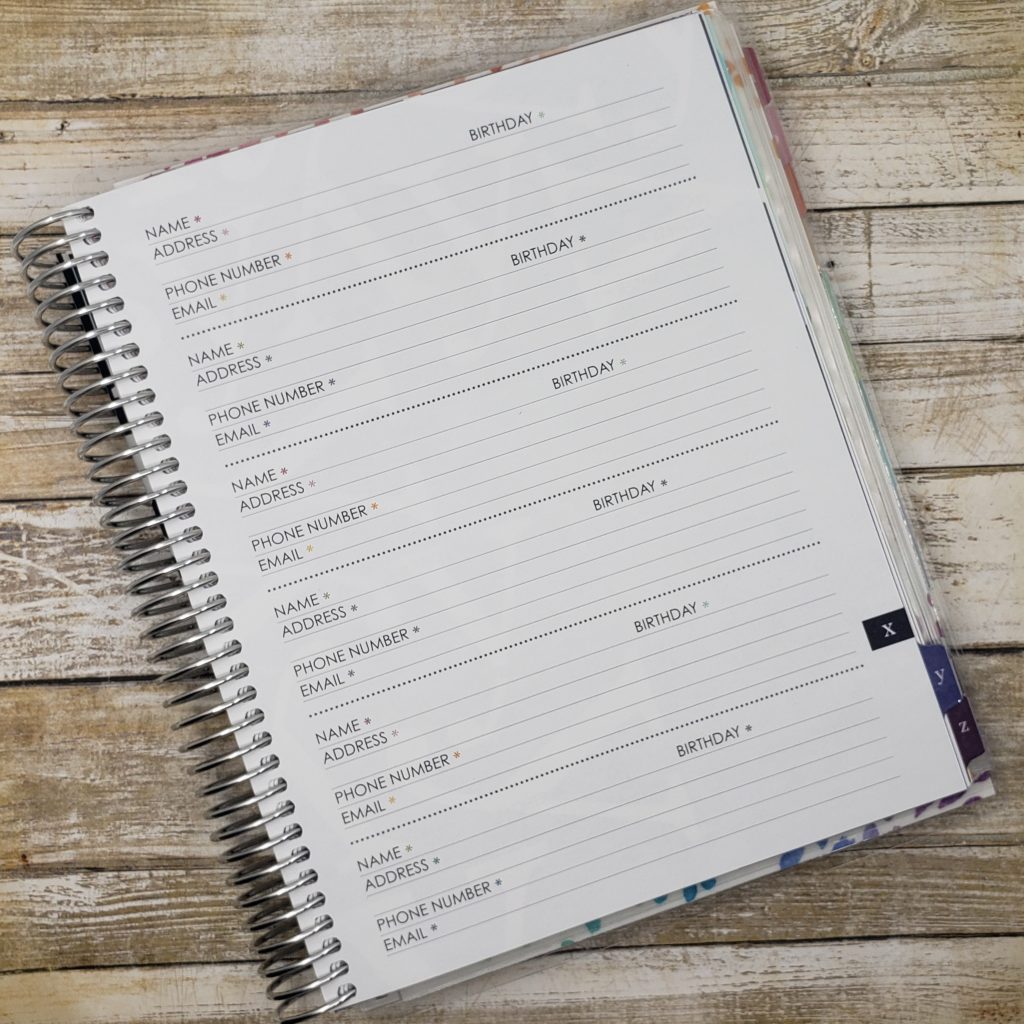 So these are the current planners that I am using. They have worked really well for me. I already purchased my 2022 Life Planner and Budget Planner and might add another one just for my blogs.
Don't forget to use my Erin Condren affiliate link for $10 off your first order if you are interested in purchasing one of those planners.
Thanks for reading, let me know in the comments if you have any questions. Thanks so much!